[Interview]I met a Car Designer -Formal Bertone, Mr. Tullio-
Greetings from Car Design Academy!
Car Design Academy is run by a car design company call NORI, inc. Hence, Mr.Tullio Luigi Ghisio came all the way from Italy to  NORI, inc. for a visit! Mr.Tullio used to worked for DCI (Design Club International), for 2 years, a car design company established by Kurihara. He also worked as the design manager in Italdesign and Bertone, and is an active designer who wheels all over the world.
The interview was all conducted in Italian, but we have our very own supervisor of Car Design Academy, Kurihara as our interpreter. Overall we had a great interview.So, enjoy reading the interview!
DCI=A Hakone(Japan) based independent car design company. It was established in 1986, with only 5 staff, by Nori Kurihara who used to work in Ford of Europe (current chairman of NORI inc.) and Ichiro Hatayama (CEO of Tokyo Design International). In less than 5 years, DCI had became the largest independent car design company in Japan. The designers and modelers they have, most of them had experience working for overseas studios of a japan maker company or Foreign-affiliated companies such as Audi or BMW, Italdesign and so on. The designers and modelers in this company do not take credits from the design they did, contribution made to the client remains confidential.
NORI, inc.=After Nori Kurihara quit his vice-chairman pose from DCI, he started this car design company on year 2001, in Odawara. Apart from designing projects, the company also receives projects from domestic and overseas, range from concept making plans, virtual models or show cars mock-up producing and so on. In August, 2013, Nori Kurihara and the current CEO,Yu Nakasone decided to start up Car Design Academy in order to pass on their knowledge and know-hows to the new generation. Just one year after opening of the academy, 2 of their students landed a job in car maker company, some where offer training in designing in car maker company. In 2014, overseas version of Car Design Academy is released.
Bertone= Italian automobile company based in Turin, Italy. Bertone was founded as Carrozzeria Bertone and was divided into sectors other than automobiles, such as design and construction of railway vehicle, in 1912 . In 2008, body-producing department suffers from large amount of debt and actually was in the state of bankruptcy. So all the departments merged that creates Bertone Design where they focus on car designs including full automobile design. However in March, 2014 bankruptcy is announced.
I met a Car Designer -Formal Bertone, Mr. Tullio-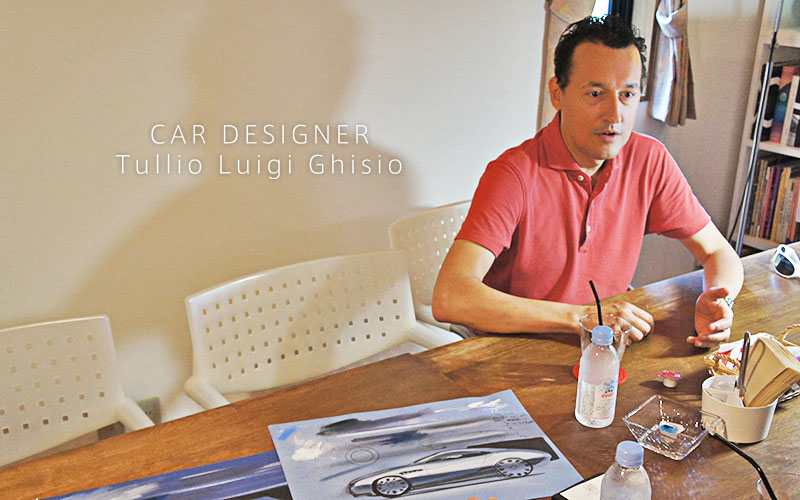 Tullio Luigi Ghisio, born 1967, in Turin. In 1986, Tullio attended IAAD(Institue of Applied Arts and Design). While he was still in school, he was employed to Giugiaro's Italdesgin. He worked in Italdesign for 6 years and had worked on various projects. In September 1995, Tullio joined Design Club International where Noriyoshi Kurihara was the vice president. After that,Tullio went back to Italdesign as a senior designer. Tullio has worked with FIAT, JAC, Bertone, I.D.E.A. Institute and also in Stile Bertone S.p.A. as a design coordinator. Now Tullio is an independent free-lance designer who is busy flying over the world.
-So tell us what drives you to be a car designer?
Since I was a child I love to draw. Maybe it is because I got influenced by  my family members where most of them are designers and artists. My uncle was an engineer and his  hobby is drawing with Segantini style. But, he became more famous for his drawings rather than an engineer.
On the other hand, my aunt is a picture restorer for Fresco and taught in the oldest art institute in Italy. That is why, since young I am so used in the environment of designs and art. When I was 14 years old, I wanted to be like Gandini and  Giugiaro and decided to be a car designer.After Carrozzeria Ghia was bought by Ford that changed the style of it, it drives me even more to be a car designer.
Carrozzeria Ghia= Famous Italian Automobile Body design Studio, one of the coach builder. Ghia is started by Giacinto Ghia and Gariglio, as Carrozzeria Ghia & Gariglio located at 4 Corso Valentino in Turin. In 1965, as Luigi Segre's  successor Giorgetto Giugiaro joined the company, and before building Italdesign with Hedeyuki Miyagawa he was an active chief stylist. In 1986 Carrozzeria Ghia went under De Tomaso, in 1970 sold to Ford. Now Carrozzeria Ghia designs many concept cars for Ford.
-Did you know what to do in order to be a car designer?
My father went to engineering school so he  knew and told me about Royal College of Art, Art Center and IAAD. But all of them were expensive schools.How did I choose IAAD in the end? It is because in IAAD they have professional lectures are from car makers like FIAT,  Pininfarina S.p.A., Italdesign, designers who works in carrozza for 15 years, and famous car designers like Christopher Bangle.
-This might be off topic but Christopher Bangle once worked with Kodama, I recall.
Besides, IAAD has only 5, 6 students and smaller class enables me to learn better. IAAD was in Turin, and being able to be close to home was one of the reasons too. Royal College of Art is in England and Art Center is in America, it is far and besides the expensive school fees, I will have to pay for rent and life expenses.
I really do online casino wish we had something like Car Design Academy where I can enroll  from anywhere. And Nori is teaching. That"s perfect! 
Nori= Nickname for Nori Kurihara,  supervisor of Car Design Academy.
IAAD's 1st lesson about rendering  left a strong impression on me. I remembered a designer from FIAT came to teach us about rendering on canson paper. (As shown in the lower left of the profile picture ). I was so amazed by that technique. The designer from FIAT actually showed and taught us all of his techniques. Lately all sketches had become digital, it is a little different but I think hand-sketch is slightly better.
Through out its history, Italdesign has created many highlight rendering techniques where can't be found in Carrozzeria. I was again amazed when I got in. In my opinion, for those who wants to be a car designer, it is important to concentrate in improving your sketch, as soon as possible. Perform how fast you can sketch to others, that is really important. You can show your parents or anyone beside you how fast can your draw and let them judge. However, rendering and sketching is different.
Rendering is something which design companies ask for.I had been designers for many companies and all of them had different request and needs.At first, sketching without colors was acceptable but then rendering will be asked to fulfill, and in order to achieve that level to the request, one must learn the techniques.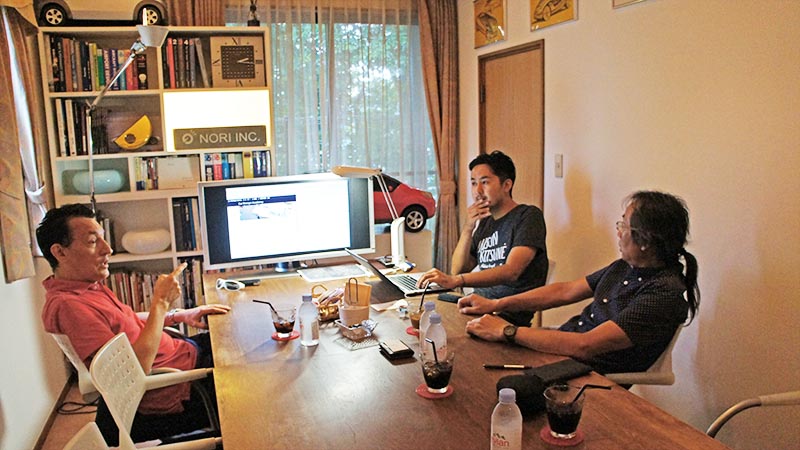 -What prompted you to take the job in Italdesign?
Since a student IAAD, I had admired Giugiaro"s sketches. So, when Italdesign offered me a job, even as a student, I started my career there. That was the reason I took the job in Italdesign. I guess i was offered the job because I was always the Top student in my school.
My life back than was, work at Italdesign till 5pm, than go to school from 7pm to 11pm. It was my dream to work in Italdesign, so I don"t think it was hard but it was a fulfilling life back then. 5 years in Italdesign had taught me a lot.
-Then, I was introduced to Nori by a famous modeler bio from Turin. He took the trouble to come to Italy to meet me and interviewed me.
While listening to him, I felt excited thinking that my chance to go to Japan had come. Back then in Japan, DCI in particularly, was very outstanding. Everyone"s sketch was so amazing that I got so amazed. What I realized straight away was, it is because they all drew a lot. The proof was,on the wall was full of their sketches.
The amazement level I felt was the same as the amazement when I first saw Italdesign"s sketch and DCI sketch has the highest level of sketch in the world! That is why I learned a lot from there too! In exchanged for my knowledge in tape drawing, I was taught how to draw better by designers in DCI. We had learned from each other. 
I had lots of great memories during my days in DCI, one of them was when we played bowling together.Thinking about it, Nori was so fast in action in throwing me a welcome party in an Italian restaurant.After the party, me and another Italian colleague, Gianluca rode on Eunos, and open car of the company. We was on our way home when we were hit from behind.
 It was a serious accident. I was transferred from the open car to the ambulance. I couldn"t speak a word of japanese. I then called Nori and he came to my aid briefly. I was taken to the hospital by the ambulance…My welcome party was a disaster. It was such great experience I had here, I even experienced car accident in Japan.
The knowledge I have gotten from DCI was very useful. Among all, I regretted that I had to leave DCI too soon. Just after a year and a half, I returned to Italdesign. After 7 years and 4 months working in Italdesign, I have been with FIAT for half a year, JAC, a car maker company from China"s Turin studio for 4 years. I had worked for Bertone for 3 years, changed to I.D.E.A for 1 year, then back to Bertone again.
I think everyone knew it from the news, that Bertone"s management had reached an impasse and went into bankruptcy. I was with them until the end. I think there is a lot of difference between an in-house designer and a designer in a design company. My ideal was to be able to be on watched of time and money while working with various clients, yet I wasn"t able to do that in Bertone.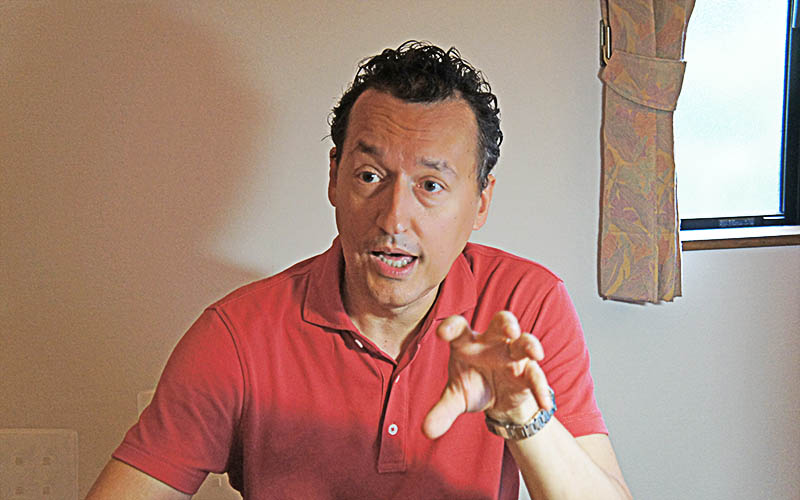 It was sad to witness the ending of Bertone era. It sad that there was where I used to belong. But it hasn"t changed me. For me, what"s important is, never stop moving forward and to not giving up on your dreams even after 5 years or 10 years. 
I want to leave a massage for those who wants to be a car designer in the future. Always be prepared to learn new things. Schools for designers are short. There is a lot of things that wasn"t be able to be taught in that short period of time. I have encounter with many designers in many situations during my days in Italdesign, DCI and  Bertone, they too never stop learning even at manager level, because there is simply too much to learn.
Actually, I help out with carving sculptures in Catholic church during summer for over 16 years. My purpose was to learn too. Always have an open mind, ready to absorb all kinds of knowledge. By that, you will find a system that suits you to grow.
Car designing has reputation of advanced. Even though military weapons are known to be packed with latest technologies, but when it comes to technologies and designs, it is related to airplanes and cars.
I think, that is the charm in being a car designer.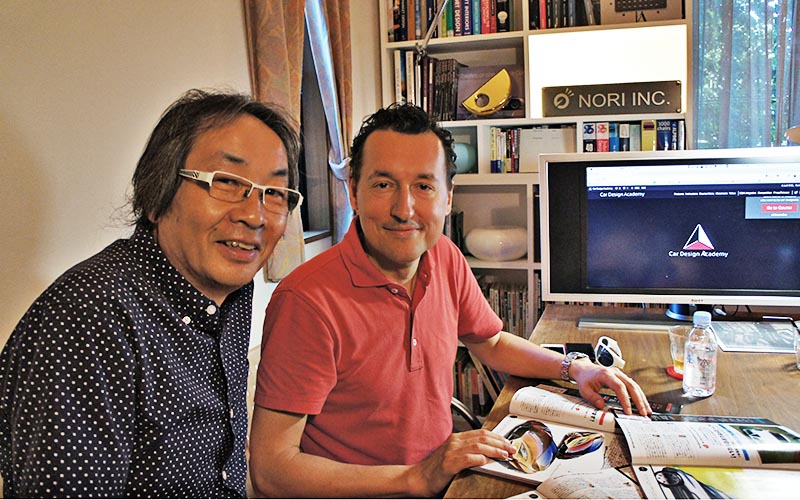 Editor"s note
So, what do you guys think after reading this interview with Mr. Tullio? Actually, Mr. Tullio was staying with Mr. Santillo Francesco few days ago, (whom we previously interviewed) before he came to NORI, inc.
Came to think of it, both of them attended IAAD and used to work in Italdesign. It is such a small world afterall!
[free trial course]