[Interview] I met a car designer! -Santillo Francesco-
Greetings from Car Design Academy!
We have reached the 5th series of  cardesigner interviews corner.
 
This car designer was introduced by Mr Kouta Nezu whom we interviewed previously.
 
to view the previous interview, click the link below
[Interview] I met a car designer! —znug design Kota Nezu-
This is our first time having an Italian car designer on our series!
Santillo started off in Italdesign Giugiaro as a freshmen car designer.
Between the years, he had his career change among Piaggio & C. S.p.A.,Mercedes Benz, Toyota, Honda R& D Co.,Ltd. Now, Santillo has established his own company, Neptune Design Co.,Ltd.
An Italian blood might be the reason behind his diverse personality from previous car designers we have met, we had a fun interview session.
 For those who wish to work overseas, this is an interview you might not want to miss!
[Interview] I met a car designer! -Santillo Francesco-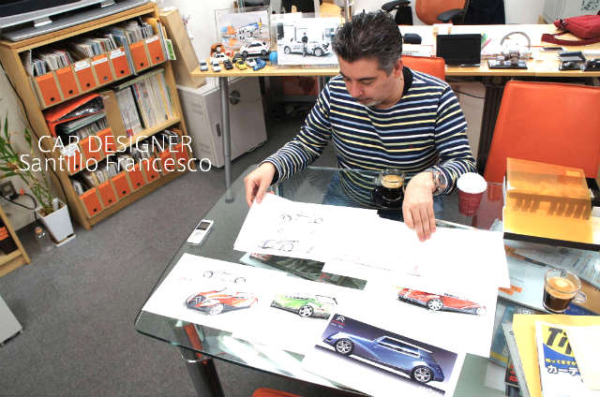 Santillo Francesco= Born in 1967, in Rome, Italy. Graduated from IAAD(Institued of Applied Arts and Design) in 1989 and started off his career in an associated company of Italdesign Giugiaro in the same year. In 1991, he then transferred himself to Italdesign Giugiaro. After he had his career at Piaggio & C. S.p.A. in 1994,he went back to Italdesign Giugiaro in 1995, then moved to Mercedes Benz in 1998. The biggest change was in 1999 where he was hired by Toyota which became a stepping stone for him to come back to Japan. In 2004, he transferred to Honda R& D Co.,Ltd and finally in 2007 Santillo has established his own company, Neptune Design Co.,Ltd. With cars, motorcycles, and bicycles in its front line, the company receives various designs and consulting projects.
 First encounter with cars
 I was born on 1967 in Rome, Italy.
Shortly, we moved to my father's hometown, Sapri which is located in southern part of Italy. I was brought up there until I was 10.
Sapri is a port town with the most beautiful sea.
I used to played around with bicycle or draw, everyday, alongside with my father who worked as a metal-smith. 
Since then, I was surrounded by designing inspirations.
 I saw my first sport car in that small town when i was 5.
Giorgetto Giugiaro。The name [Giorgetto Giugiaro] was visible on the side door.
What hit me was, Maserati Bora in this destitute town!
 [I want to ride in a car where my name is on it]
That's when I decided to be a car designer.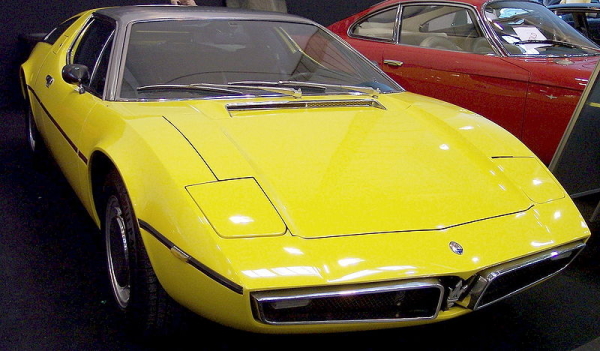 Maserati Bora= A luxurious sports car produced from 1971 to 1978. A prototype sports car ,117( initially known as Tipo 117 and later  Bora) was produced in 1968. It is was proposal from Citroën to produce a  [mid-engined two-seat super-car] , following the footsteps of Lamborghini's Miura. Bora was shown in Geneva Salon in 1971 became the first Maserati's   [mid-engined two-seat super-car] . Giorgetto Giugiaro was the designer. Bora was discontinued in 1979 with 530 production units.

the young Francesco
After awhile, we moved again to Scalea, my mothers's hometown due to his father career change.
I lived with my parents and 3 brothers before high school.
I attended Department of Electrical and Machinery in a  technical high school 70km away from home. Design department was not available.
But that didn't stopped me from learning to draw where I spent all his pocket money on car magazines.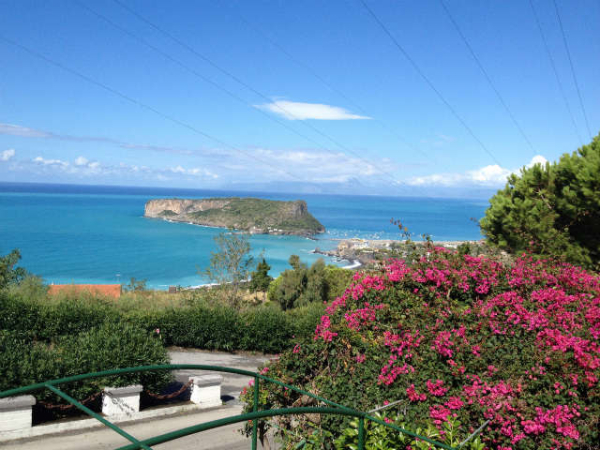 Southern Italy= Due to most of the industries are  concentrate in northern Italy, lack of school facilities and  jobs cause the unemployment rate rose 4 times more than northern Italy. Nevertheless, Scalea is still a summer vacation heaven for many people from northern Italy. The photo is taken from Francesco's  balcony. There is a 1000km distance from Scalea to Torino.
[Your dream can't bring food to the table! How about considering a steady job! ] was what my teacher told me whenever I draw.
One day, while I was driving on my Moped, a car came out from sideways hit me. My femur was broken and it took me 3 months to fully recovered.
Without any choice given, I had to repeat the same grade.
For 3 months of hospitalization, I could do nothing but laid in bed.
I utilized the time focusing on reading lots of automobile magazine and drawing.
I always thought that was one of the reason I passed design school.
After I was discharged from hospital, I start off my 4th year along with new classmates.
 `My drawing habit hadn't changed, so, I still was scolded by teachers as usual! ` says Frencesco with a laugh.
I also participate in car design contests held by car magazines. Just by being chosen, it made me so happy.
While all my friends were concentrating on job hunting, I did the opposite and took admission for IAAD.
There is only one month left before the school starts in July, and the quota has already been filled.
But I wanted to be admitted on that period.
I was cruelly made fun of because of where i came from but fortunately my drawings were reviewed.
Those drawings I submitted was better than my winning drawings.
Even though I knew other examinee have learnt drawing professionally,   I simply answered [self-studied] when i was asked where did i learn my drawing and the interview ended.
After a few days, I received a notification that I have passed the interview.
However, the admission fees and school fees, not to say living expenses was far more expensive than my father could earn for a year.
Furthermore,I have 3 younger brothers who was still in school.

I was expecting my father to make the cancellation call to the school. But instead he told me, [I am going to call your uncle in Torino. You will live with him for 2 years.] I couldn't believe what i heard and it brought tears to my eyes.
 [I might not be able to pay the school fees immediately but please accept my son. ] father told the school.
With my parent's support, I entered IAAD in 1987 without any problems .
 Instituto D'arte Applicata e Design Torino。IAAD。Instituto D'arte Applicata e Design Torino。aka IAAD.
The lectures in IAAD were consist of emplyee from big time car maker like FIAT, or car designers who works in famous carrozzeria such as Pininfarina S.p.A. and Italdesign and so on.
Most of the class were night class as lecture came to teach after work.
It was an eye opener to be taught by active car designers.
For the future car designer, it is a good chance to create network connections.
After I made it as a car designer, I went  back to give lectures too.
You might not be aware of it, but,  I was called [Terrone] during my sschool times. It is an affront to people who came from southern Italy.
Going for party after class was what most of my classmates did, I chose to concentrate in drawing instead.
Of course, no girlfriends back then.
No failure is allowed, the burden I carried on my shoulders. I studied really hard everyday.
I was grateful that I graduated with honors and landed in Giugiaro Design. My job was confirm even before I graduate which is a little different from the usual job hunting system in Italy.
Giugiaro Design has design projects besides cars. On the other hand, Italdesign receives only car design's projects. I started off as a designer but not a car designer.
It was a hectic job.
I had designed for cameras, trains and many other products.
Once, i designed a news studio for a Japanese television company and one of my ideas caught the eyes of others.
My work was brought to Giugiaro.
I was finally accepted as one of them.
Not long after, Giugiaro came to me as offered me to join him in Italdesign. I was overwhelmed with joy.
Finally, I can become the car designer I had always wished for!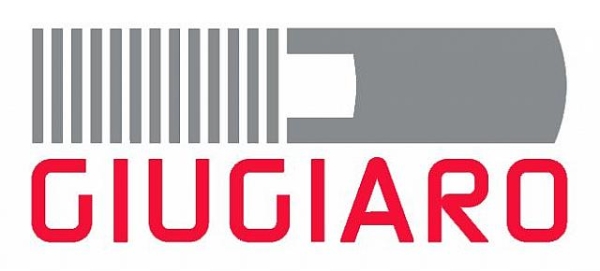 Giugiaro=Giorgetto Giugiaro.  Italian Industrial designer, founder of  Italdesign. Owner of numerous design projects, Giugiaro was named Car Designer of The Century in 1999 and was inducted into Automotive Hall of Fame of Dearborn, Michigan USA.  Nori Kurihara, supervisor of Car Design Academy was once a student of Giugiaro. Here are the masterpiece.
I finally became a member of Italdesign in May, 1995.
It was rare to have a designer southern part, however, there were Spanish, Korean and Japanese.
 They only have 12 to 13 car designers in Italdesign.
Despite that, we design cars from all over the world.
Having 3 on-going projects on hand for one person is a normal situation.
[Design comes from aspirations yet use design to turn aspiration into reality. ] was one of the teachings of Giugiaro.
Giugiaro's designed Maserati Bora made me fell in love with cars and aspired me to become a car designer.
A design of a car should be aspiration and spark interest in young people. It would be sad if cars were treated merely as a tool.
Cars aren't necessities like washing machine or refrigerator, therefore, if there isn't aspiration, there wouldn't be evolution.
If we loose our consumers, there is no need for us, the designers anymore.
Define trendy.
As a designer we do not use words to express but shapes to create a trend.
Just by one look, it is going to be a hit.
That is the only judgement.
We wont go down to details about why is it going to be trendy or why it isn't.
Those discussions  aren't necessary 
Giugiaro is open for all good ideas even if it is from a freshmen like me.
[Designers are Engineers.] This was Giugiaro teachings too. We design for technology not for decoration.
You might not believe me when i tell you that car designing is actually a job with low income. 
As a car designer we will have to design something that couldn't be judge by the cover.
What I meant was, for example, we have to design a car that looks compact but same capacity as the usual cars.
Take Ferrari GG50 for example. Ferrari GG50 shares similar design with  Ferrari 612 Scaglietti.
GG50 has shorter length,  due to the arrangement of the fuel tank. It used to be behind the rear seat but was moved under the trunk. That is why it can be so compact.
This is the real talent of Guigiaro as he said [For the first time in my 50 years of career, I was able to design a car the way I like it.]
A compact car is like a compact organization.
If a car isnt compact, it will loose its specialities and qualities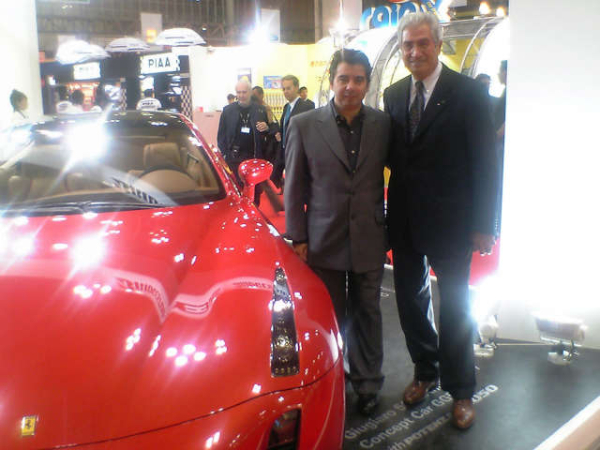 with Guigiaro at Tokyo motor show in 2005
Job change. To Japan.
I was fortunate to work along side with Guigiaro not long after I join the company.
It was my biggest dream working with Guigiaro and the extra token was we worked together to design a Maserati.
Maserati3200 GT was front line products after Ferarri took over Fiat. 
A new Maserati. Even the car manufacture worked hard on this.
It was really an exciting project.
That was when I realize that a car designer need the experience in car manufacturing too.
On the same time, I got an offer from Piaggio & C. S.p.A.
Vespa is their famous product but they used to be a ships and airplane manufacture company.
After World War II, they produced two-wheeled motor vehicle and than became the largest bike manufacture in Europe. 
I was offered to design large bike and that was the reason I changed my job.
I was involve in the whole process including designing, manufacturing management to product export.
I was so into large bike designing back then.
Unfortunately, designin projects on large bike are hard to come by and I ended up designing scooters.
Scooters was the front line products.
I was at my lowest when Guigiaro asked me to return to Italdesign.
In November 1995, I retured to Italdesign.
To be continue….
[Interview Part2] I met a car designer!  -Santillo Francesco-