[Interview] I met a car designer! – With Mr. Toru Odagiri, an ex-designer for Alfa Romeo –

Hello! This is Car Design Academy.
It was about one hundred ago from now. In 1910, Alfa Romeo was founded in Milan, Italy.
Today, Alfa Romeo is the one of the leading Italian automakers in the world, and it has been gaining many enthusiastic fans for their sporty car manufacturing.
Did you know that there once was a Japanese designer working in Alfa Romeo?
As the memorable 10th edition of this series, we met Mr. Odagiri who was used to work as a designer of Alfa Romeo, and now works in a design department of a major domestic car manufacture in Japan.
[Interview] I met a car designer!  – With Mr. Toru Odagiri, an ex-designer for Alfa Romeo –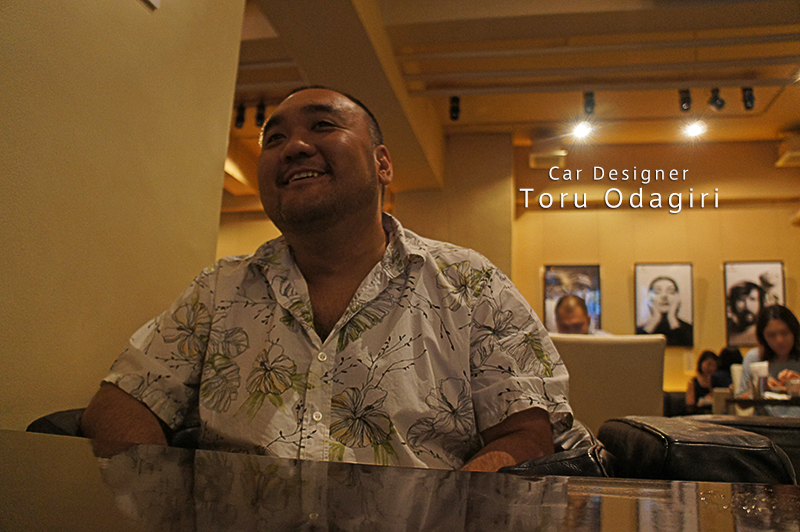 Toru Odagiri = Born in 1975 in Chiba, Japan. After graduating from high school, he entered Tokyo Communication Art College (TCA). During his college, he participated to one year design training at RUOTE O・Z in Italy in 1996. Then, he joined Alfa Romeo's University Stage as he was attending at Fiat's Advanced Design in 1999. In 2000, he became the first Japanese designer to work at the design center of Alfa Romeo which called, Centro Stile. After engaging in numerous projects, in 2004 he was head hunted by a Japanese car manufacturer and returned to Japan.
What made you interested in cars?
It was when I was in a kindergarten.
I was grown up in normal salary-man's home, so my environment in childhood was not specially surrounded by cars. However, I had found myself absorbing into cars.
I had a friend who was very familiar with cars.
He had known well about most of cars.
I remember the most, we were often playing the game, guessing name of cars passing in front of us.
Gradually, I always had longed to work in a car industry field, but at that point, I was not thinking about car design because I did not know the existence of car design jobs.
When I was in the 2nd or 3rd grade at high school, I encountered one book.
It was a book about stories behind the development of cars.
And, I learned "how the product comes from clay model, and design."
I was also good at drawing, so I was always drawing cars even during a class in the high school. It was just doodles though, and I think, this is not rare story for designers. Many designers had similar experience with me.
Then, later I was surprised at the college that I was not allowed to use pencils, and had to use only a ballpoint pen. I had been drawing by pencil before!
It was difficult to draw at the first, compared to pencils. I could not fake the lines. However, now I am sure that the way makes you get much improved.
At this point, I was thinking to become a modeler.
When I had to think about my course after the college, I got to know about TCA by chance. On the open campus day of TCA, I could have a chance for making a 1/20 model there. It was first time for me.
Then, it stroked me much.
I thought, "This is my job!"
Later, I applied to TCA, and enrolled to a car modelling course.
In the summer, my professor told me that I am better for being a designer than modeler and recommended me to change to a design course.
At the beginning of the college, I used to think myself that I was pretty good at drawing, but there were so many students who had already completed art prep school before the college. Compared to them, I realized that my level was not enough.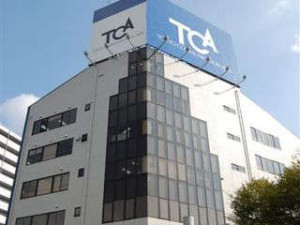 Tokyo Communication Art College (TCA) = The college offers 4 yearlong car design course and it has been producing many graduates who are achieving to work in design department of major automakers in Japan, such as Toyota, Nissan and Honda.
Student life, fulfilled by car design
It is a little exaggerated to say, but I was always drawing cars except when I was eating or sleeping.
I was drawing from morning till night, even in train.
I think, finding a person around you whom you can call as your rival, is very significant and much encourage you to be eager for learning.
If I was working alone, I cannot reach to my standing today.
Whenever I saw a senior student who was working hard, his attitude pushed me to work harder too.
 Having said like that above…Mr. Kuwahara always told me, "Bring and show your sketches and rendering to your instructor!" but I could not do it because I was a shy and afraid my teacher lol.
Mr. Kuwahara = Hiroshi Kuwahara, a car designer. Kuwahara and Odagiri were both student of TCA. Kuwahara was a senior when Odagiri was a fresh man. You can find Mr. Kuwahara in our back number.
Helping the graduation project for senior student was good chance to get proceed myself.
Mr. Kuwahara was by far the best student in the college, so he was so popular, and many students wanted to help his project. I was the one of them, and I remember, it was so hard to take part in his helping team.
In my college, I was strongly influenced by Mr. Kuwahara's painting technique.
My environment in the college allowed me to steal skills from senior student. That really worked for me.
In the college, I learned to draw start from zero to 100, so I followed the lessons intensely, I became naturally good at it.
And, I was also reading "Car Styling" out of the school.
The only way to get information about foreign car designers was just from "Car Styling" around that time.
There was also a class gave me assignments which subject to draw 10 sketches of cars, 10 industrial products and 10 architects in two weeks.
A project with the corporate company also was running beside that assignment, so I was drawing until 2 or 3AM every day for finish those assignments and the project.
Going to Italy
In my 3rd year at the college, one of my instructors asked me to join a wheel manufacture, OZ Racing of Italy and I decided to go to Italy.
To be honest, I asked to myself, "a wheel manufacture" is really my will?
But when I arrived there, it turned out my thinking. The company was so nice and Italian food was really good as well.
By the way, I could not speak Italian at that time. The company prepared for me an Italian teacher and I could learn a little by little.
My boss was a Frenchman, and he never had experience to study for drawing, therefore he was using a rotring pen, and drawing short lines over and over by freehand. This his drawing style was completely opposite against clean lines that I had studied in the college.
Even me, I could say that his drawing was terrible, however such a man finally created so beautiful product. 
So, their sketch was rough and disorder, but they could make the product properly.
In Japanese sense, if you cannot draw properly, you also cannot make the product in accurate.
In Italy, there are not so much design schools and some of designers have background of architecture. It can be said that studying architecture first is a kind of entrance for design jobs in Italy.
Therefore, some designers cannot draw well, but they can make or construct beautiful product.
It made me feel so many times that I grew up in different country and environment with them. In Japan, I learned, a designer had to be good at drawing.
In Italy, their design itself was so different with me, and the way of people working, thinking or philosophy were also outside my imagination, so they reset my mind.
Wheel design is different with car design in a way that it becomes a product in short period of development. So, this was very good for gaining much experience for me.
My life style in Italy was, living in a dormitory with two people, and I got up around 7:30 am, and then went to the office. Lunch break was one hour.
I finished work at 6:00pm, and went for a drink with colleagues after the job or drew sketches at home.
I spent my days like that, and they asked me to work there, however I always kept saying that I want to do design of cars. One day, a shareholder of the company told me that he has a connection with Pininfarina, so he suggested me to show my portfolio to them.
There was no PC in those days, so I wrote more than 10 pages by hand writing, and carefully selected 10 pages because I thought, too many pages get them tired to look.
I made my portfolio in a month as I was working, and I got a chance to join 3 months training in Pininfarina.
At the training, I remember clearly that one day, when I was doing a sketch in a studio, one of the staffs showed me Davide Arcangeli's sketch as a reference and gave advice for me to try a different method of drawing like Davide Arcangeli.
Davide Arcangeli passed away at a young age, but he is still famous for a designer of Peugeot406 which is called the most beautiful car in the world, BMW5E60 and a concept car, called Argento Vivo of Honda.
I was deeply affected by the taste of his sketch.
Until that time, I had been drawing with strong contrast. On the other hand, Davide Arcangeli's sketch was less contrast and it looked more real.
Those 3 months were very intense, and I got influenced by many designers.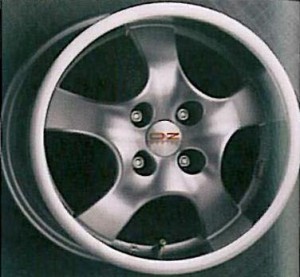 OZ S.p.A.=Global wheel manufacturer, founded by Silvano Oselladore and Pietro Zen, who worked at a gas station in the Vueneto state of North Italy. The sketch is a work of Mr. Odagiri when he was at OZ and produced.
As a designer of Alfa Romeo
Foreigners cannot stay in Italy when visa expires. After the training at Pininfarina, I returned to OZ for keeping my visa status.
During the training, I had already sent my portfolio to most of Italian auto manufacturers. I could not get any offers at the point. Later, Alfa Romeo gave me a response and asked me to join their training.
However, unfortunately, I could not join the training because I had a tight schedule at OZ.
I just got known a theme of the training. So I made designs for concept cars according to the theme, and tried repeatedly to show my design to a person in Alfa Romeo.
 It was like, I visited their studio without appointment and told them, "Let me do this project" although I did not take their training.
Fortunately, those kind of my surprise attack was succeeded, and I could join to middle of the project.
I could involved in making 1:4 and 1:10 model, and moved to make 1:1 model for the final development. The product was put on a mortar show in Bologna. After that, I joined to Alfa Romeo.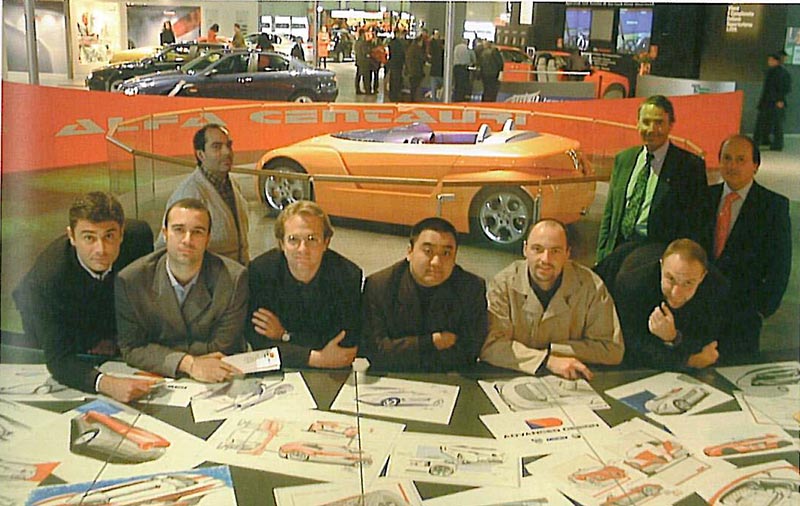 A photo from Fiat's Advanced Design University stage. The fourth from the left is Mr. Odagiri.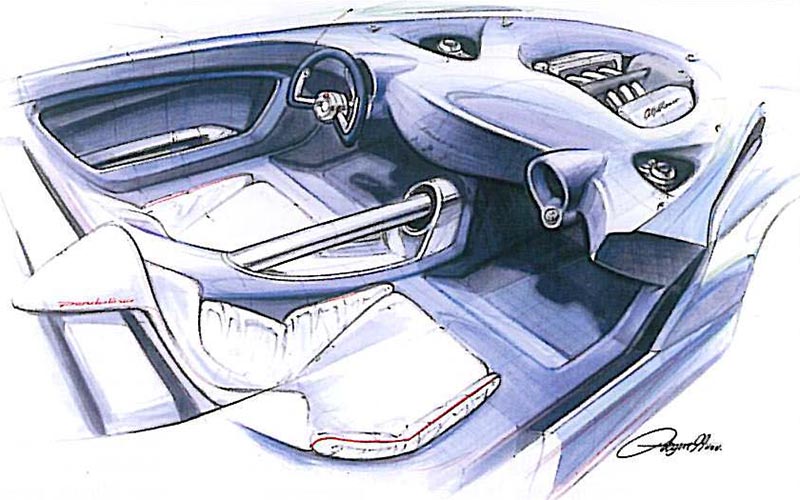 An idea sketch from the second stage.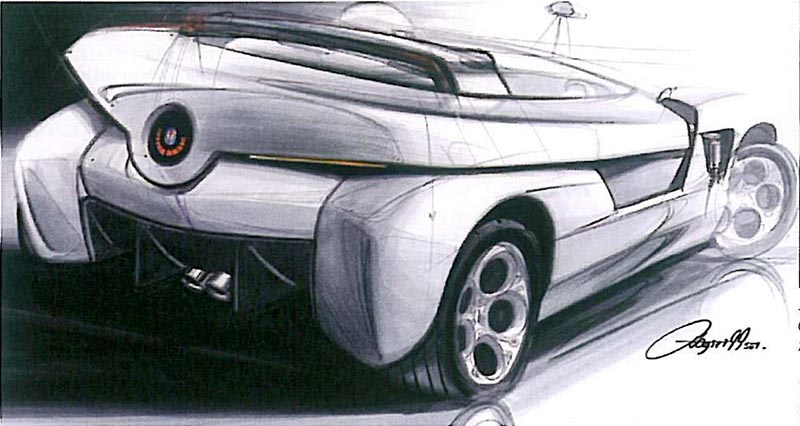 An idea sketch from the training.
 Every time, I was surprised when my environment was changed, and Alfa Romeio was also no exception.
First of all, I was surprised, "I can drink alcohol from the morning in the company in special occasions" lol.
During the world cup, we watched the game with a huge projector in the presentation room.
I don't know it continues or not today, but those times were like that.
The company did not give importance on just how much you were good for drawing or rendering.
What important was how much you can enjoy your work and life. It means how attractive you were as a human.
They did not think anything for a person, who strictly draw sketches or just only good at drawing.
Alfa Romeo was especially like that, and there was different culture in Carrozzeria.
I had been thinking myself that I am the kind of person who takes a serious approach to everything, therefor I was really surprised the culture in Alfa Romeo.
You can know this kind of things when you actually went and had experience in there.
This is a funny episode that a person at the front desk in Alfa Romeo could not speak English at that time. He can speak only Italian. Now, I wonder how they treated visitors from overseas? Lol.
It was unbelievable but this kind of sense is quite normal in there at that time.
Seeking the best environment where you can get advance so much yourself is important.
I was also looking for a place for car design, and finally reached to Italy.
My life in Italy was suited me very well, and when I noticed, I was having fun at the same level as ordinary Italian people.
Message to people who are aiming to be a car designer
I just can say that car designer is purely fun job.
You can design cars whatever you like and if you are lucky, your product will drive in the world. It is the good job, right? lol
Of course, you will need much effort, and there are lots of regulations.
However, I think, car design is a fun job including all of them.
Although this is common thing to say, environment and rivals are very important for you.
My field, car design is little world, so there seem to have a limit to work by only yourself
In my case, I found TCA by chance, and could put myself in a good environment.
Setting a person you can think as your rival, doing your best at every time, preserving objectively your present situation, and judging and understand what you need now…
Then, you will find next challenge which you have to try.  
Just only hoping to make good design does not help you to reach at a certain level for showing your design to other person.
You need to spend a lot of times for drawing and gaining much experience for the design, and then you can expand your ideas by your wide knowledge.
After that, you can push yourself for get advance more by receiving accurate advice from other person.
At this stage, it will be necessary for your potential power and your personality with charm.
However, somehow you have to get yourself on the stage before your potential and attractive personality are needed; therefore putting yourself in such environment is important.
Moreover, anything will not happen unless you cannot express things what you want to do.
Today, we can get various information through the internet, and you may feel like you know everything and get much information, but the information you got is often having possibilities of unreliable information.
I mean that you feel good at drawing after looking at someone's good drawing. lol
Doing by yourself or asking various people and obtaining much information by yourself is important.
When I was in Italy, I visited and asked many people without permission or appointment for getting information.
I am rather a shy person, so I was always very nervous for doing that. However, now I think, I received warm welcome in many cases, and they provided me great information. Later, those experience and connections with them would help my work a lot.
It is impossible to be a car designer by just thinking, "I want to be a car designer" in your mind.
You have to keep seeking good environment where you can get many experiences for study car design.
To practice a lot is nothing special. You need to make a chance by yourself as you are practicing hard.
And, also you need to prepare to fulfill yourself with your potential for taking the chance before the opportunity came to you.
You cannot develop a car only by yourself. A car designer, it may be an occupation that you feel the importance of people's connection.
They are all ordinary things I told above, but I can say that a car designer is purely fun job.
Please study hard for your dream.
 Editor's note
How did you find this interview?
During the interview, he told us another episode that one of his teachers said him, "you look like Musashimaru (a famous sumo wrestler in Japan)." He made laugh for us.
Like that his charming and unpretentious characteristic, we enjoyed whole interview with him.
We would like to write more about him because he was so attractive designer.
And, this time, I noticed that successful car designers have great ability to make actions.
Mr. Odagiri also said us, "I could complete because I was young."
His words in this article, "You can get various information through the internet, and you may feel like you know everything and get much information" apply to you?
This interview was a good opportunity to think myself too. I also have to be a person who is active like him.
Mr. Odagiri, thank you so much!