【Nori's Design Talk – vol.5】
A Special Car, "Shooting-brake"
 The article we are going to introduce today is one of Mr. Nori Kurihara's serial columns in Tipo, Japanese automotive enthusiast magazine published monthly by Neko Publishing. It appears in the 372 issue of the magazine.
In this column, Mr. Kurihara talks about an episode with Ogle Design, a British design company, and also writes about his special feeling for "Shooting-brake."
Column: A Special Car, "Shooting-brake"- Nori Kurihara

"Station wagon which has a function of sports coupe with sleek that is `Shooting-brake,' and it is nowadays a word used for indicating a car body style. Looking back at history, the term `Shooting-brake' comes from England where hunting and shooting was recognized as sports. `Shooting-brake' was used to transport shooting parties, and it was popular for the noble class and the wealthy people as a special vehicle.
It was so long ago that I had a special attachment to `Shooting-brake.' There was a cool and rare 'Shooting-brake' named Reliant Scimitar in England which had fascinated me so much. The car was designed by Ogle Design, a famous British design company (who also produced the model for spaceship in the Star Wars). I knew the existence of the company who didn't yield to Italy, that led me to want to land a design job working in England someday. Thinking back on it now, `Scimitar' might be a car which gave me the opportunity to go to England.
Fortunately, I got an offer from that company, Ogle Design, however, I decided to transfer to the development center at Ford due to various reasons. "If I worked at Ogle Design…," I just imagine it for now. Because of having such an episode, I have a special feeling for "Shooting-brake" Scimitar (1964). Such as the Volvo 1800 ES (1972), otherwise the Ferrari FF as of late, I also like this kind of sports cars.
Then, I drew this sketch as I was imagining a modern edition of `Shooting-brake' with my memories. I'm a little conscious that it might be too close to the coupe, however, both the beltline and the shoulder line continue to the rear, making this design special.
Furthermore, if I could express a lively motion of sports cars as securing a space of luggage room by those lines reaching to the roof… Well, when I think of the car, many thoughts running through my head are restored.
By Nori Kurihara"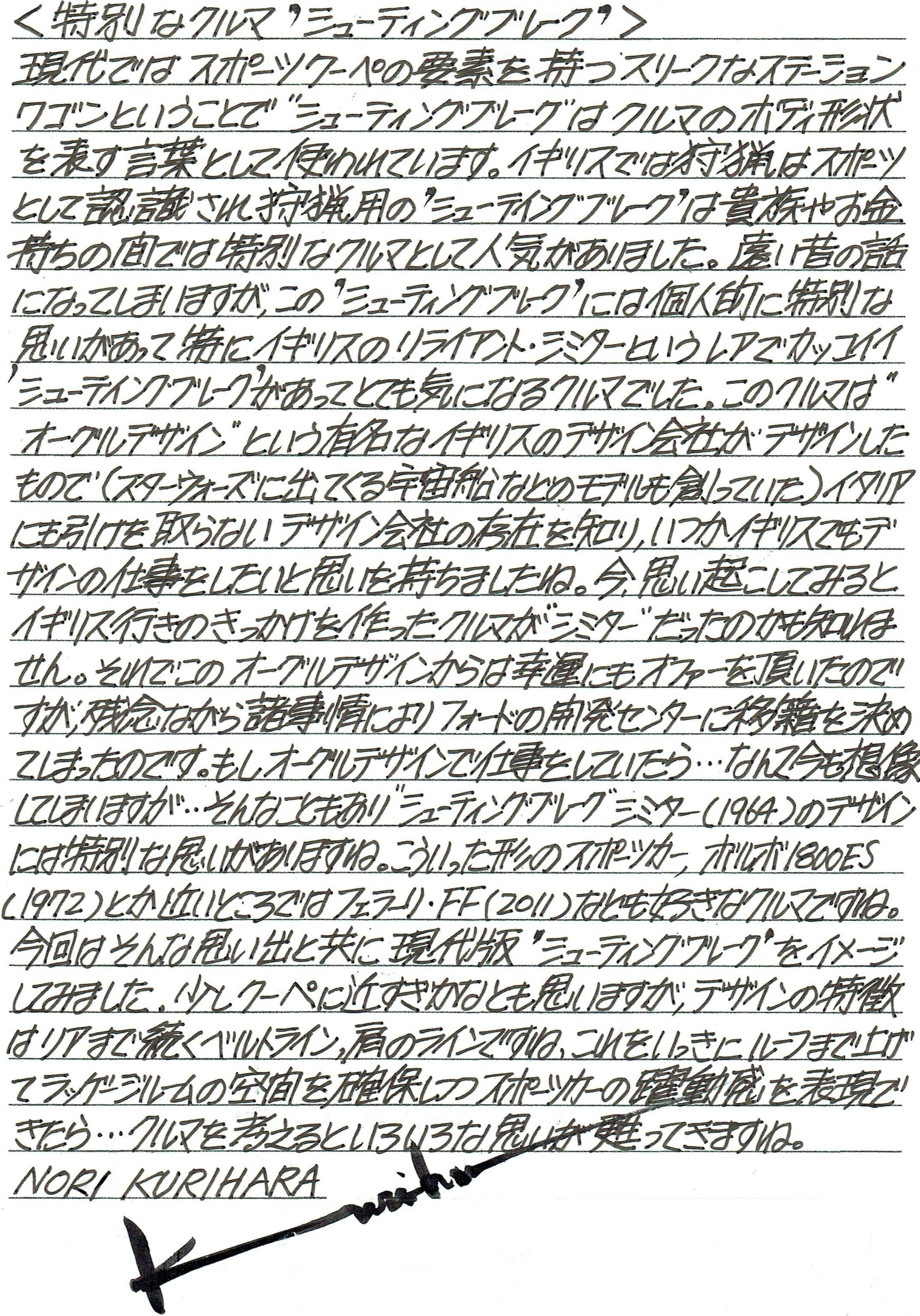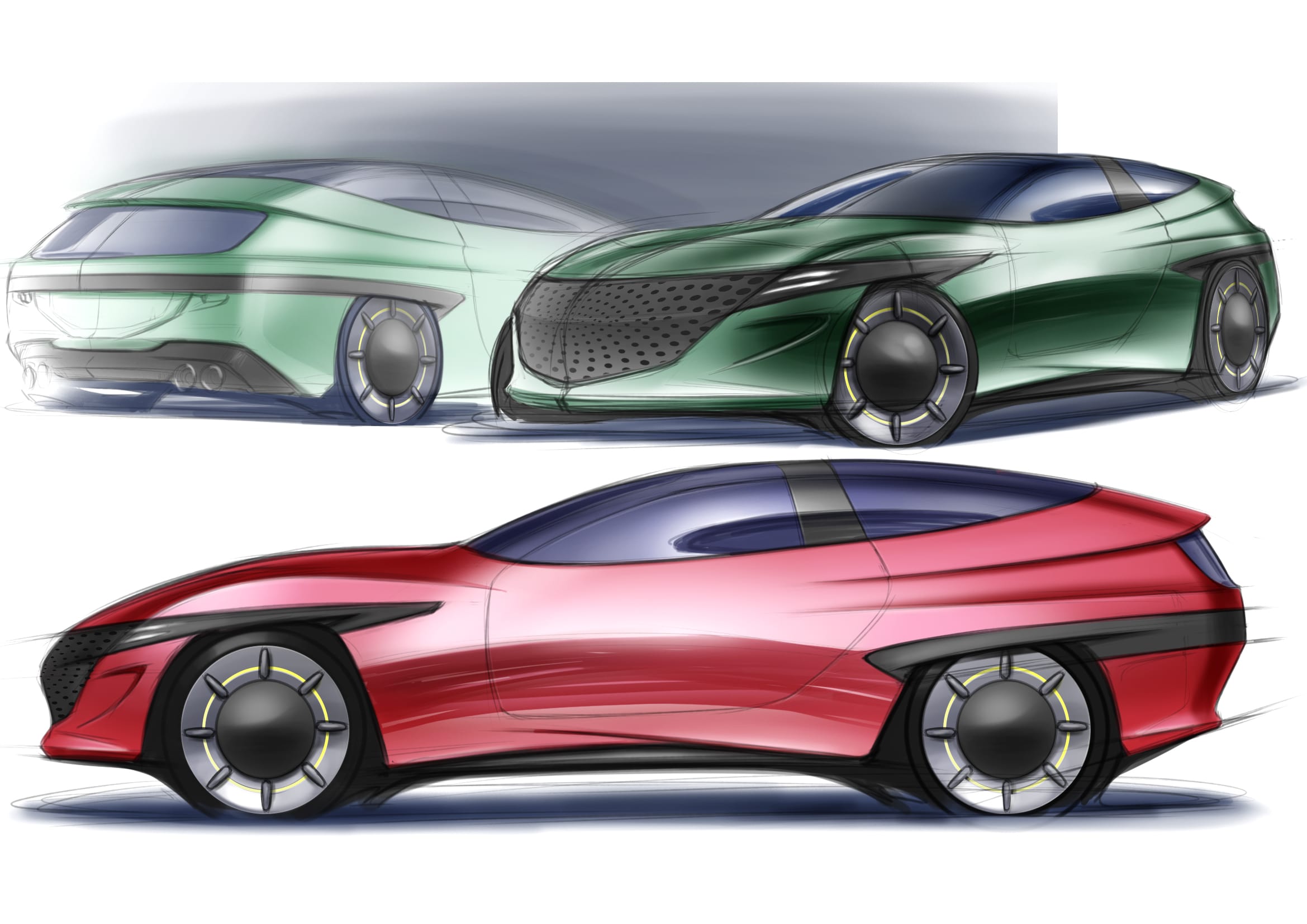 Here is "Scimitar" which appeared in the column.
Behind the Story
Probably those who read this column could grasp a part of Mr. Kurihara's successes throughout the world. In fact, there was another story, and we are pleased to share it with you.
As in the column, when Mr. Kurihara worked at a certain coachbuilder in Turin, Italy, he accepted an offer from Ford and decided not to take the offer from Ogle Design. However, not only these 2 companies, but actually there were more auto companies who gave offers to him. The makers, one from French and the other from Dutch, came out from far distance to see him in Italy. Later, that French automaker became one of the clients of Mr. Kurihara's own company established after he returned to Japan. Mr. Kurihara and the design director from the maker who met him in Italy remain good friends to this day.
Mr. Kurihara has been sharing his career through various media, but it seems that there are still more episodes that are not seen in the media.
So, please stay tuned to the future! We look forward to giving you more his episodes here!
This column was published in the 372nd issue of Tipo.
Here's where you can get it.