[Interview to CDA Students] Jonathan Kasumba / Uganda
Welcome to official web site of Car Design Academy where the only place you can learn Car Design through Internet.
Do you want to pursue car designing as your profession? Are you a car engineer, modeler, students, or novice? But you like car designing, and you love cars?
In Car Design Academy, instructors are working actively in Japanese design studios as a car designer. This means you can learn updated real world car designing directly from them. Moreover, you can learn car design at any time at any place with your own pace. That is the benefit of online school.
In this time, we had interview with our current student, Jonathan Casumba from Uganda.
If you are considering joining Car Design Academy, we hope following article, interviewing to our current student, will help you.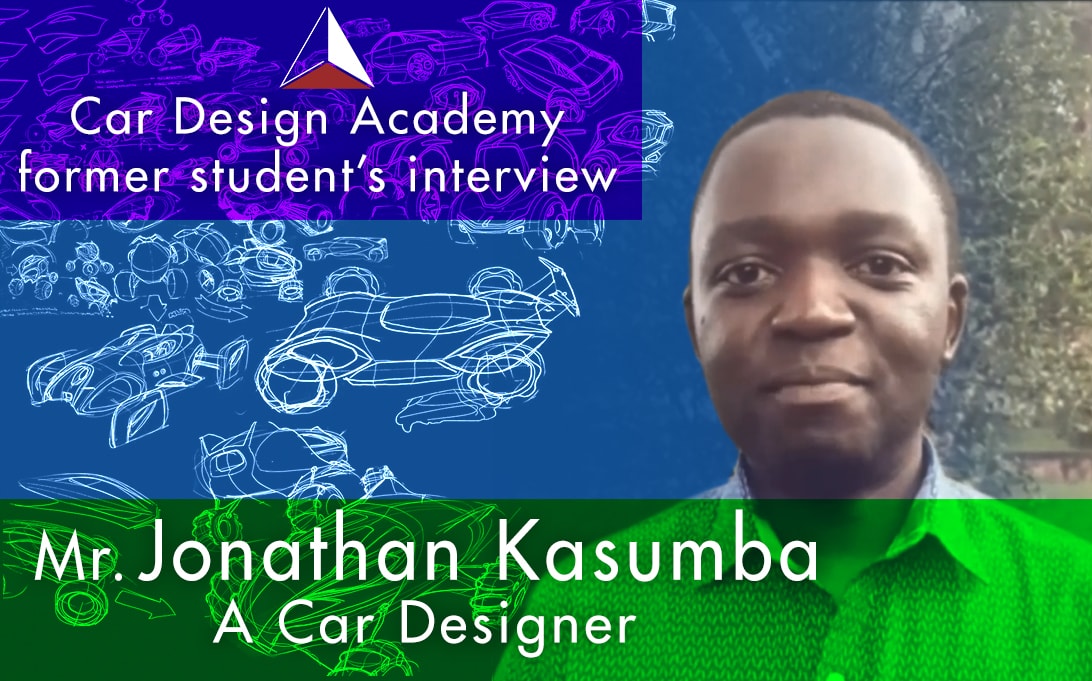 An interview with Jonathan Kasumba
Why did you want to become a car designer?
I liked drawing as I grew up, and when I drew a car for the first time, I felt joy in the fact that I was able to draw a car. Everything started from there and kept on growing.
Why did you choose CDA?
I chose CDA because it was more affordable option than other schools. More importantly, it was the teachers; they are real professionals who know exactly what car design is. Also, the Japanese car industry is very unique to me. Each design is always different.
What is your current work?
I work for Mureza Auto Company in South Africa. I mostly draw to explain what the product should look like to give different design ideas and technical solutions.The current designs are not as futuristic as I want, but the company has a lot of potential to grow into the future.
What do you want to do in future?
I want to work for different design studios to get different experiences and get new contacts to grow as designer.
What do you think good about CDA?
The way it is structured is very important because it starts from basics; gives you the grounding that you need to improve, and, especially, developing an idea. And more importantly, developing skills in sketch and perspective are, at times, not taken seriously, but the teachers are serious about these, which I like about this course.
And CDA walks you through. After each lesson, there is a video, which literally teaches all the points you need.
The biggest thing which helped me was participation in competitions, in which everybody was allowed to express themselves and bring all they had learnt.
Mr.Can has been very instrumental. He is genius in car design. The way he instructs works. And the video helps so so much.
Could we have your message to current students?
This course gives you a full foundation required to build your skills in car design to be able to direct you into the field of car design. And it gives you the whole picture of what car design is all about; how you can enter to the industry, understanding skills that you have, and realizing the importance of creative aspect of car design; many do not know the step by step breakdown of the creative part of car design. That is what CDA impressed me, and I believe it will help people who do not know about car design and also, people who already know about car design.
I encourage many to take this course, but, my advice is to be very driven because this course is so intense. You have to be driven and passionate.