The Special Offer: Free Copic Marker 32pc Set will end soon.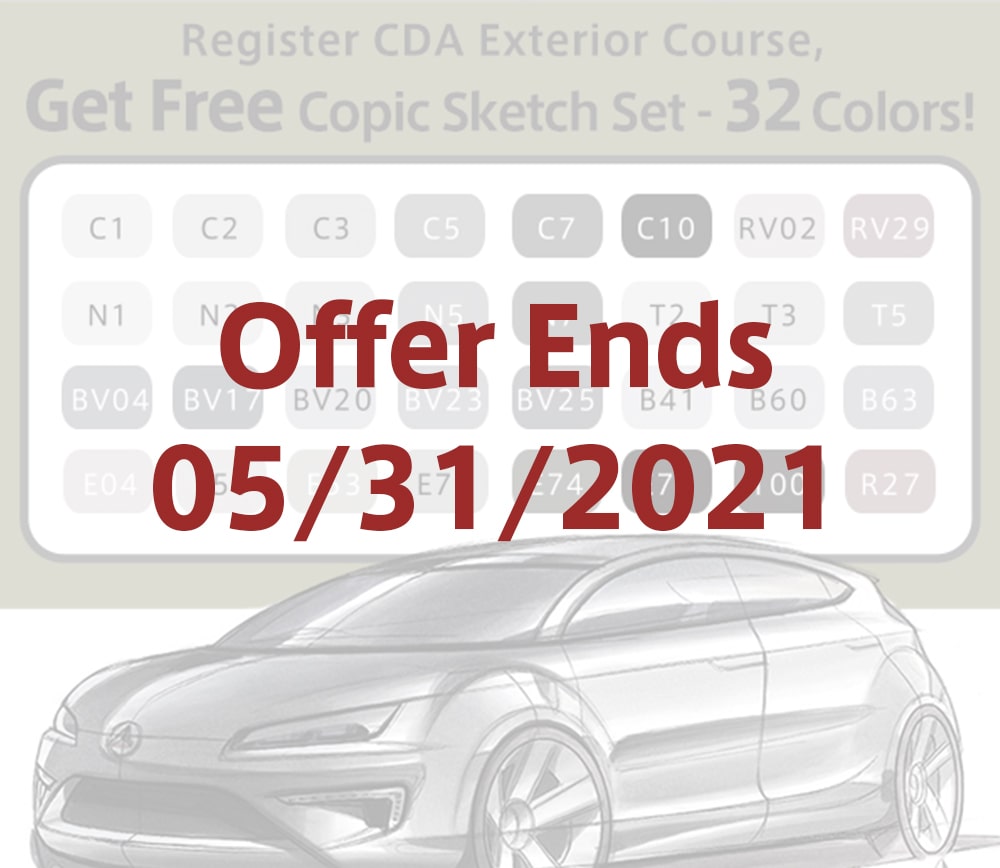 We would like to inform you that our special offer: Free Copic Marker 32pc Set will be closed on Monday, May 31st 2021. We truly thank you for your applications.
Please do not be disappointed if you miss out. CDA will be having a new offer (Copic Marker 15pc Set) this coming June. *The colors in the set are still undecided.
Once again, there are only a few times left to get the Copic Marker 32pc Set. If you are interested, you can go to the application form and register for the CDA Exterior Course by the end of this month.
SPECIAL OFFER DETAILS

When you apply CDA Exterior Course and complete payments during the promotion period, you can get Copic Sketch Set (32 Colors) which will be used in CDA courses for free.
THE COLOURS IN THIS SET

The colours include: C1 / C2 / C3 / C5 / C7 / C10 / N1 / N2 / N3 / N5 / N7 / T2 / T3 / T5 / E04 / E51 / E53 / E71 / E74 / E79 / B41 / B60 / B63 / BV04 / BV17 / BV20 / BV23 / BV25 / R27 / RV02 / RV29 / 100
WHAT IS CDA EXTERIOR COURSE?

In this course, student acquire essential skills for vehicle exterior design. Student will learn from basics such as how to draw lines and understanding perspectives, and develop their learning to create their own design and portfolio. Throughout the course, student receives one-to-one instruction from professional car designer.
VIEW COURSE
COPIC SKETCH

Copic is made by a Japanese company, Too Cooperation, and the most preferred markers used by professional artists and designers in various feilds across the globe. Copic has some types of markers, and Copic Sketch is the one of them. The Copic Sketch comes with super brush tip (like round brush) which is the biggest characteristic of it, and it enables you to make gradients, while usually creating gradients with markers can be a difficult task.
Our designer demonstrates his painting with using the Copic Sketch markers. Please click below to start watching a video.
HOW TO ENTER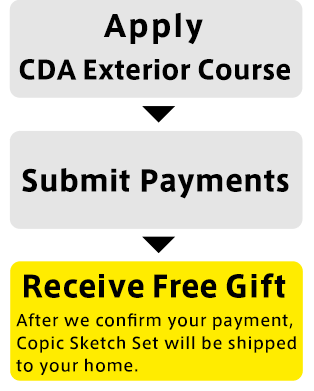 TERMS & CONDITIONS

1. The offer is only for new students who apply CDA Exterior Course. *CDA Trial Course is excluded.
2. The offer is only for new students who complete their payments including entrance fee and tuition.
3. CDA offers international shipping to select countries in this special offer.


Certain countries prohibit to import Copic markers due to component of ink contained in the markers. Before applying, please contact the customs in your country and check country guides where you review items that are prohibited for import to your country.
APPLY CDA EXTERIOR COURSE