#6 CDA Design Comeptition: "An ambulance that will serve your city ten years from now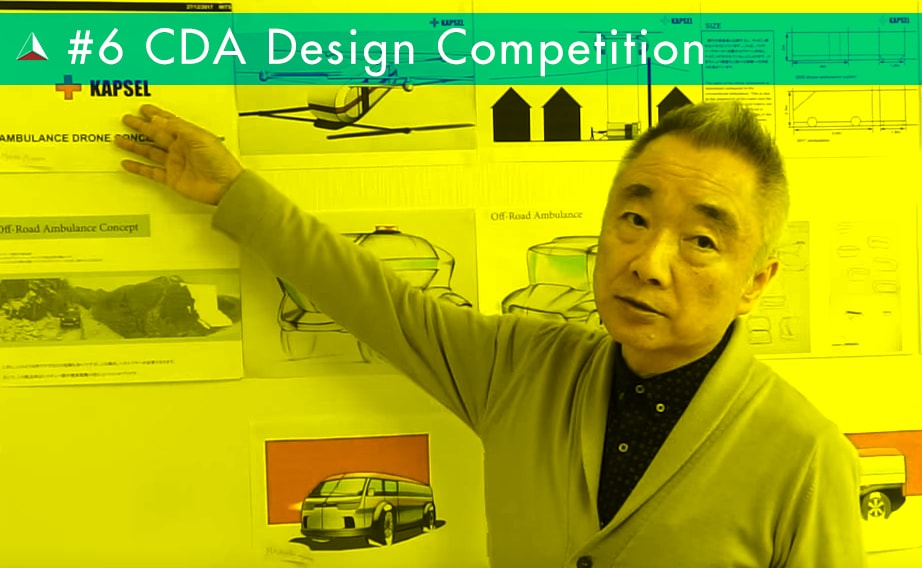 The 6th Car Design Academy Competition was held, and our instructor, Mr.Toshio Yamashita who is world renowned designer for designing the Nissan Z32 Fairlady and R34Skyline judged all works submitted by students for the competition.
Probably, every student once had wished to become a car designer like Mr. Yamashita, and they were very proud to be judged by him, furthermore all students engaged in creating works for this competition and we are very pleased that.
You will find more about Mr. Yamashita from here
The past CDA Design competitions:|1st|2nd|3rd|4th|5th
Theme:Designing"An ambulance that will serve your city ten years from now"

We had received various designs against this theme, ranging from drone to concept which is assumed for the near future and a vehicle specialized in helpful equipment.
The most of works among them are well considered and we could find a trace that students worked very hard for creating designs.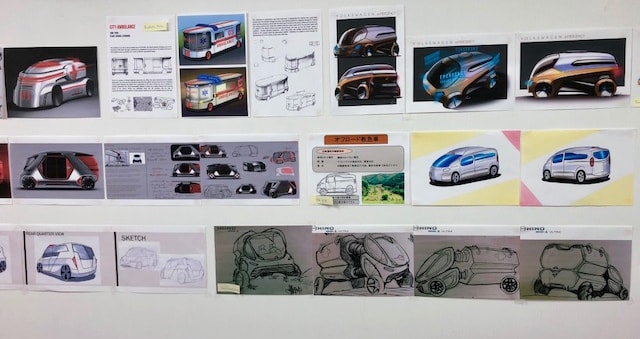 We have set the following three evaluation criterion: "Consistency between the theme and the concept,"
"Development of the ideas," and "Sketching skills.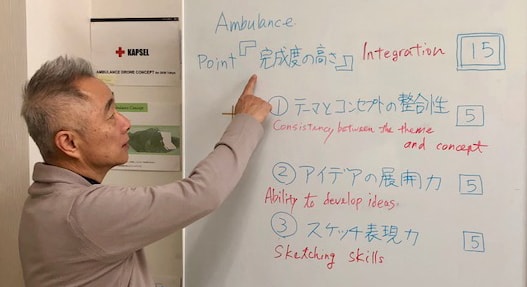 Judges were very hard to selecting winners because of students' wonderful creativity and originality.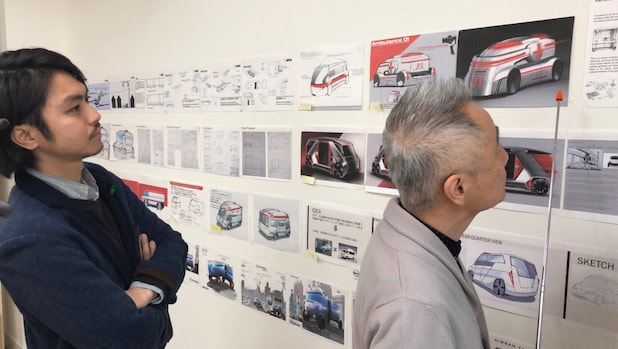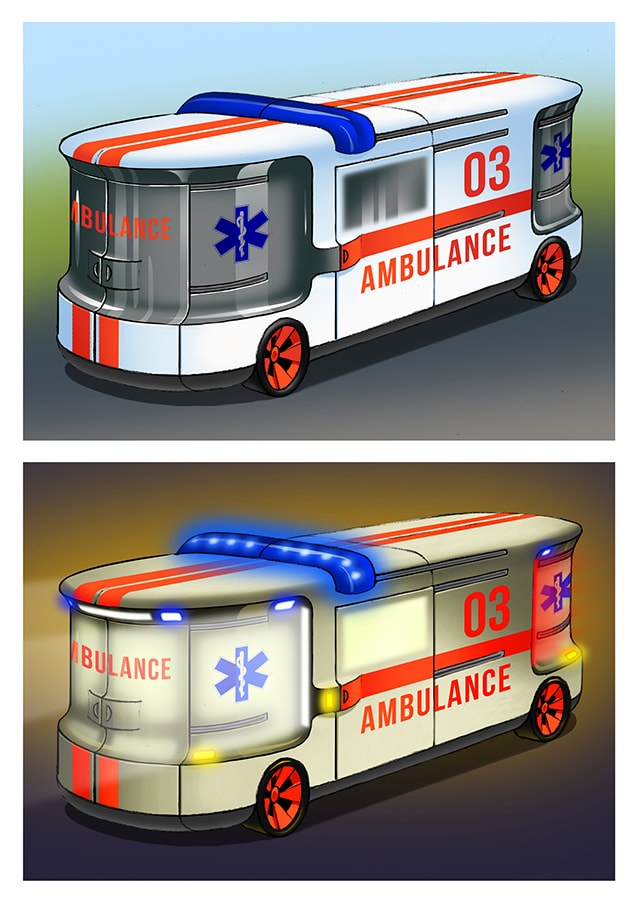 Grand Prize:
Mr. Anton Rukovskifrom England!!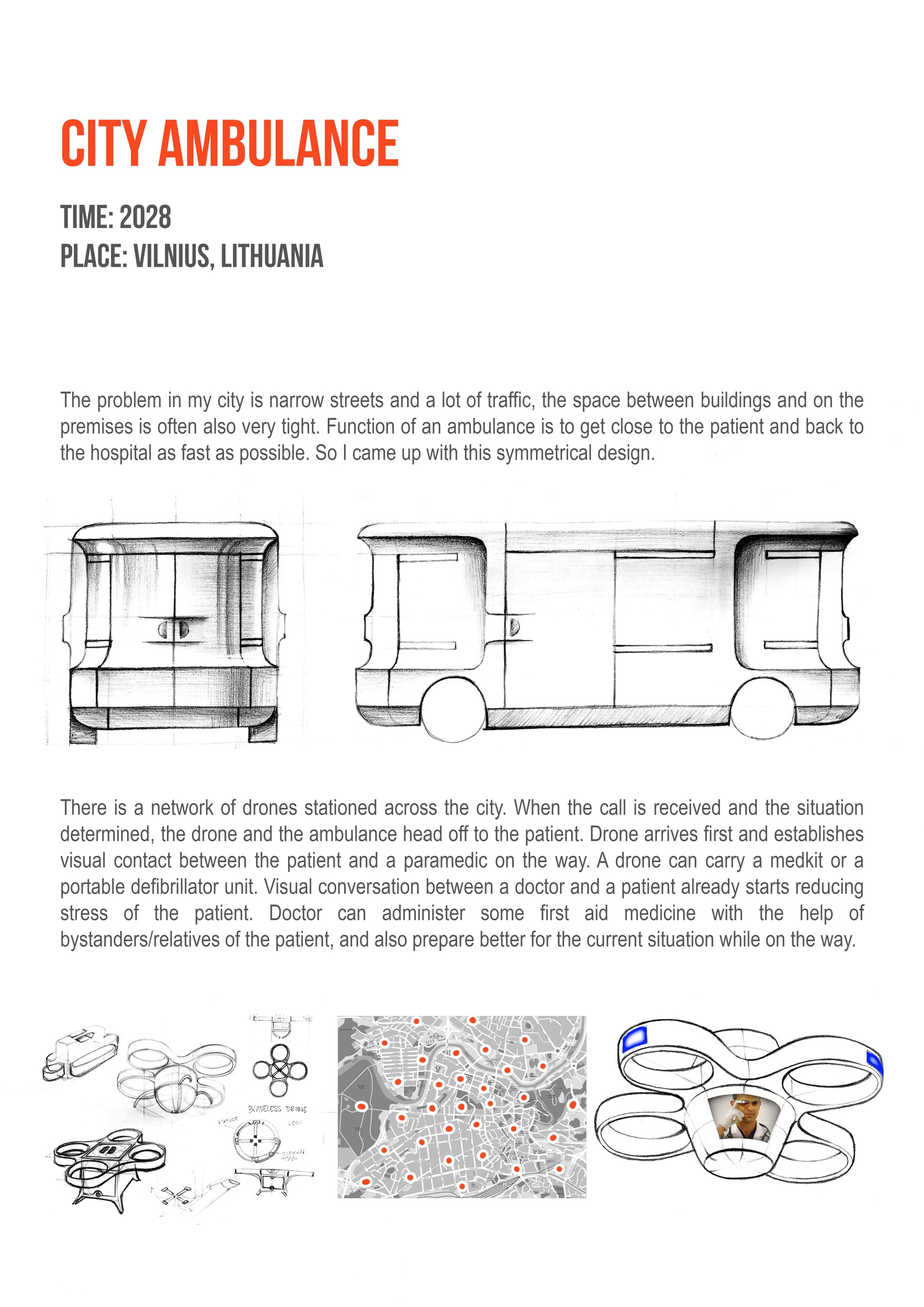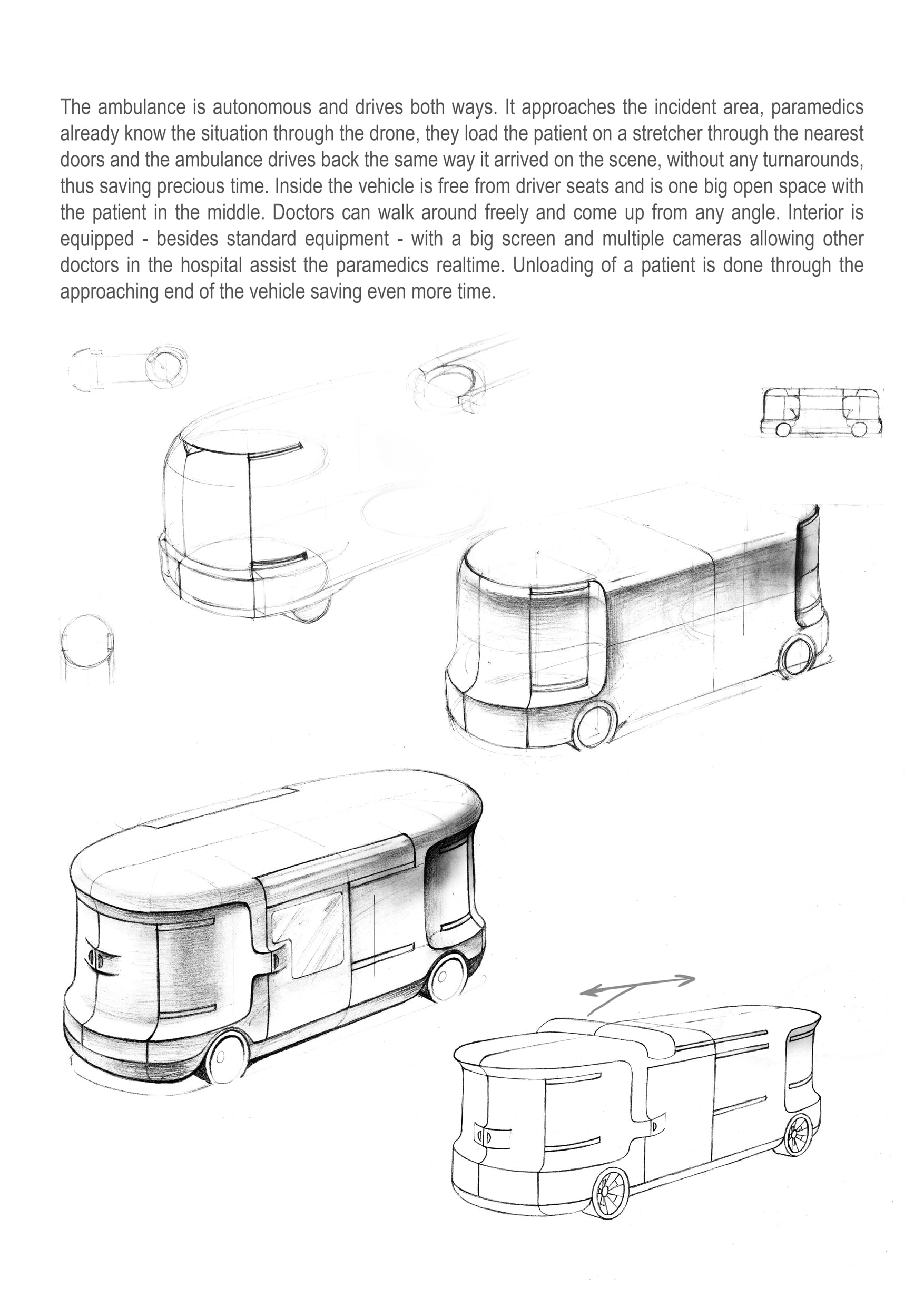 He sets a scene where the ambulance is used in Lithuania. He considers well their country's local traffic conditions.
In their country, the ambulance has to drive on narrow streets in heavy traffic. His idea is capable that the ambulance arriving rapidly and transporting patients under these conditions.
The first aid by using drone is very unique idea, and he takes away driver's seat with self-driving system and uses effectively the space where it was driver's seat.
He appropriately expresses these attractive ideas on his exterior design, and the judges rated these points highly.
His presentation is well communicated with his concept, and his high sketching skill and ability to organize a presentation board are also highly evaluated.
---
You will see more Winners' Works!
A slide show starts when clicked the image.
---
Let's watch a short movie of the #6 CDA Design Competition!
---
In this #6 CDA Design Competition, the results lead us to a fact that not only creating a beautiful styling of the vehicle, but also your planning ability is important for designing under this theme because it is essential to define and solve current issues on the ambulance and emergency scene that we are facing. At the same time, designers are also expected to add values for creating a new ambulance.
The most important thing to note is that students need to have a lot of experience to win a competition; therefore we encourage them to participate in competitions as much as they can. We, Car Design Academy hold the competition regularly, and offer a place where our students from all over the world are able to compete and improve together.
We have been releasing all of our past CDA Design Competitions' judging results and winning works on our education platform, and CDA students are able to access it at any time.
We believe that it helps the students to improve by knowing their evaluations from judges, and to gain a way how to win the competition.
Would you like to know more about our competition? Are you having any concerns in learning car design? We can hold an online video conference, "Free Individual Information Session" with you. You will be able to talk with our top designer.
Please feel free to apply "Free Individual Information Session" from here.