#11 CDA Design Competition Intermediate Review Results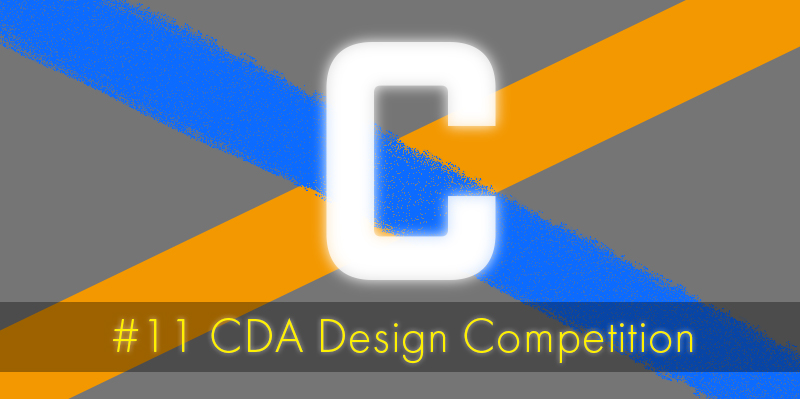 We are happy to share with you on how the Intermediate Review is going at the #11 CDA Design Competition which is currently held at our academy. This competition is only open to CDA students. In this time of the competition, our students, both Japanese and international students, ranging from a junior high school student (14 years old!) to college students, and professional designers are participating in the competition. All participants have spent over one month developing their designs to compete with each other.
What's CDA Design Competition?
Theme: "To design a New C-segment Crossover"

The C-segment can be said to be of moderate size as we think of usability and performance of the car. (The cars in this segment include the Toyota Corolla.) We would like to ask participants to create more attractive vehicle design by adding a new value to the C-segment, that is the theme of the #11 CDA Design Competition.
We define "Crossover (functional)" as combining different factors. For example, participants can combine different vehicle types such as "Coupe and Cross Country." Perhaps, "Low price and Sports Car" could be possible. Judges would expect to see what factors are combined and what value is brought with the vehicle created by participants.
Competition Head Judge: Mr. Toshio Yamashita

In this competition, Mr. Toshio Yamashita, most well known for designing "Fair Lady Z, Z32" as well as other major Nissan's cars, is assigned again as a head of judgement team.
Lean more about Mr. Toshio Yamashita
Submissions and Advice

At this moment, we accepted participants presenting their rough design ideas. For example, they could present their concept with short explanations, and also, they could show it with line draw sketches because this is the Intermediate Review, not the final review. However, some of them submitted sketches finished by painting or concept boards as if we wouldn't be surprised if the boards were submitted at the final submission. We will share with you some of their works submitted for the Intermediate Review as below.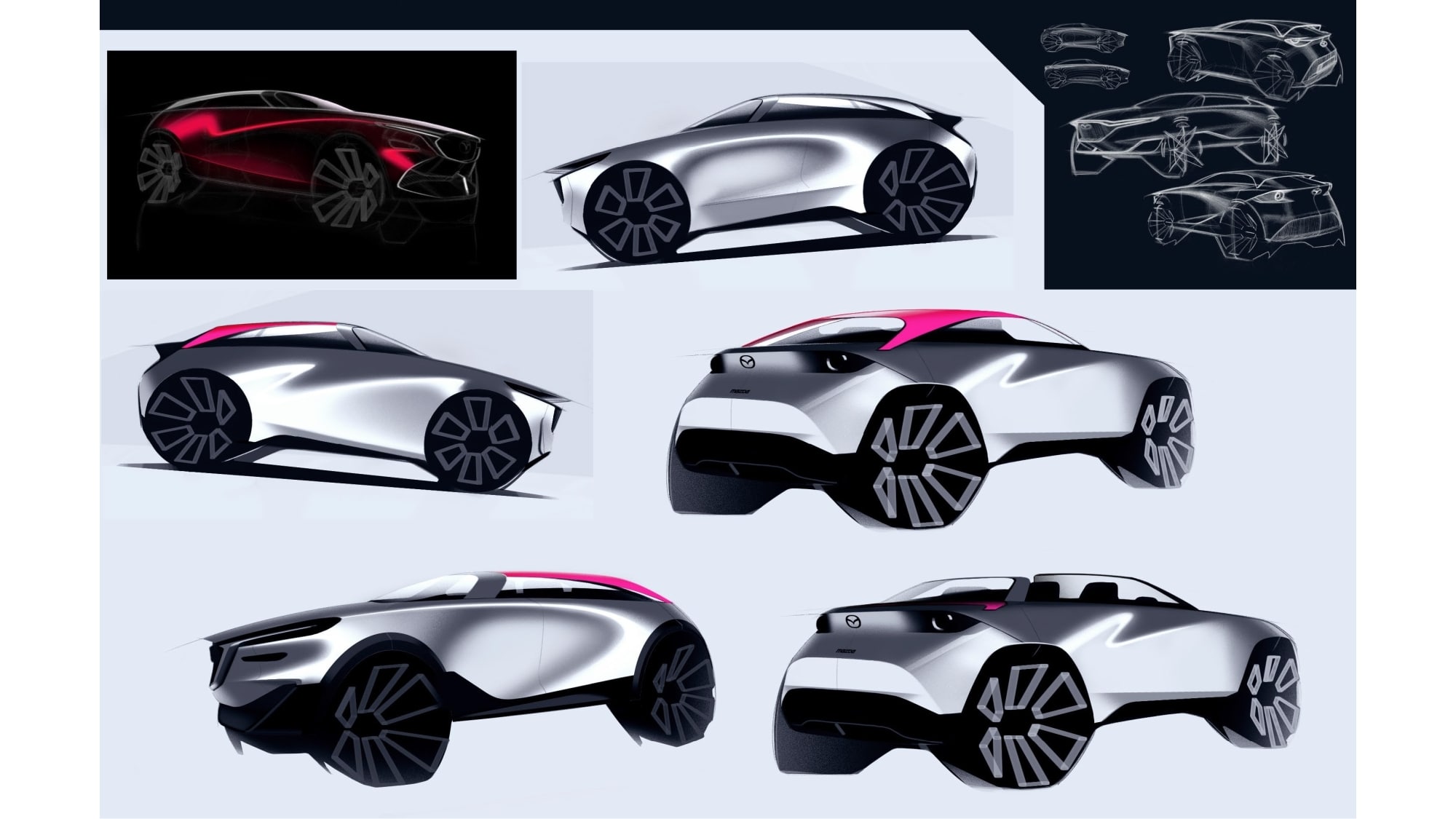 Concept

:Vehicle combined SUV and Roadster will be sold for the generation Z

Advice

:The way of styling of this car is something like typical that I felt from this design; however, he should consider more about if young people in generation z really want this type of car. He has high sketch skills this much, so I encourage him to design an all-new car for the generation z which does not belong to any of the categories of existing cars.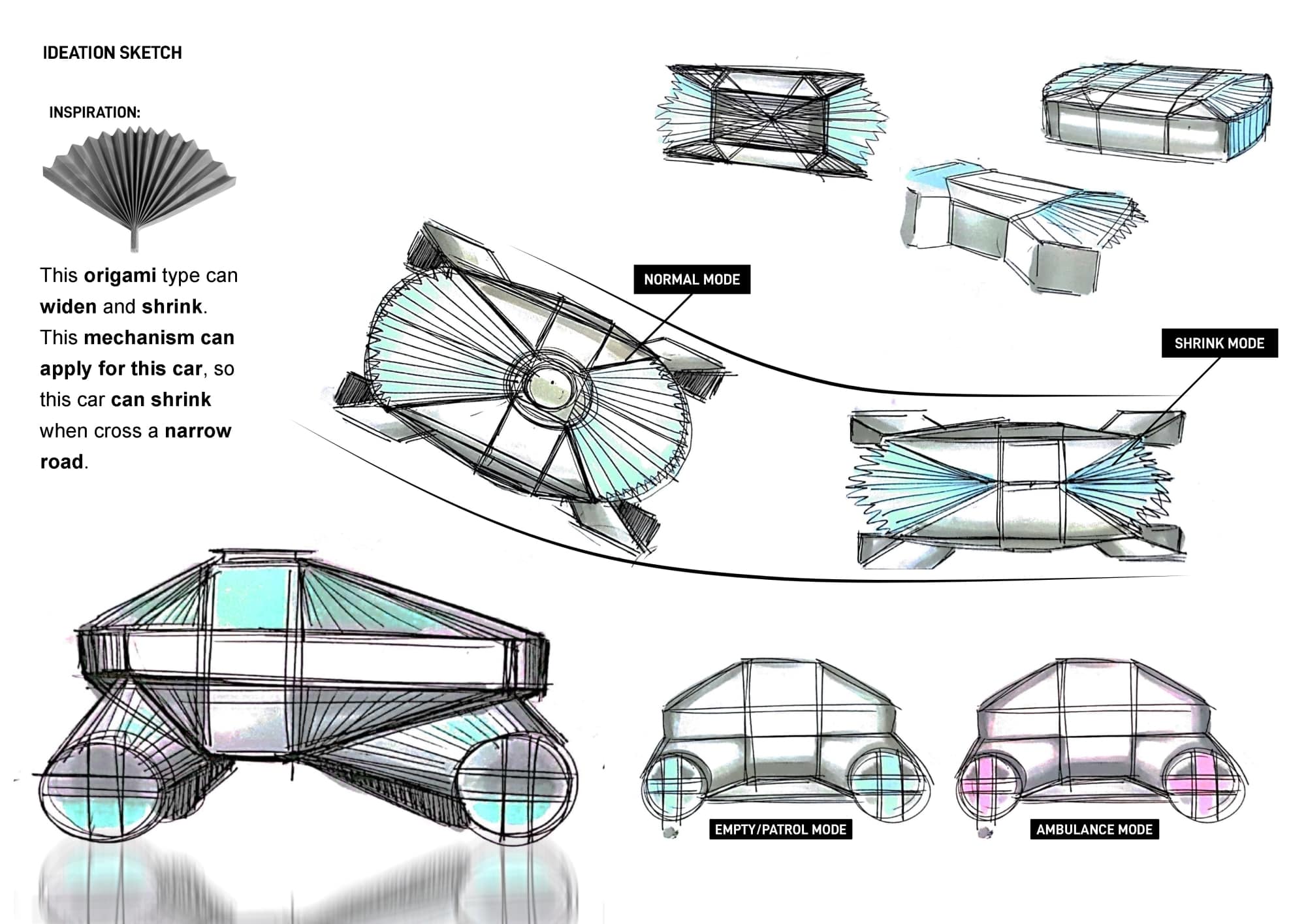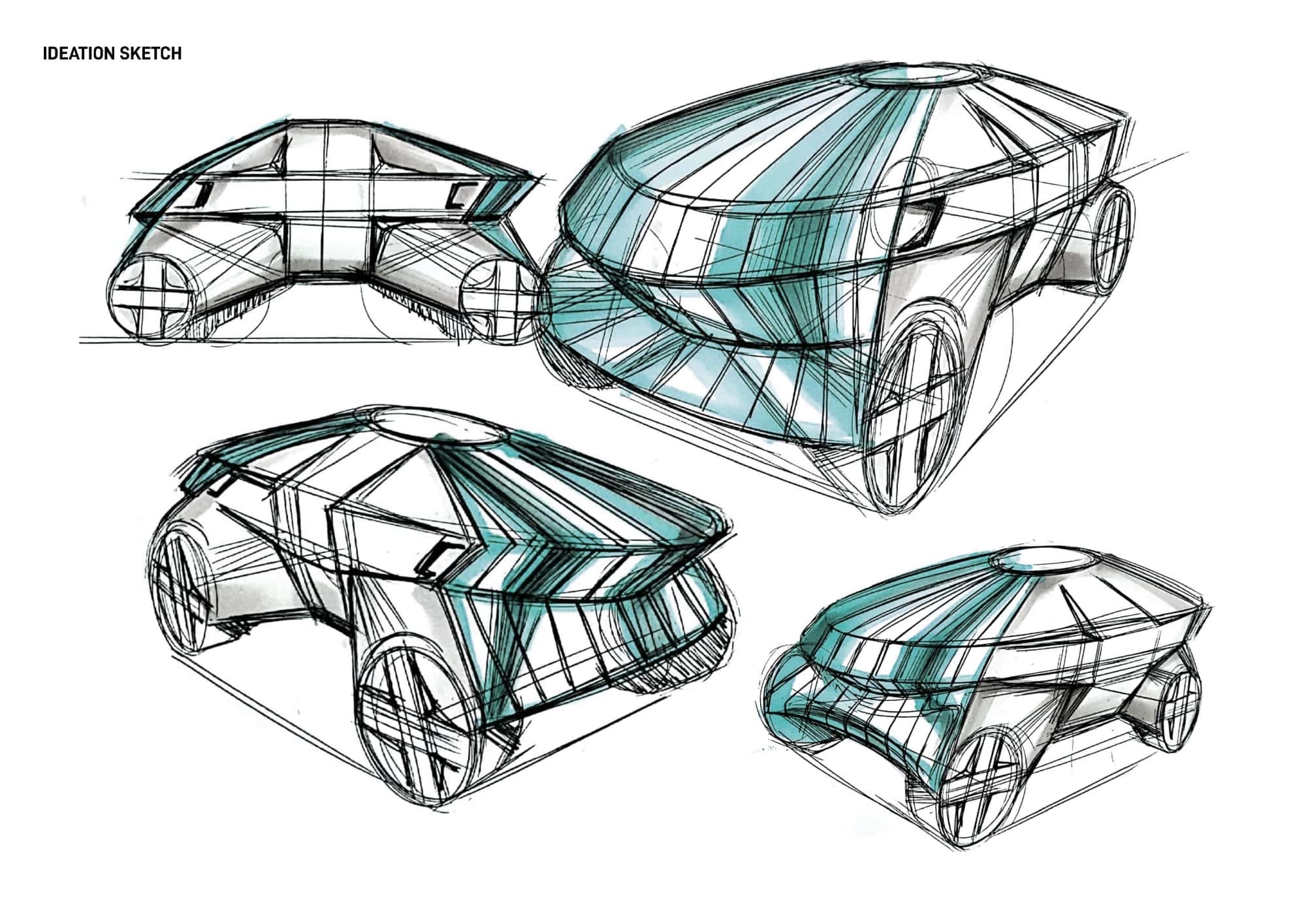 Concept

:Vehicle which will be used for safe transport of infected patients between their home to the hospital during pandemic.

Advice

:The idea of combining Police cars and Ambulance is unique. He set the styling theme as Origami, and it matches with the function of the car which can change the size, that is good. However, I noticed that the space is too small for the ambulance. If he is thinking the space was adequate for this vehicle, he needs to explain it in the presentation board.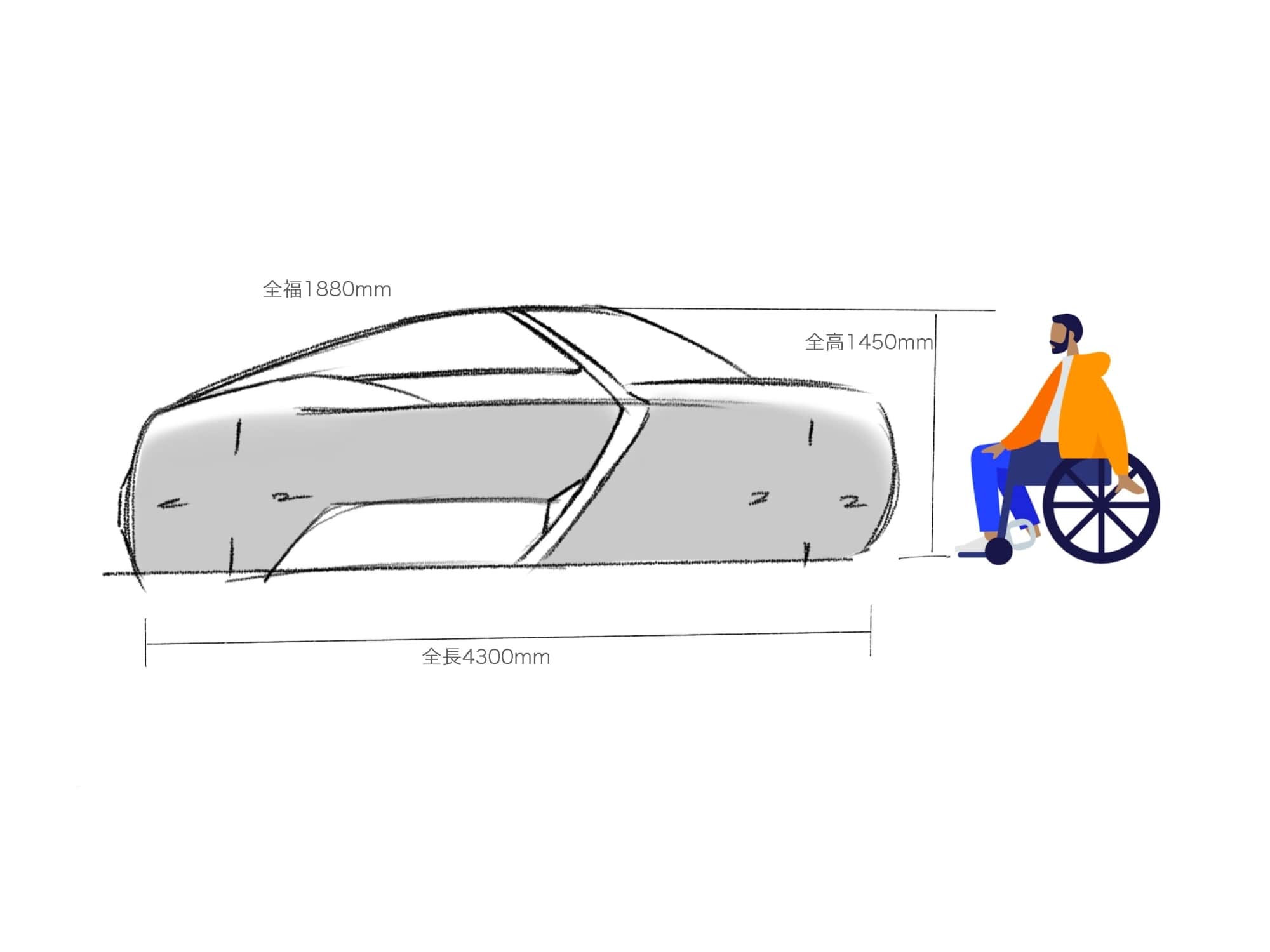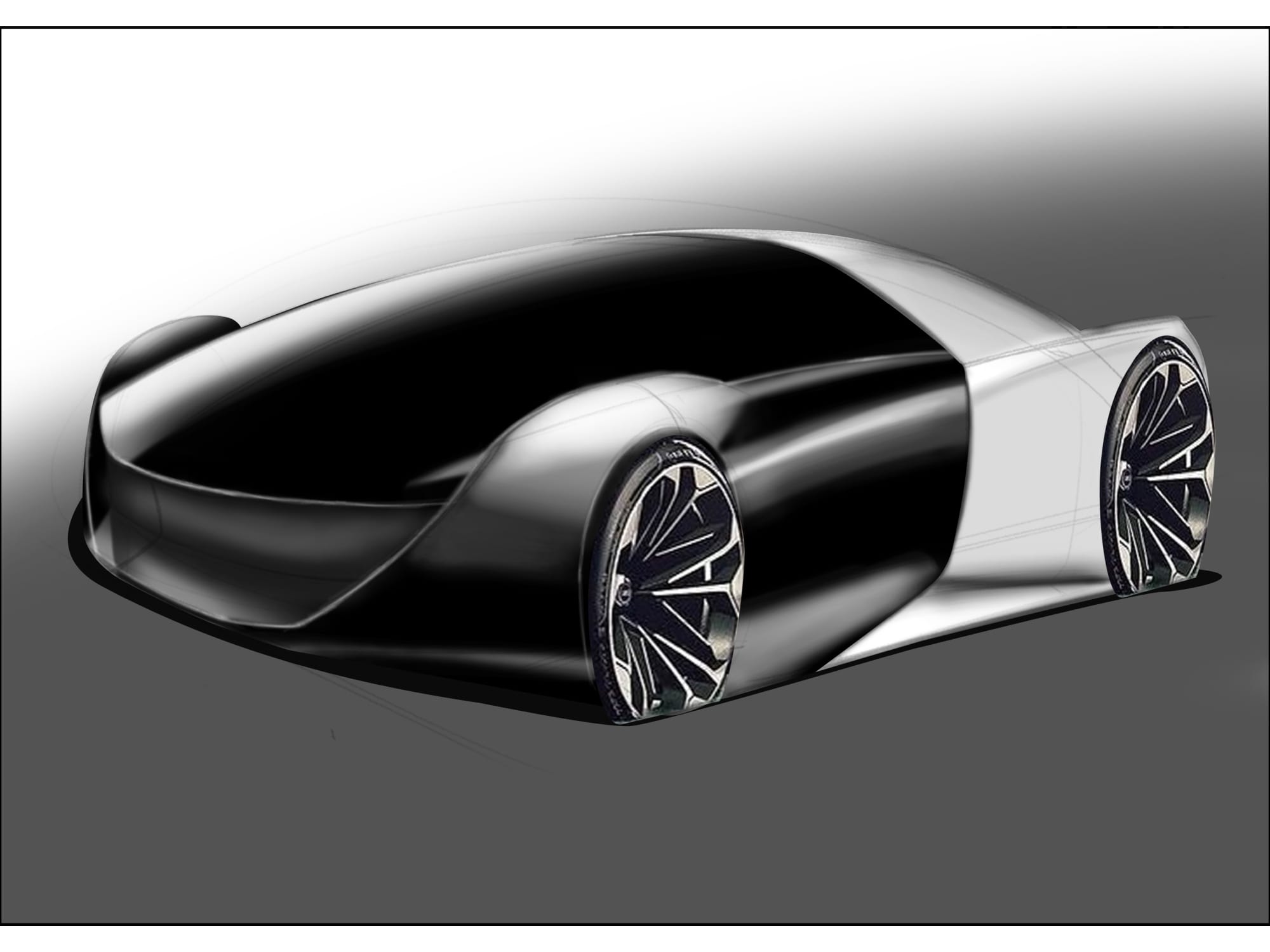 Concept

:Vehicle combined Welfare vehicle and Gran Turismo. An idea of a sports car, and people on wheelchairs will have fun and exciting driving experience with this vehicle.

Advice

:His aiming is good. There must be the people on wheelchairs who want to drive a sports car, and this idea makes us feel excited. However, the vehicle in his sketch looks lower than the height as 1450mm. His sketch gives an impression to viewers that a person on a wheelchair is difficult to get in the car with the heigh he drew. I encourage him to draw the sketch while paying attention to the vehicle size.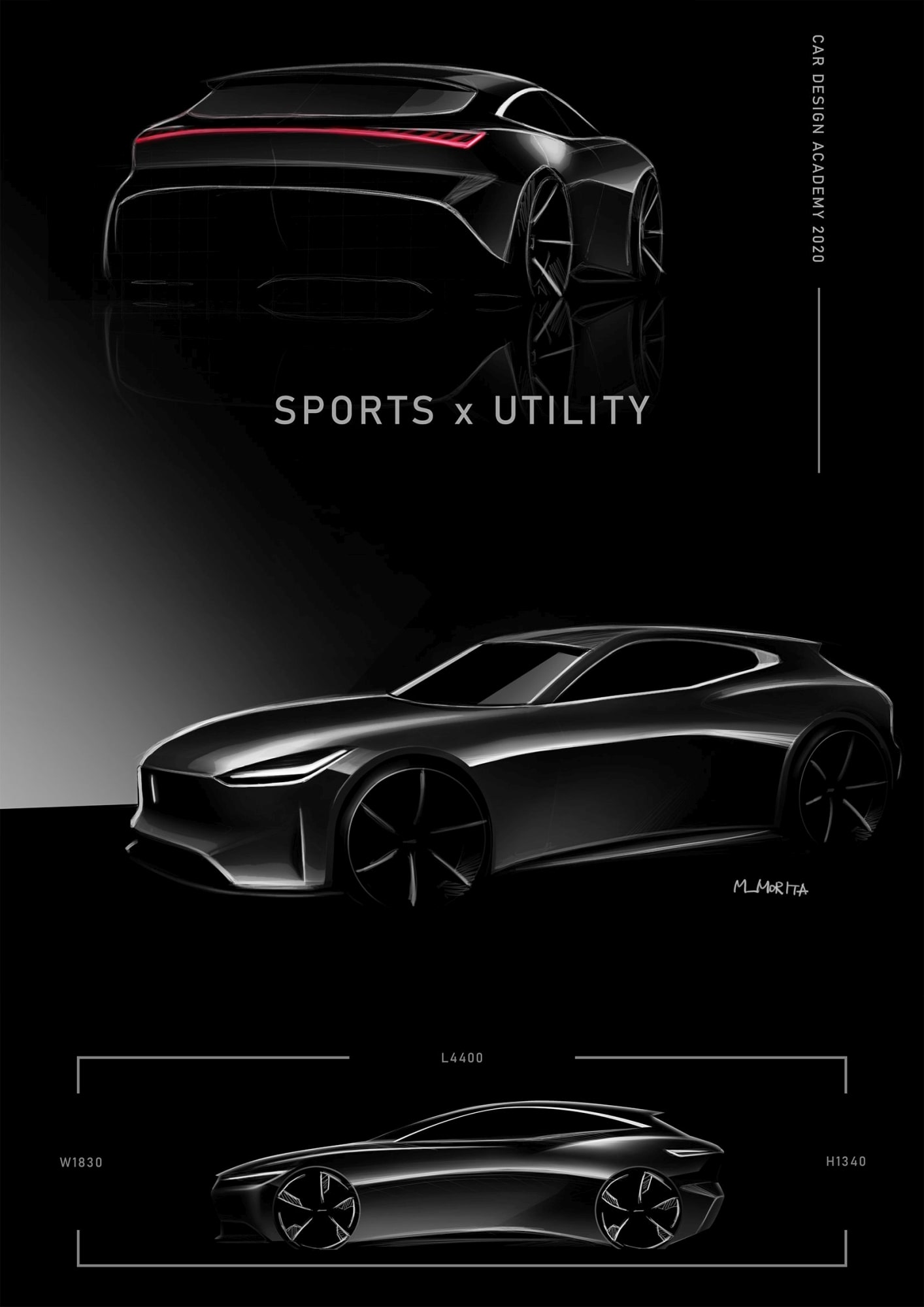 Concept

:Vehicle combined Sports and Utility

Advice

:His sketch is well drawn, and the styling is good. But, I think the concept is very similar to the Porsche Panamera. There are various sports, so I encourage him to consider more specifics about what sport experience users will gain by this car.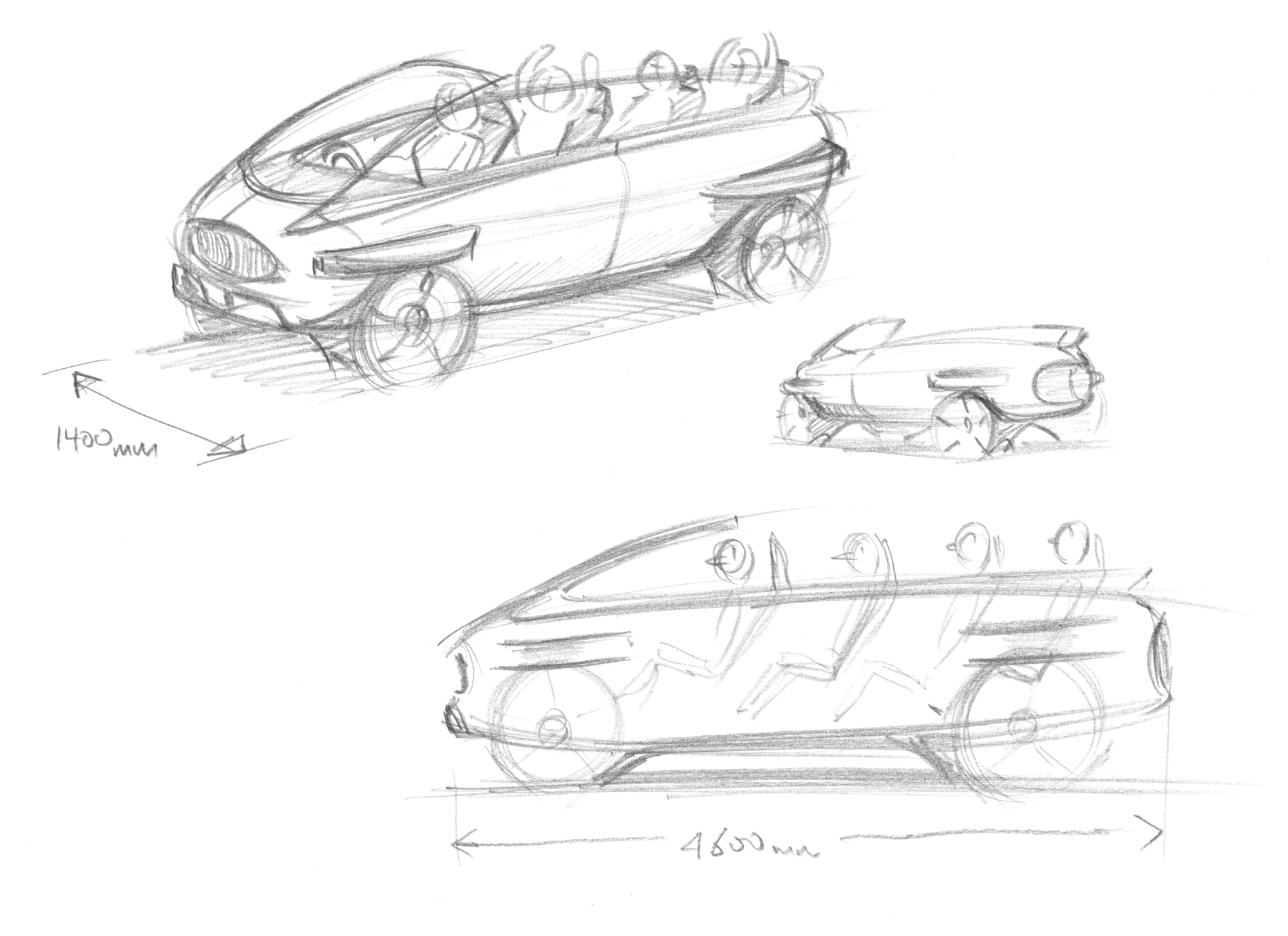 Concept

:Vehicle combined Roller-Coaster Ride and MPV

Advice

:At least I could understand what his idea is; however, it doesn't convey the purpose of why this vehicle is necessary. Passengers sitting in line are interesting, so I encourage him to explain why this way of sitting is good. And, roller-coaster style is much stronger than crossover. It makes viewers feel less crossover. Please incorporate the expression of MPV (Multi-Purpose Vehicle) style with the roller-coaster style.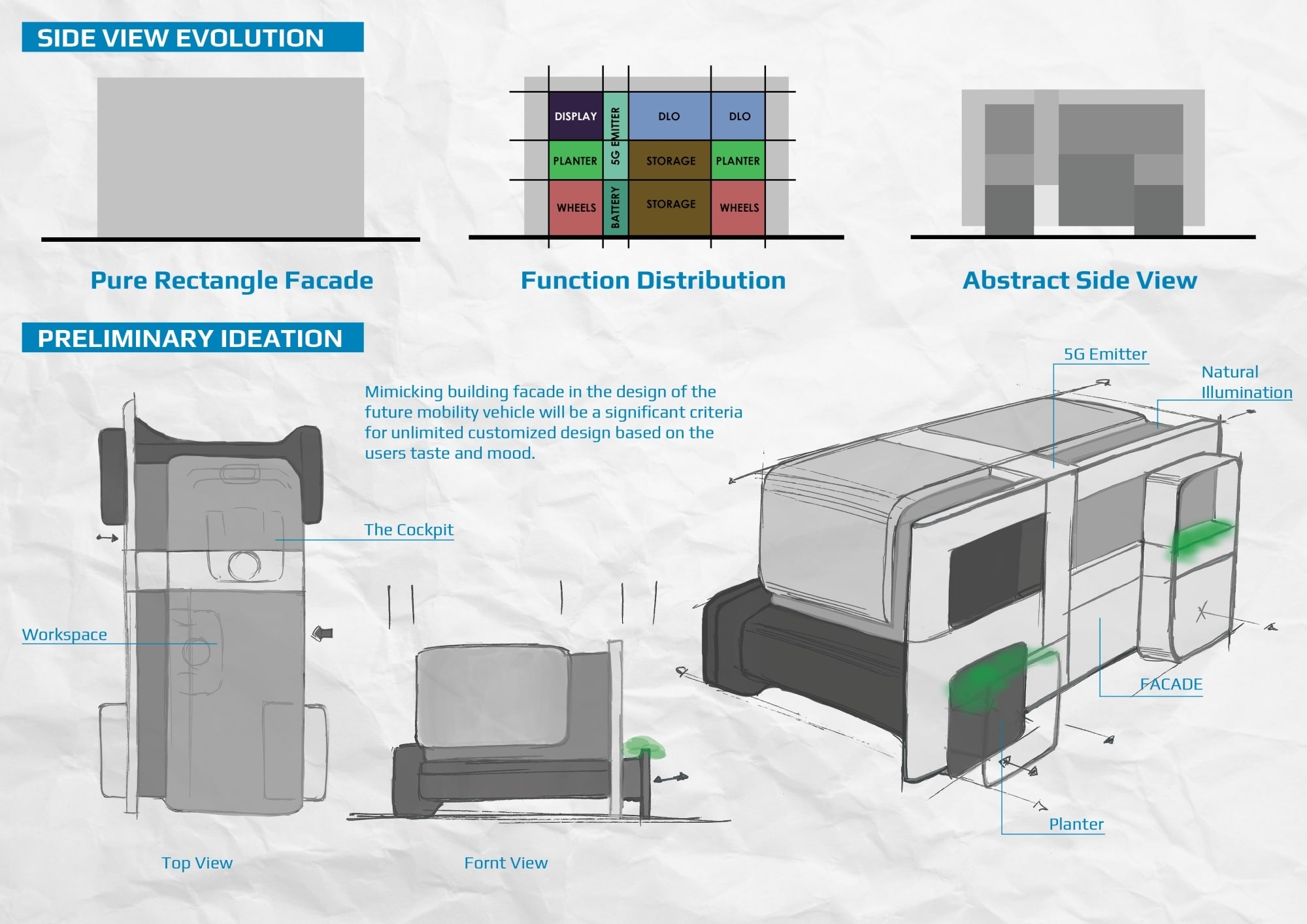 Concept

:Vehicle combined Office and Mobility

Advice

:This idea suits the situation currently we are facing under the pandemic, and I feel there are people's needs for it. However, please don't be caught by just simple ideas like "portable office." To design an object on the move is also an important factor when designing, and you need to express it as one moving vehicle.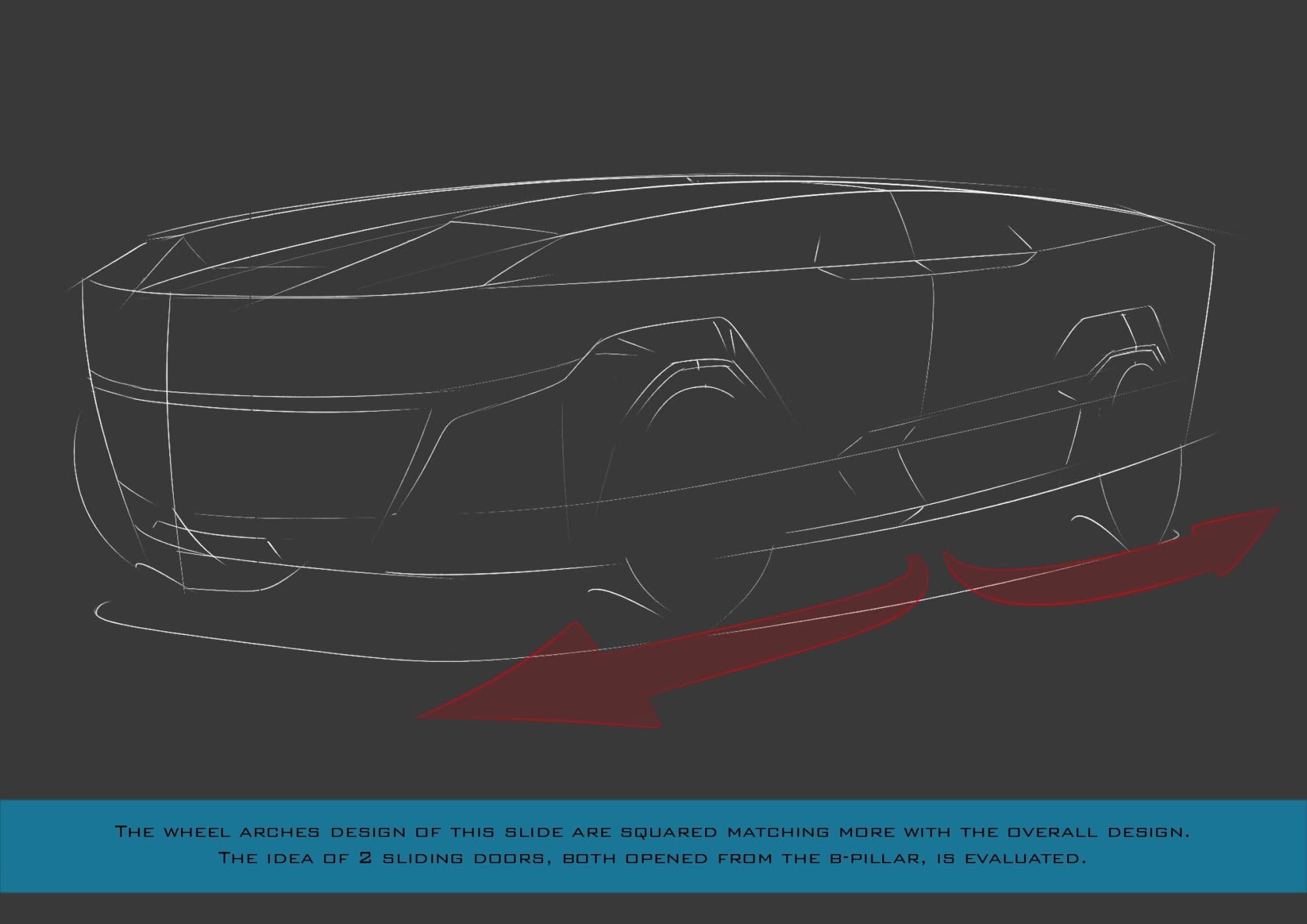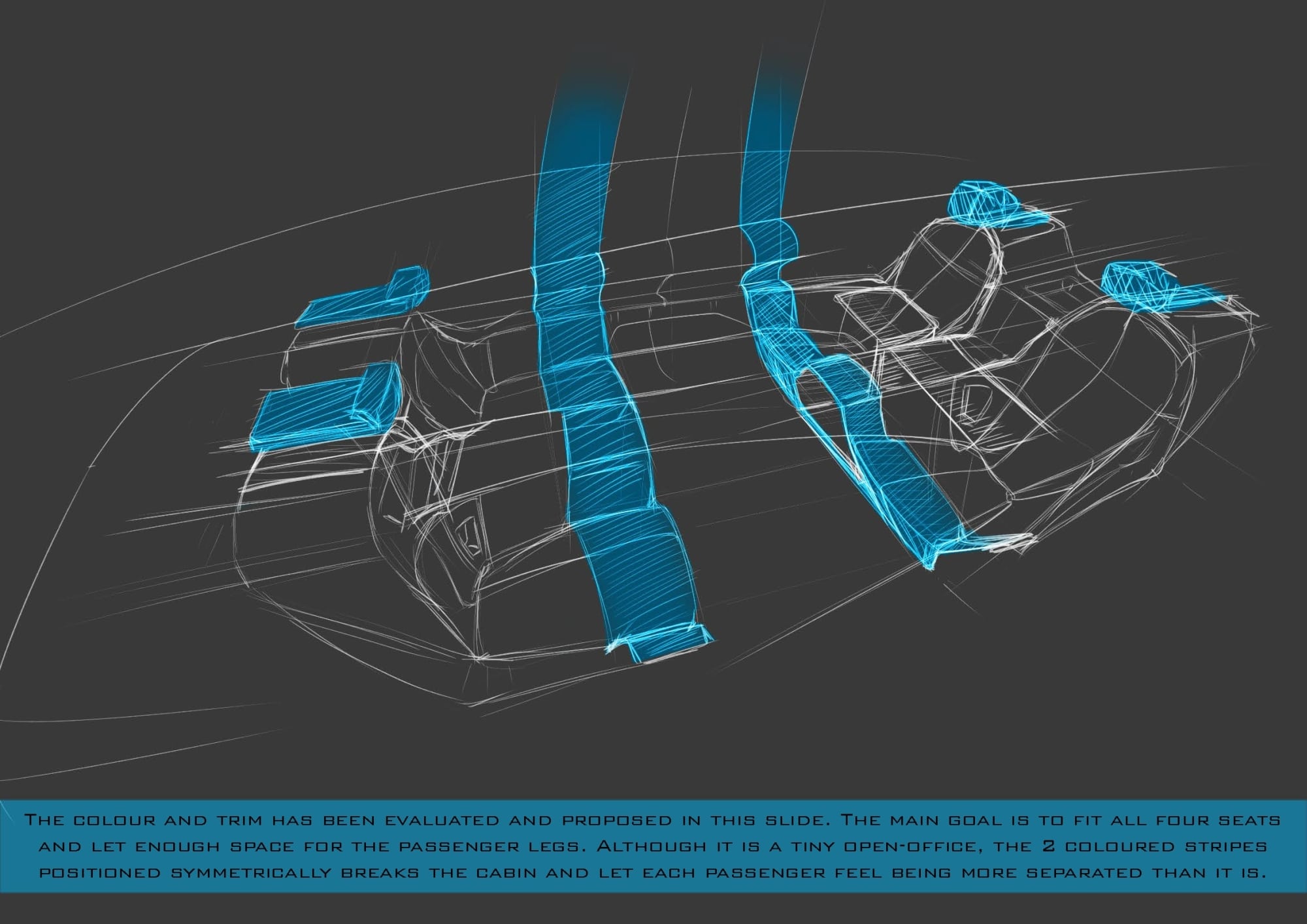 Concept

:Vehicle combined Office and Mobility

Advice

:I also could understand why this concept is necessary. However, most of his ideas can be possible with minivan in Japan. I encourage him to search existing cars with similar concepts in order to find new values. And, also he needs to consider more about what experience users will gain with this vehicle.

---
How did you find the results of the Intermediate Review? These works are still on the way to be completed; however, we already feel that seeing various ideas under one theme is the best part of the competition. We hope you are looking forward to seeing the award-winning works of #11 CDA Design competition. We will announce the results after the final review.
What is the CDA Design Competition?

The CDA Design Competition is held biannually, an exclusive event for CDA students where both current and former students in our academy are eligible to enter.
This CDA Design Competition is designed for educational aim, not just a field of competing. Therefore, to offer a more productive learning experience to our students, we have started the Intermediate Review as a new framework of the competition, and students will improve the quality of their design before the final submission. By receiving advice from instructors in the middle of the competition, and viewing other student's works including evaluations on them, this competition will be a good learning opportunity for our students to learn a lot of things besides the course.
We are now accepting new students.
We are currently acceptiong applications. If you are intereted in our courses, please click on the following link for more information.
*We are offering a special promotion to new students! All new students who registered for the CDA course will get FREE 32 Copic Marker Set during the promotion.
We offer a 2 Week Trial Course for those who want to see how the CDA Course fits you.