[Interview to CDA Students] Mitsuru Morita, a current student at IED in Italy – Part Ⅲ
>> Part Ⅰ
>> Part Ⅱ
Learning Environment & Job Opportunities in IED

C: By the way, IED have regularly scheduled exams?
M: Yes, they have. Most of the exams are practical examinations. For instance, in sketch class, I worked a project and had presentation in the class. It was evaluated not only sketching skills but also comprehensively evaluated, including such as concept setting. The 30 points are a full score in IED, and students need 18 points or higher to pass the class. If student fails the exam, he has to correct and submit the work again. If you attend the class seriously, your score will never get the score below 18 points.
For more examples, digital painting and 3D virtual modeling class have practical examinations, and these classes offered the exams in unexpected way. I received a rendering sketch in the digital painting class, and "See and draw the same sketch as it within 3 hours" said teacher. This was the exam. It didn't contain any information about structure of the layers, and students traced the sketch with using Photoshop. In this exam, it was evaluated how much students can paint and how much their works can get closer to the original rendering sketch. The 3D virtual modeling class has the same type of the exam. I received one picture of the product and had to create a model data within 3 hours with using software, Alias.
C: It's very practical and interesting. What kind of lectures IED offers in sketch class? Do students learn how to draw?
M: The teachers let students draw sketches more than learning theories, so I have engaged in drawing since I entered IED. During the school and after the school… I draw sketches night and day. There is no doubt that I'm surely improved. lol
Besides the practical classes, there is a subject called, Materials Typology. In this class, students learn the features of materials such as iron and resin so on. The exam of this class is written examination. I was a student in sciences during the high school, so I have no problem with this class. Rather than learning materials, this class is kind of an English class for me because I can learn a lot of English words which I didn't use in ordinary conversations.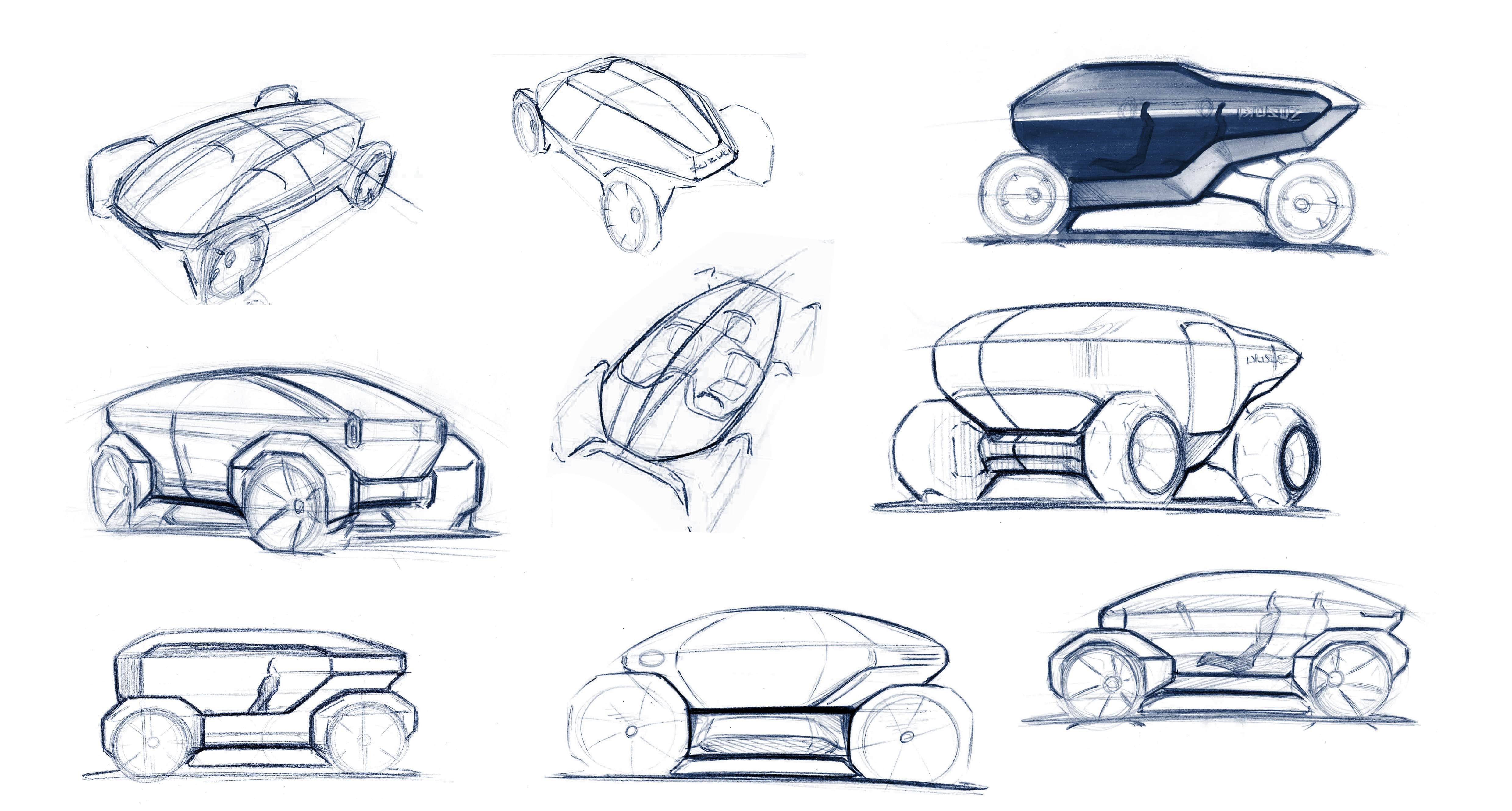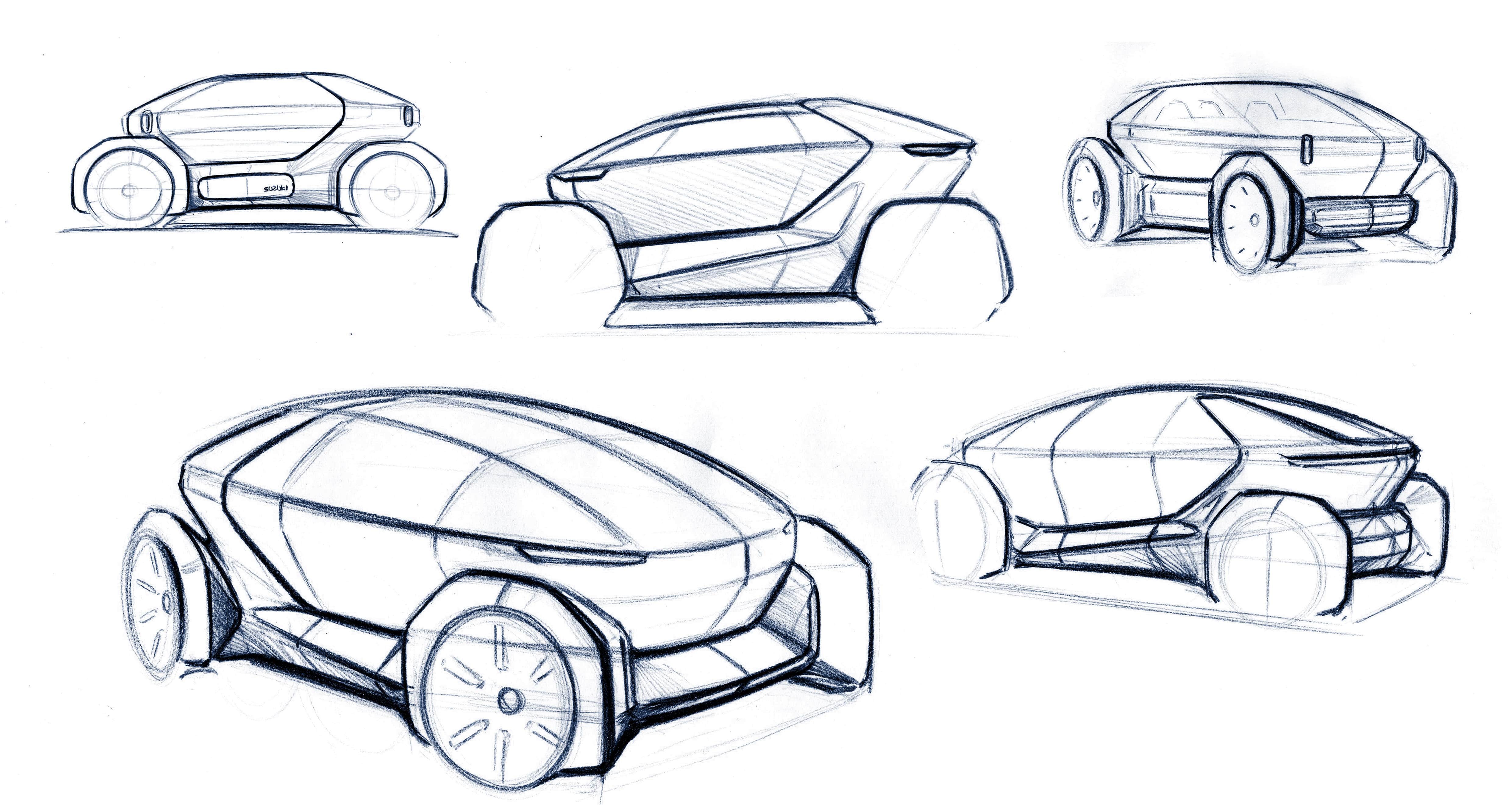 C: How do you find about teachers?
M: In IED, most teachers are not permanent employees. They are working as a designer in major makers such as Pininfarina(→Pininfarina), Ferrari, Maserati and Fiat in daytime and give us lectures as a visiting professor after working. Therefore, the most classes are held in the evening (during 6pm-9:30pm). These professors are graduates of IED and passionately give us lectures. I guess that they have some sympathies for the students because they went through the same way when they were students at IED.
C: That's great. It seems that effective lectures are delivered to students. These professors are all still drawing sketches in their job?
M: Yes. These visiting professors are young professionals who are actively drawing in their job. I'm learning a lot from them. I can learn real updated techniques from them; however more than that, I realized that "designers are these type of people." I can know the real, so the professional car designers are not living in different world anymore. This is one of the big advantages for learning here. In IED, the professors and students are close in age, so it's easy to talk to, and students can have ties with the people around the professors. In this way, students are naturally getting into the design field. In CDA, instructors are also all professional designers. They evaluate student's works and offer several meetings with students through a video call. The learning system is close to IED.
C: I am very glad you think so. I had already known that Art Center and CCS (→Center for Creative Studies)have courses taught by current professionals. Since establishing CDA, we have reflected the best practices of these leading design schools to our school systems in order to offer better learning environment to our student.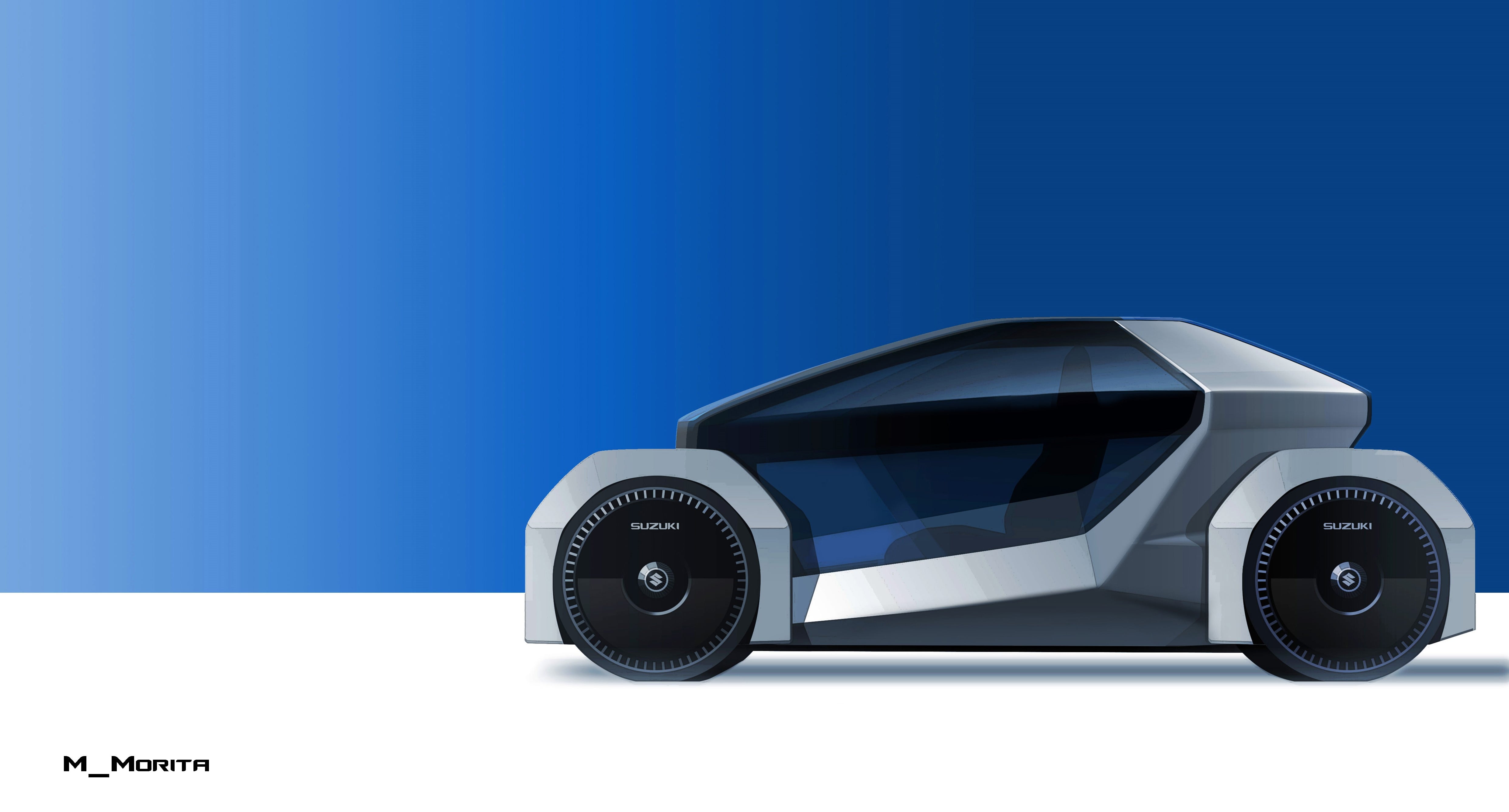 You always have such fulfilling days, but it sounds like working hard all day.
M: No no no. It's not so much and not a hectic schedule. When I have classes in the evening, I have a class for theories in the morning or I'm free in daytime. The class schedule is well balanced. To be honest, finishing the assignments is harder than the class.
C: It's the same as Japanese art universities. I want to move on to the next question. It's about a difference of value standerd between Japan and Europe. In Japan, the art universities tend to put importance on learning a concept. How about in IED?
M: IED's professors also say that the concept is important; however they actually focus on seeing styling. I think, the way of looking at "car" is strongly related to the national character. I'm feeling people here have a penchant for cool and stylish cars … It is not the conversation about which way of thinking is good or bad. To get understand differences between countries is also the advantage of study abroad. I'm realizing that I have gotten the global perspectives more than before and havd a wider outlook on things.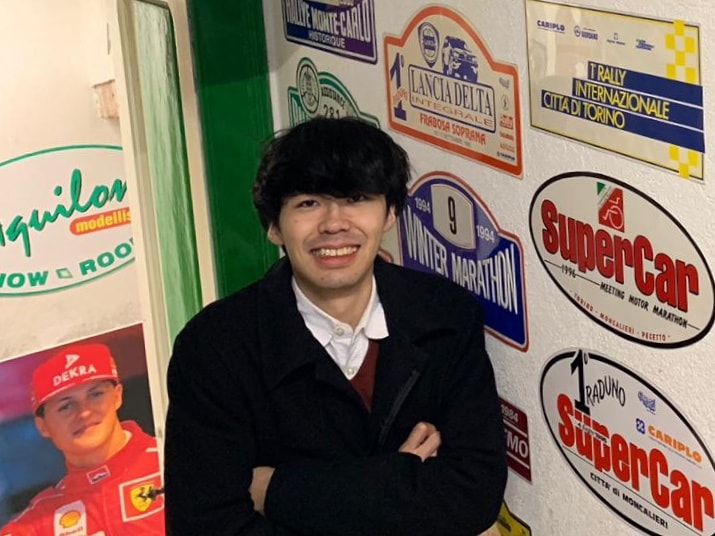 C: How is your life going in Italy? It is sudden to ask you, but I want to know how you get along with your classmates.
M: Regardless of nationality and race, it seems that people tend to gather around a student who's good at drawing in the school. Someone who can draw well is likely to be praised here. And, not to mention, most of my classmates like cars so much, so this makes students faster to get to know each other. We always talk about cars in the school. Fortunately, I met a Japanese car designer here who is transferred from Japan to Italy. It's all because of that the number of Japanese student in IED is few. I'm feeling lucky about it.
Going to the classic car event with friends in holidays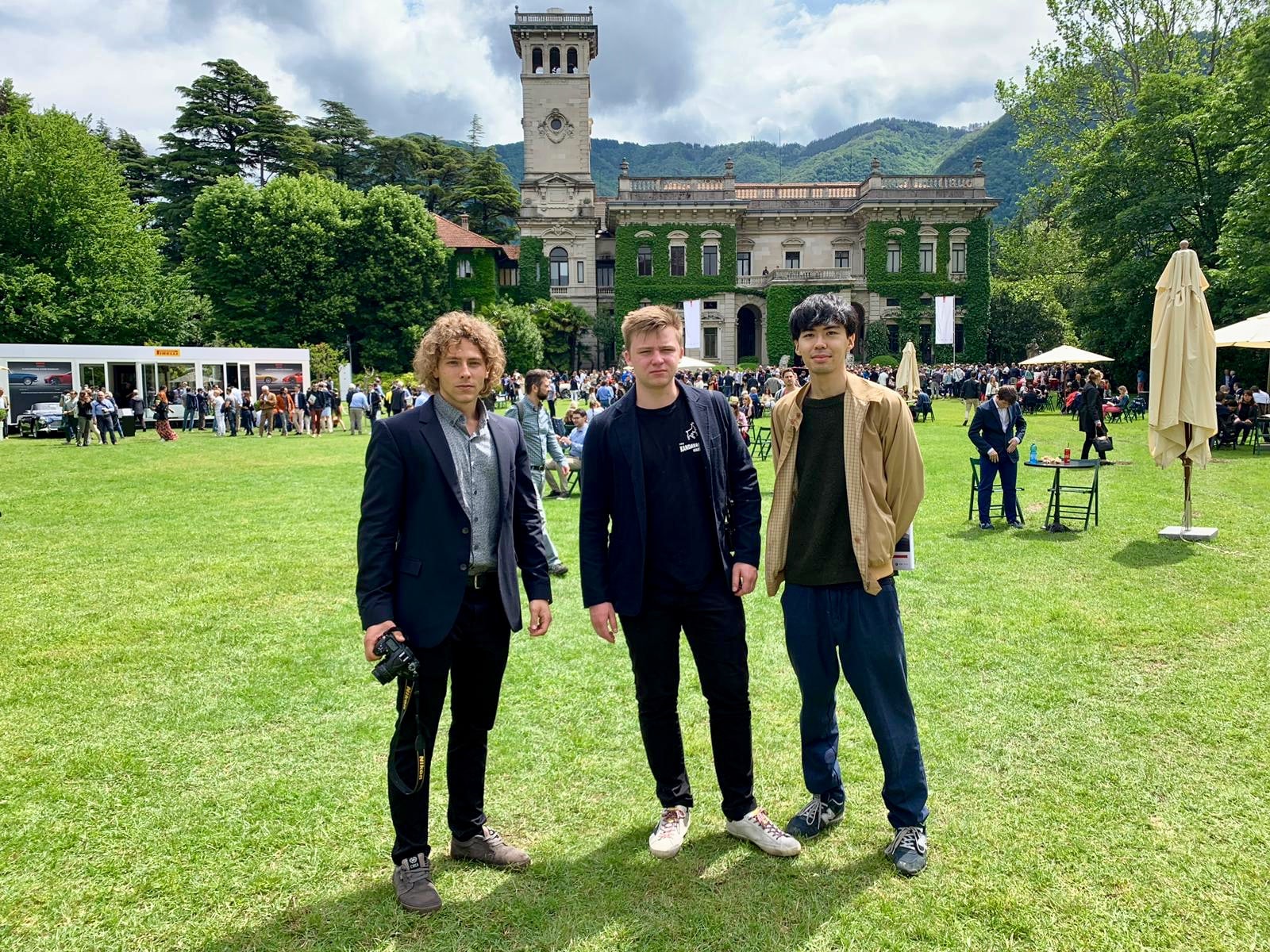 C: Do you have any information about job opportunities? What are the steps to apply for the jobs?
M: It's the most difficult question in today's interview. I'm not sure exactly because I didn't start recruiting activities yet. I only know, students have to act spontaneously. As I see senior students, they apply internships or send their portfolios to companies as many as possible. And, also I saw that some people are looking for jobs after their graduation because they didn't have enough time during the IED due to a project. I just feel that the visiting professors put importance on sketch skills, so I'm drawing sketches more than before.

Message for the People Who are Thinking About Study Abroad

C: It is finally the last two questions.
What is your goal? And, What advice do you have for the people who are considering going abroad?
M: Of course, I'm aiming to be a car designer, but "I love what I do" is I basically expect for my job. I have a strong desire to put myself in a work environment where I can feel to have a good time. My situation here is very close to it. Actually, I have to deal with so many assignments in IED, but I don't think they are not really hard. I'm enjoying the study here.
M: My message for the people who are thinking about study abroad is "it's good idea. Just try it." I think the people who want to learn design should go more to overseas. The reason why I thought that is your world will be more expanded and your design will be more interesting if you meet various people with different backgrounds and values. That will be a good stimulus than a place where the students in the same school are dominated.
C: I agree with your opinion. I really hope it will make that happen in the future and more people who studied in foreign country will get into the industry in Japan. CDA will continue to report about you to offer encouragement for the students who are struggling with their dreams.
I'm looking forward to seeing your success as a car designer. Please don't feel too much pressure for my words, but good luck in IED!
---
After the Interview…

I would like to thank you to Mr. Morita for agreeing to take part in this interview and share his experiences with us.
I started planning on this interview when I saw Mr. Morita posted his message on the CDA's chat room -"studying abroad is one of the options if you determine your future now. The industry in Japan will be more flourished when a lot more people who have various background and knowledges enter to the industry."
I have talked to Professor Ito in CCS before. He looked a little sad when he told me that there are many Asian students in his class but the number of Japanese student is few among them. I don't want to lament the situation; however our world today is getting more focusing on the value of diversity. I must say that understanding and valuing diversity is an essential aspect of work for designers. It's important to explore diversity from different angles that may increase designer's effectiveness in working to design a product. Furthermore, it will relate to establish your identity. I often hear a word, "Japaneseness" in design. Having interactions with the world outside of Japan, it would be visible when we aware the cultural value differences.
CDA will continue to enrich the contents and continue to strive to disseminate information through the website, and hope studying abroad will be more popular option for students when selecting a school.
Free Individual Information Session

In this session, everyone can talk any topics related to car design with CDA instructors through a video chat. We have received many questions, ranging from course details to recruitment so far, and our instructors had answered them.
Thus, this session is a great opportunity to figure out your questions and also concerns such as "I don't know where to start for being a designer" and "I want to know about recruitment in the field" etc. Please feel free to apply this session. It's free!