[Interview to CDA Students] Nicole John Varona / Philippines
Welcome to official web site of Car Design Academy where the only place you can learn Car Design through Internet.
Do you want to pursue car designing as your profession? Are you a car engineer, modeler, students, or novice? But you like car designing, and you love cars? 
In Car Design Academy, instructors are working actively in Japanese design studios as a car designer. This means you can learn updated real world car designing directly from them. Moreover, you can learn car design at any time at any place with your own pace. That is the benefit of online school.
In this time, we had interview with our current student, Nicole john Varona from Manila, 30 years old. 
If you are considering joining Car Design Academy, we hope following article, interviewing to our current student, will help you.
Interview to CDA Students / Nicole John Varona / Philippines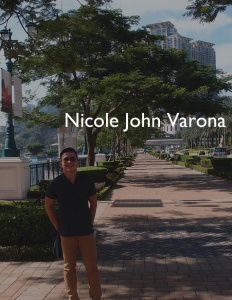 I am a 30-year-old industrial designer. I was 7 years old when I first fell in love with car design. My mother bought me a 1992 Automobile Car Buyer's guide and that was my introduction to the design characteristics of different brands.
1. Please tell us what do you study at school? If you are working, what kind of job you are engaged in?
I am currently working professionally as a Product Designer for a major Japanese home appliance company. 
2. What was your trigger to decide join CDA? Please identify what was your difficulty to study car design before you joined CDA, if there is any? Any anxiety you had when studying car design by yourself?
One major factor why I decided to join CDA was that they have started offering English classes. Another factor was the disheartening tuition fee costs for American and European schools.
For my skills, I had no one to mentor and guide me, someone to tell me if what I was doing was correct or not. I was afraid to develop bad habits that would be difficult to correct because nobody around me would be able to point it out. That also was my main anxiety– when I tried to draw cars by myself, I was not that confident in my designs because my technique still needed polishing.
3. Please give us your feedback regarding the quality of  Text Materials/Video Text /Instructor's review (Advice & Corrections)
Feedback:
1.) Text materials – very detailed, down to the ideal order when you're putting down the strokes on your paper.
2.) Video Text – the video texts are also top notch. Some techniques cannot be explained or understood correctly through words or pictures. The videos are lengthy and clearly explain each step. You can also see how the instructors draw strokes and ellipses, which helps when you try to do it on your own. In addition, you can watch the video materials as often as you need to.
3.) Instructor's review – I can't believe how much your reviews have helped me in improving my sketches. The mistakes the instructors had found on my works and the steps to correct them proved to be very useful, and I can see an improvement with each assignment. Also, to all the instructors, thank you for your patience. I really appreciate the detailed corrections.
4. Please indicate how many hours (minutes) do you spend for practicing, homework, and any other related work for CDA, for example (design competition preparation) or routine .
During weekdays, since I am working, I usually get to do my car design sketching after I get home. I spend around 1 to 2 hours sketching and doodling. During weekdays, I spend 4 to 6 hours sketching (including breaks)–longer if I feel inspired. When CDA holds design competitions, I usually spend about 6 hours per day sketching different ideas, usually in coffee shops, because I need coffee during ideation.
5. How do you find out the Monthly Design Competition?
It was announced mid-way through the course.
6. Message for those candidate students who is considering joining CDA?
If you want to be a car designer, I highly recommend joining CDA. For young designers, this could be a great training ground. You'll have an immediate advantage compared to your peers, as the instructors are very knowledgeable and will give you a lot of tips. The whole program is worth the investment–you can join competitions against designers of different nationalities and get great advice from world-class designers. If you are already working professionally, you can still take the course because you can do the assignments when you get home, just like me.
7. Any other message you would like to tell other people? Your view regarding design, or sketch, or practice method?
For those starting out:
1. Start with the basics: Sketch every day. Try to sketch as many times as possible in a week. Observe cars and draw them. The most important thing for me is to be comfortable when drawing and transferring my ideas on paper. You can start to draw with boxes–but since cars have complicated shapes, they shouldn't end up looking like one. Familiarizing yourself with perspective will help you to draw cars from different angles. 
2. Focus: Do not lose sight of your goals. Lose distractions. Keep improving, set a goal to improve, day by day. 
3. Be inspired and broaden your horizons: Let other car designers inspire you. Read about them, talk to them (if you can), and watch them on the Internet. Let them show you how they think. But do not just confine yourself to the car industry and everything related to it. Travel to different places. Visit art galleries and museums, listen to music, study architectural forms and designs, fashion, sculpture, and nature. It is best to be inspired by different things as it helps in conceptualizing different kinds of designs. Don't just see–touch, hear, and feel.
4. Stop comparing: Yes, that is impossible to avoid. I am guilty of this as well. But do not let the output of others affect your self-confidence. Car Design is really tough because you compete with designers from all over the world, but your goal is to develop your skills first. As long as you put in the time, you will improve. Do not be disheartened.
5. Embrace the grind: To develop the skills, hard work is involved. Repetition is constant, nothing good comes easy. Learn to enjoy the process. 
6. Have fun: Don't be too serious. Ideas flow when you're having fun.
Profile
Name
Nicole John Varona
Location
Manila, Philippines
Language
Filipino (Tagalog), English
Occupation
Industrial/Product Designe
School
University of the Philippines
Instagram & Twitter
twitter: twitter.com/nicholaskulas
online portfolio: coroflot.com/nicolevarona
Profile & Self introduction
I am a 30-year-old industrial designer.
I was 7 years old when I first fell in love with car design. My mother bought me a 1992 Automobile Car Buyer's guide and that was my introduction to the design characteristics of different brands. I was fascinated by their form and how they seemed to project individuality, luxury, sportiness, and utility. Since I wasn't that good at drawing back then, I started tracing them on paper. Later on during my grade school and high school years, I would doodle cars on the back of my notebook; that was one of my pastimes when I was a student.
I took up Industrial Design when I was at the university because I knew car design is a branch of Industrial design.
Taking the path to being a car designer was just a dream. In the country where I'm from, car design has always been looked at as something that is too "first-world." We have no industry, no schools, no expertise. It is also more expensive compared to med school or law school, aside from being a very, very competitive field. Most people scoff at the notion of trying to be one. The odds are stacked against you.
Three years ago, I was fortunate to attend a talk by a car designer from Mercedes-Benz, Mr. Wini Camacho–also a Filipino. He took his MA studies in car design when he was in his 30's. I saw his drawings before he started, as well as the ones after he had finished studying transportation design. I saw a big difference. And so that really inspired me and showed me that with hard work and the right instructors, you can harness and develop your skills.
Two years ago, I heard about Car Design Academy and it solidified my resolve when they started offering English classes. I remember my university professor told me that I had to learn Japanese if I wanted to study car design in Japan. Now there is no immediate need for that.
My dream was re-ignited and I now have the chance to continue to develop my skills and hopefully, make my dream a reality. I would like to thank CDA for offering your global course to students of other nationalities, because it has given us the opportunity to study, develop our skills, be mentored by world-class Japanese designers, while also learning and exchanging ideas with excellent students from Japan and other countries.
Comment from Instructor, Mr. Can

When Nicole draw three views (Front, Side, and Rear) , his each drawing is not be independent. He has an ability to integrate those three views into a whole design in any under a theme. However, I found that he tends to draw perspectives stronger. When he gains newness, innovativeness, and more expressions in his car sketch, his design's attractiveness will raise more. I will figure them out together, and look forward to seeing his progress.
Interview of other CDA students
-Predrag Stajic Strandhag / Germany
–Student : Kaustubh Adhav / India
–Student : Rishabh Sinha / India 
Car Design Total Course  *More info