[Part 2] Interviewed Designer of Nissan 300 ZX [Z32], Mr. Toshio Yamashita. His astonishing ways to grab opportunities.
Hi! This is Car Design Academy.
Here is the second part of interview with Mr. Toshio Yamashita, who is a designer of Nissan 300ZX[Z32]. In Part 1, Mr. Yamashita talks about Nissan Cedric project which he got awarded for his rear window design.
If you did not read Part1 yet, please click below before you start reading Part 2.
[Part 1] Interviewed Designer of Nissan 300 ZX [Z32], Mr. Toshio Yamashita. His astonishing ways to grab opportunities.
In Part2, we asked a story of development for 300 ZX [Z32]. Are you ready? Let's start!
[Part 2] Interviewed Designer of Nissan 300 Z [Z32], Mr. Toshio Yamashita. His astonishing ways to grab opportunities.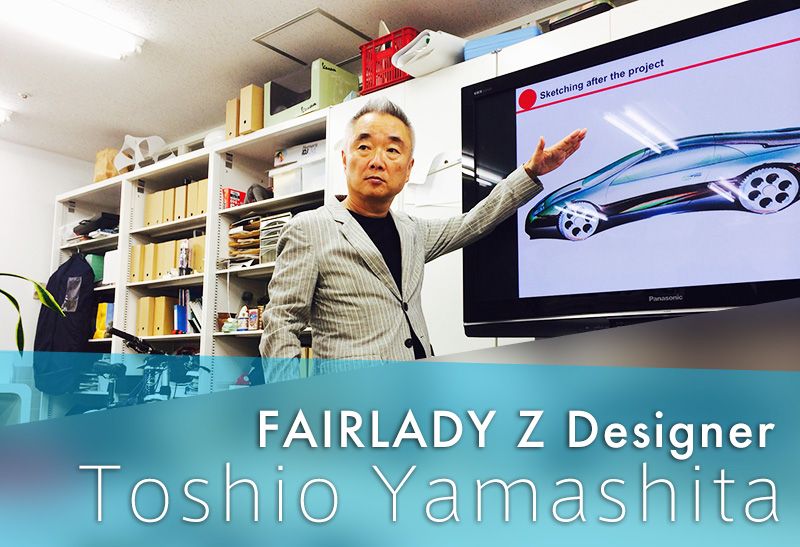 Toshio Yamashita= Born in 1949, in Fukuoka, Japan. After graduated from Hakata Technical School in 1968, he joined Nissan Motor Co. as a designer. He started off his career with designing parts, then engaged development project of Nissan Violet Second Generation to work on: Nissan Violet, and worked on many projects since then. As well as his representative work of Nissan 300ZX, he has been involved in developing cars like Silvia240SX, SkylineGT-R, InfinityG35, or Q45 those very attractive models.In 2008, he became a professor in Tokyo Metropolitan University, and has been teaching many students about the beauty of car design through the class call transportation design.
—-What was your next project after developing Motor Show Model Cars, A10 Violet, and Cedric?
Recently, a big internal meeting for Nissan Z was held in the United States, and I had an opportunity to give a lecture there. In that meeting, I produced my career history diagram as a designer, so please look at that which is more visual.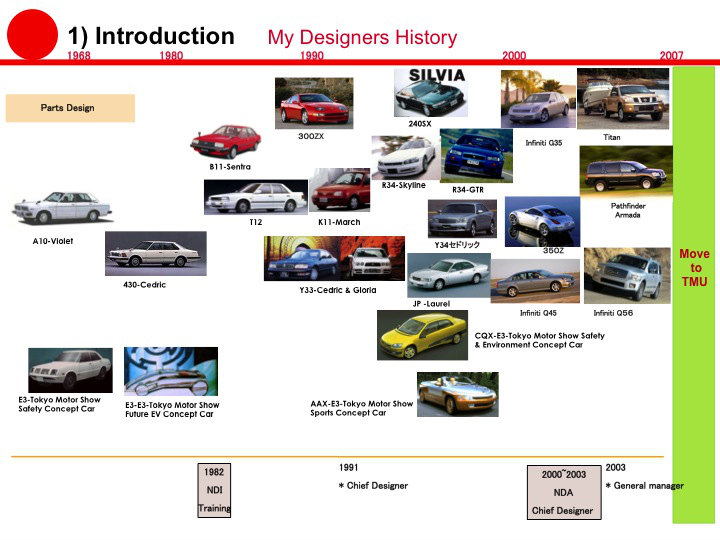 After the Cedric project, I engaged in developing cars for Motor Show model cars, Sentra, Austar Violet, and new Cedric series. I did several works before I started the 4th generation Fair Lady Z. The latter part of car development, just I mentioned, were my manager day's project.
To be honest with you, I had thought to leave Nissan just before I got to the assignment in the United States, when Renault acquired Nissan. 
—It was a kind of revolutionary era, right?
At that time, I was always bringing my resignation letter in my chest pocket   in case I need to turn in anytime. It is interesting that a person, once he wrote his resignation letter, my mind was more relaxed. How can I explain that…After writing the letter, my hesitation was disappeared, and I started to think that I had to say all of my opinions before I leave. Anyway, finally, I decided to quit, and I told my intention to Mr. Shiro Nakamura,my boss. He said, "Can you be a little more patient with us, I will figure something out for you."  After this conversation is…please keep it off the record, haha.
—I would like to hear that episode more. Well, please tell us the story of development for Fair Lady Z.
At first, my task was to draw both Silvia and Z for the advanced development. However, I wanted to engage only for Z, so I did not draw Silvia. Of course, another designer who worked with me sketched both cars' designs. The designer asked, "Where is your Silvia?" I replied, "What are you talking about? I did not draw it!" Then, he said, "That's not fair!"
My desire, "I want to deign Z!" was so passionate. That's why, I drew only Z. As a result, my sketch was selected, and I became an only member of the project. I did sketching and creating the scale model by myself, and I submitted 2 ideas. At that time, Z' size was gradually getting bigger, so I wanted to make it small. One of my idea was to adopt light weight with mid-ship engine layout.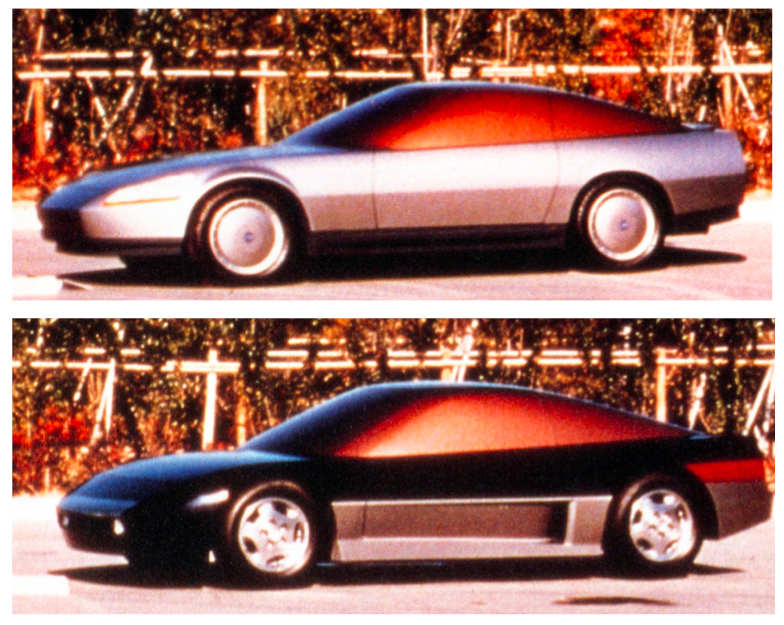 There were two 1:1 scale models. The upper picture is bigger size of Z which is known as "The Standard Z." The below is the small size with mid-ship engine layout. It was called, "Z like a hamburger at famous French restaurant, Maxim's de Paris. It means that Maxim's de Paris serves very small hamburger, but still its tastes is outstanding. So, same for Z, even it is small, but it is a really powerful car." By the way, Mr. Yamashita had never gone to Maxim's de Paris, and he did not understand the meaning.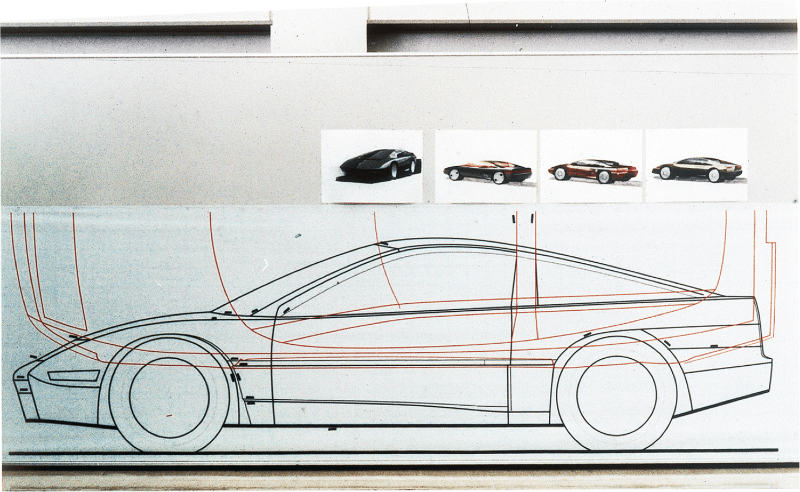 A full-size tape drawing
I actually visited America, and tried to inspire ideas from seeing trafic conditions in US.  Three members including me drove across the states. During our trip, I was only able to draw one sketch in a serious manner, when I saw Dino was driving in front of us, an image flashed. It should be "Wide and Low" as US was so big and broad. That night I created sketch in my hotel room.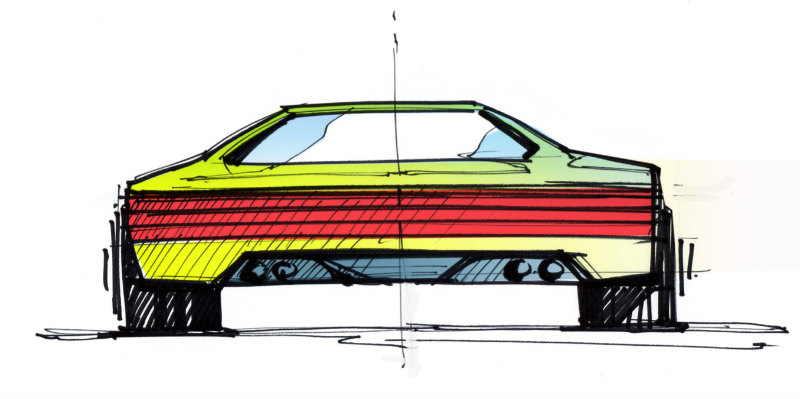 I struggled where to put "Antenna". The original request from the layout group was to put antenna next to A-Pillar. (see the picture below) The top of Antenna has be positioned higher than Roof, but T-Bar blocked to place it. So, no place to set it.
I told the layout group that this vehicle is not a sedan for press company who normally place company flag at the foot of A-Pillar, where they suggest. In worse, they insisted that there was nowhere else to set. I was so desperate discussing with them that I put Antenna where they suggested the day when directors are visiting to see the development.

—You are a strategist, aren't you?
As you can imagine, the director gave a glance at the Antenna position, and asked " what the hell is this, Yamashita?" I replied, " Oh that is an Antenna, I cannot do anything with its position, the Lay-Out group does insist" He immediately told me, " OK, I will take care of it. " and he left. The very next day, the Antenna relocate to the rear (see picture) It was such a sharp decision."

In those days one of the manager told me, " You should go home immediately after the work, somebody might throw stone in the dark."
My nickname was Yadashita (Yada means "I don't like or I don't want to" in Japanese). I always said "Yada" when I reject a plan; therefore they called me, Yadashita, not Yamashita. So, he wanted to say like, if you refuse so many times, you will meet the surprise attack by someone. Of course, that was his joke.
I struggled with Headlamp as well as Antenna. I said "Yada," to my manager and he brought back the plan. Every time, I was worrying whether would bring back bad news. When I was told that he coud not do, I said, "If it were Honda R&D, they would really pursue to their limit."
I was committing to create good design car, including parts such as headlamps, windows, antenna, and all others, too. If I had to compromise other group requirement, then final product will be far behind of good.
Someone told me that " Don't fail, Z will be sold in US." I understood what he really implied. A kind of conservatism, a fear of failure. I must say that if you give up challenging, and become defensive, to develop sports car are not fun at all. Sedan will be a good car to be defensive. If a company makes a living by selling Z, the business strategy had to be wrong.
In those days, I was not even a manager. I was a leader of project, and I never got compromised anything even I was talking to my General Manager.
—So, for all your efforts, Nissan Fair Lady Z32 got a lot of awards.
At first, Z32 got "Imported Car of the Year" and "Good Design Award" by Motor Trend Magazine in 1990. Then followed by "Europe Best100 for 20 Century," "AUTOCAR Best25" by Automobile Magazine, and "The Most Stylish Cars of the Past 50 Years" by GQ magazine.  I cannot remember all, but it was my great honor to receive those recognitions.
—Please give some messages to those students who are struggling to become a car designer.
In my early days, I could not sketch well. To practice by looking at Car Styling magazine was the only available method. By that way I was not able to figure out how it was drawn, such as consequence of sketch. I only guessed putting marker colors in order. I had an experience that I did not figure out where the tire position should be until my senior colleague gave me suggestions. He advised me like " more to the right", or " need more details" I was able to fix when he said so, but next time, I was not sure whether I was doing right.
I was able to draw sketch when someone explaied theoritically. I was able to understand when I heard explanations such as, "you can count the number of tires on the wheelbase, and when you look from the above, the shape will be like that."
Nowadays I am teaching Transportation design at the Tokyo Metropolitan University. I find my students are having a similar problems which I used to have.
It is very difficult to express the 3-D objects on a 2-D papers. My students tend to just draw 2-D sketches unless I teach them in detail. At the beginning, I suggest, to draw object outline in your brain. Focus on expressing sexy outline of the car. You can add detail lines afterwards. Then you will understand where you have to put tires later on.
My wife is learning flower arrangement, and she says, "Final result will be very different even using same materials when her master fix a bit. Probably what I look at and my master is focusing differs."  That is exactly the same in car design. For us it is a small matters, but for beginners it is not an easy job. For those who cannot acquire skills by yourself may not be able to get it done unless some one teach you how. I can teach students how to draw, but each of them have different issues what they struggle. So I sit next to them, one by one.
I always tell my students, "Practice drawing 100 sketches a day if you are looking for a job! " One of my students who was hired by a big company said, "I practiced hard while other students were playing. I have strong confidence that number of sketches I drew was far more than any other guys." Sometimes freshman brings his sketch to my office. Such an enthusiastic student can improve quickly, and becomes a good designer. Recruiting people are professional, so they can detect if you are fake.
Of course, only having good sketching skills is not enough. BUT, you you need to acquire minimum skills to express, and the amount you devoted for practicing and passions to continue that effort are essential to go to the next stage. GOOD LUCK!
Editor's note
How did you find Part 2, interview with Mr. Toshio Yamashita?
I was very fascinated with his no compromise spirit to realize his objective. As you may know, a car design is not enough by just drawing sketches. A swan looks swim gracefully on the pond, but his foot under the water is moving quickly. So, I realized that like those swans, designer's tenacious approach to a car is very important in the process of creation.
Yamashita san, thank you indeed for your corporations to our interview.