#11 CDA Design Competition "C-segment Crossover"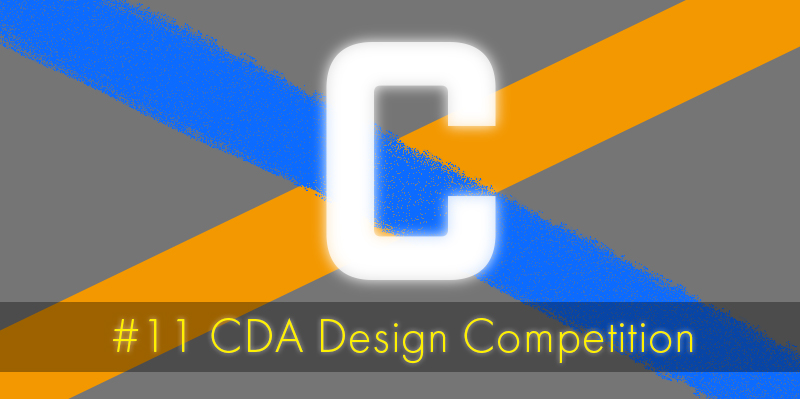 We are pleased to announce that the 11th CDA Design Competition took place in our academy. The CDA Design Competition is held biannually, an exclusive event for CDA students where both current and former students in our academy are eligible to enter.
In this page, you will find the results of the competition and how judges evaluated entries, where they bring out the valuable information for those who are learning car design. We hope you enjoy reading until the end!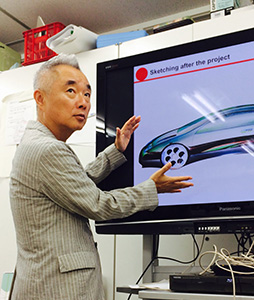 Mr. Toshio Yamashita, one of the world's most well-known car designer for designing Nissan 300ZX[Z32] and Nissan Skyline R32 Gt-R, was assigned as a head of judgment team to review all the submitted works.
The past CDA Design Competition
Competition Framework Includes Intermediate Review

 This CDA Design Competition is designed for educational aim, not just a field of competing.
To offer a more productive learning experience to our students, we decided to rebuild the framework of the competition. "Intermediate Review" conducted by Mr. Toshio Yamashita has started from the previous competition as a new framework – he reviews and gives advice to students in the middle of creating works. This time, students also had to complete their works within a month (such a short period of time!); however, they created more than we had expected.
The Results of Intermediate Review
Competition Theme: To design a new C-segment "Crossover."

In the previous competition, we had given participants A-segment crossover as a theme, and this time of the theme; "C-segment"is a little bigger specification than it. So, the participants had to deal with the size measurements for their design or adopt it from the A-segment. Our expectations for what ideas are produced by those participants was getting raised day by day.
As for the "crossover," we define it as combining different factors as same as the previous time.
It seemed that all participants were having a really hard time creating works under this theme. We hope you will enjoy seeing their unique works produced from their struggles.
Evaluation Criteria

Points are given on a scale of 1 to 5 for each criteria

(15 points in total)

.

① Consistency between the theme and the concept (5 points)
② Development of idea (5 points )
③ Sketching skills (5 points)
 In this competition, judges evaluate whether the design had a consistency in-between theme and concept, ideas were developed for the aim, and sketches were expressed well and attractively.
---
And now we are pleased to announce the results of our competition.
The Grand Prize is…
Student from Indonesia
Abdul(Two-time winner)!!

Double-decker Χ Minivan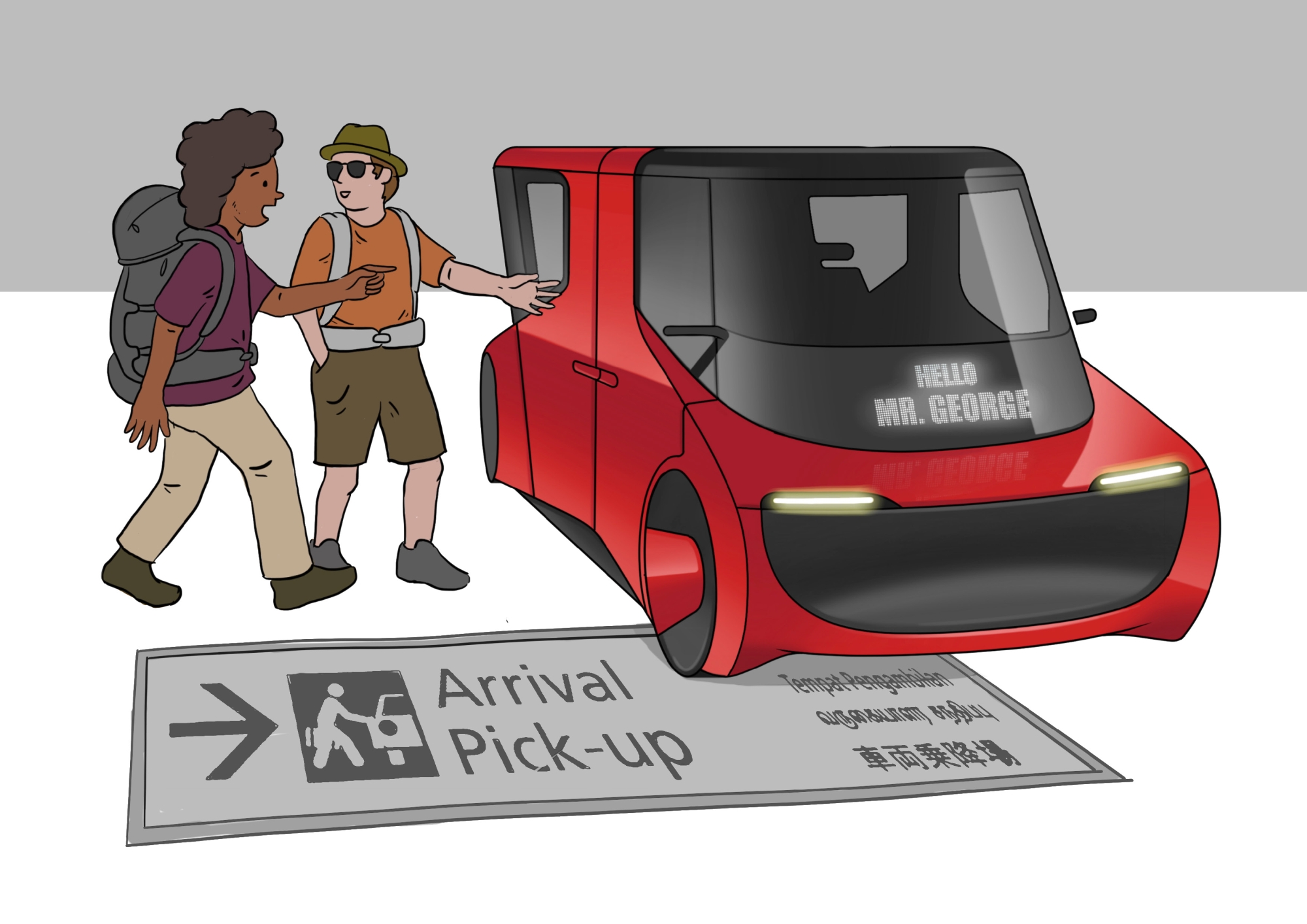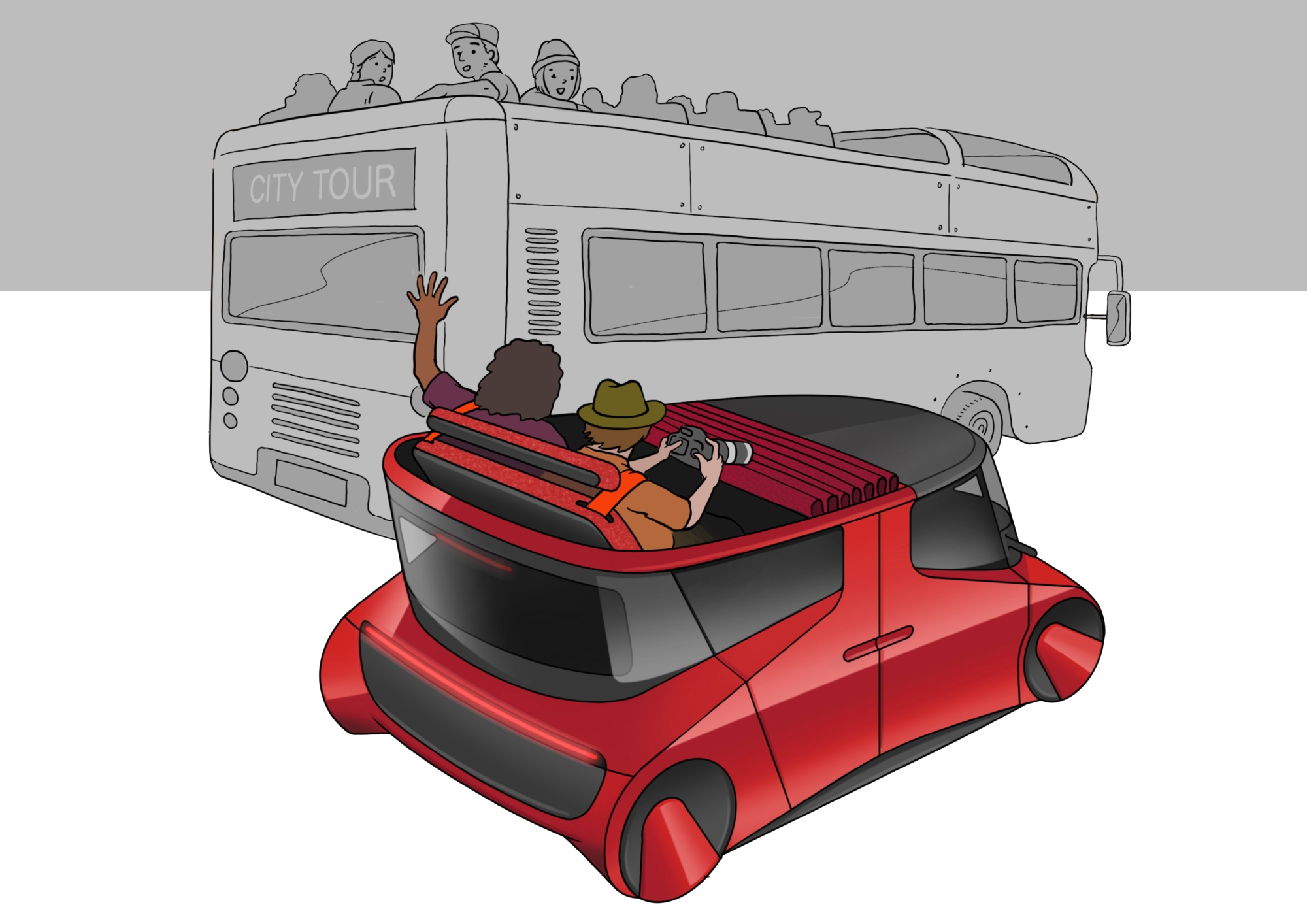 <Comments from Judges>
 He proposed a new vehicle for sightseeing. These illustrations on his presentation board are very attractive and easy to understand!
Without written explanations, he succeeded to tell how this vehicle will be used by the target user; backpackers after they arrive at the airport, and it also included "in what palce and how this vehicle will be utilized for sightseeing." He certainly has a skill to communicate his ideations by drawing them separately into side view and other sketches.
However, his idea sketches were not developed enough. It might be caused from that he already decided the form from the beginning. More originality would be in demand by that time when EV is commonly shared. We want him to produce innovative styling designs while he is attentive to the material and structure.
Evaluation at Intermediate Review


At that time of the Intermediate Review, his design directions had not been decided yet. Mr. Yamashita gave him advice that when he proposes this kind of sightseeing vehicle, he needs to consider a business model including car sharing.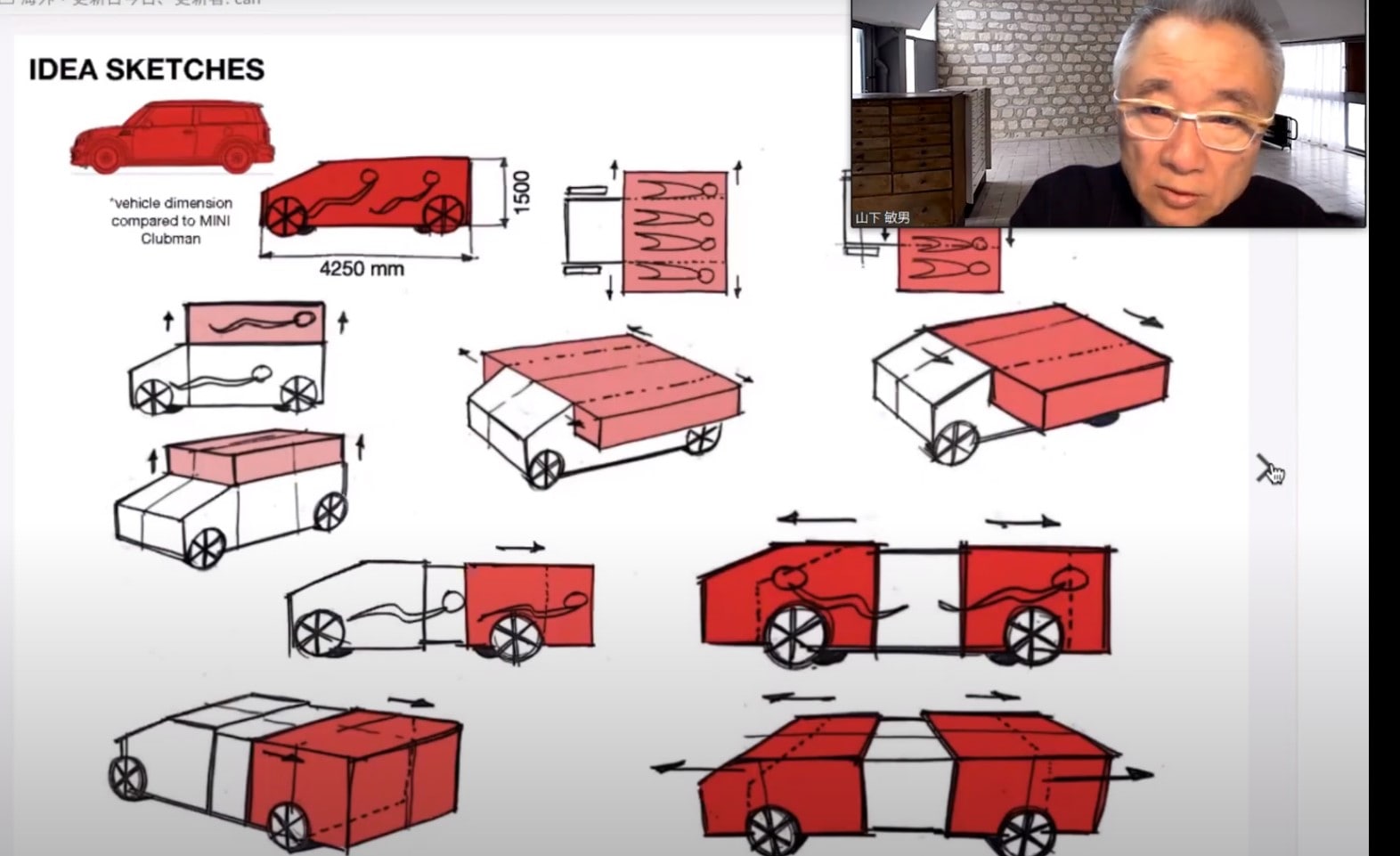 Mr. Yamashita is giving advice at the Intermediate Review
---
The 2nd Prize is
Alireza!

Urban friendlyΧGetaway Partner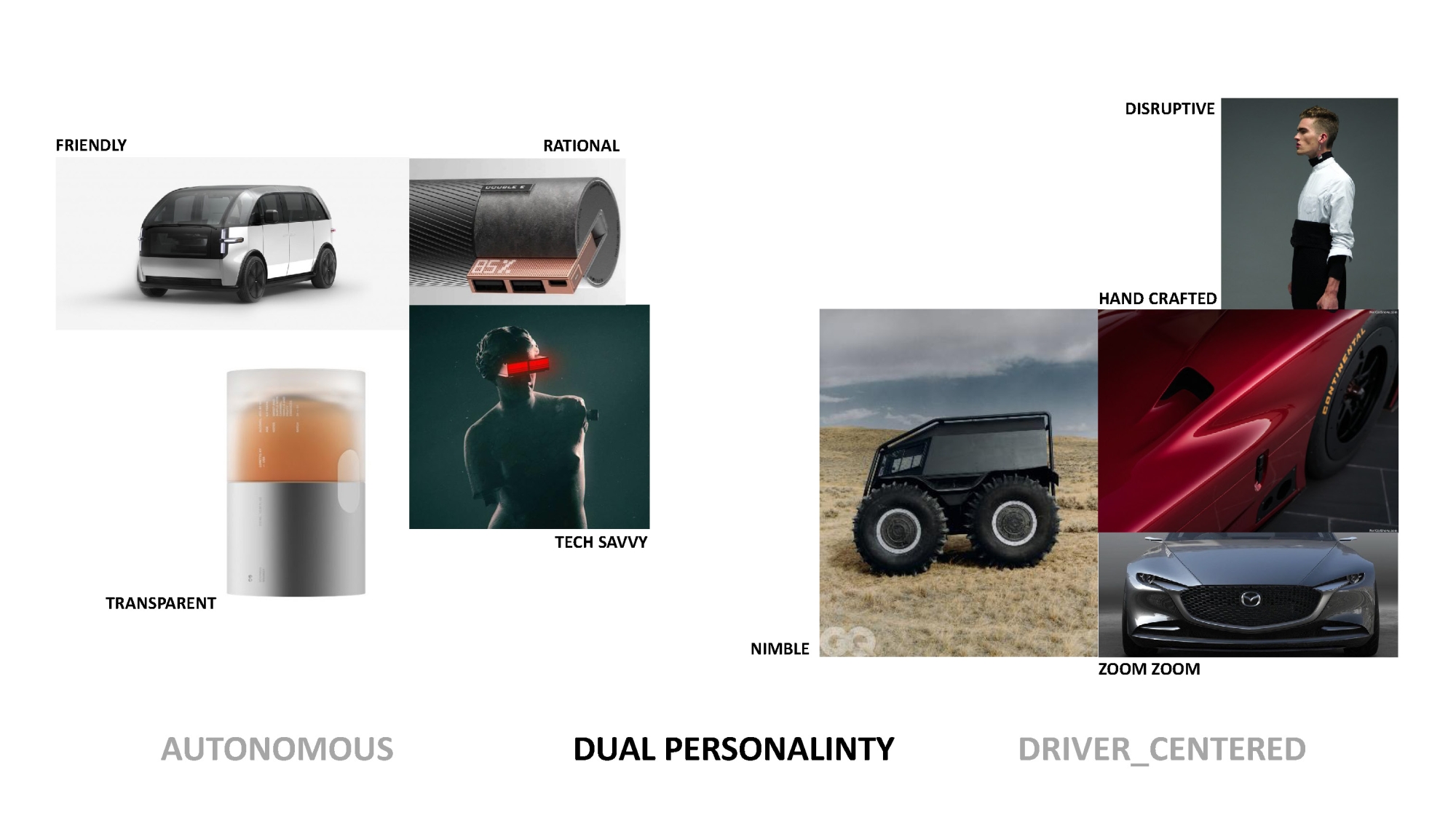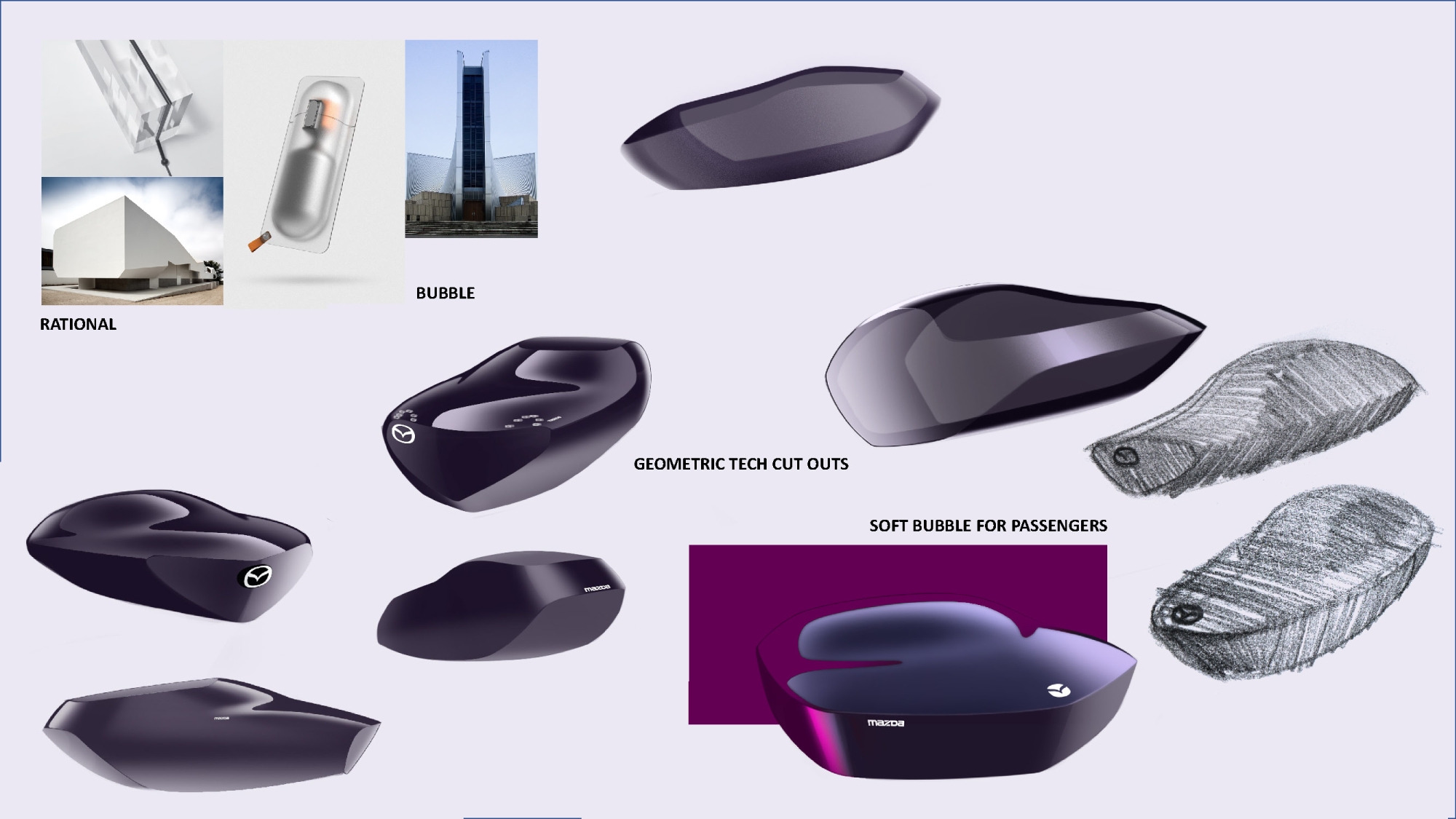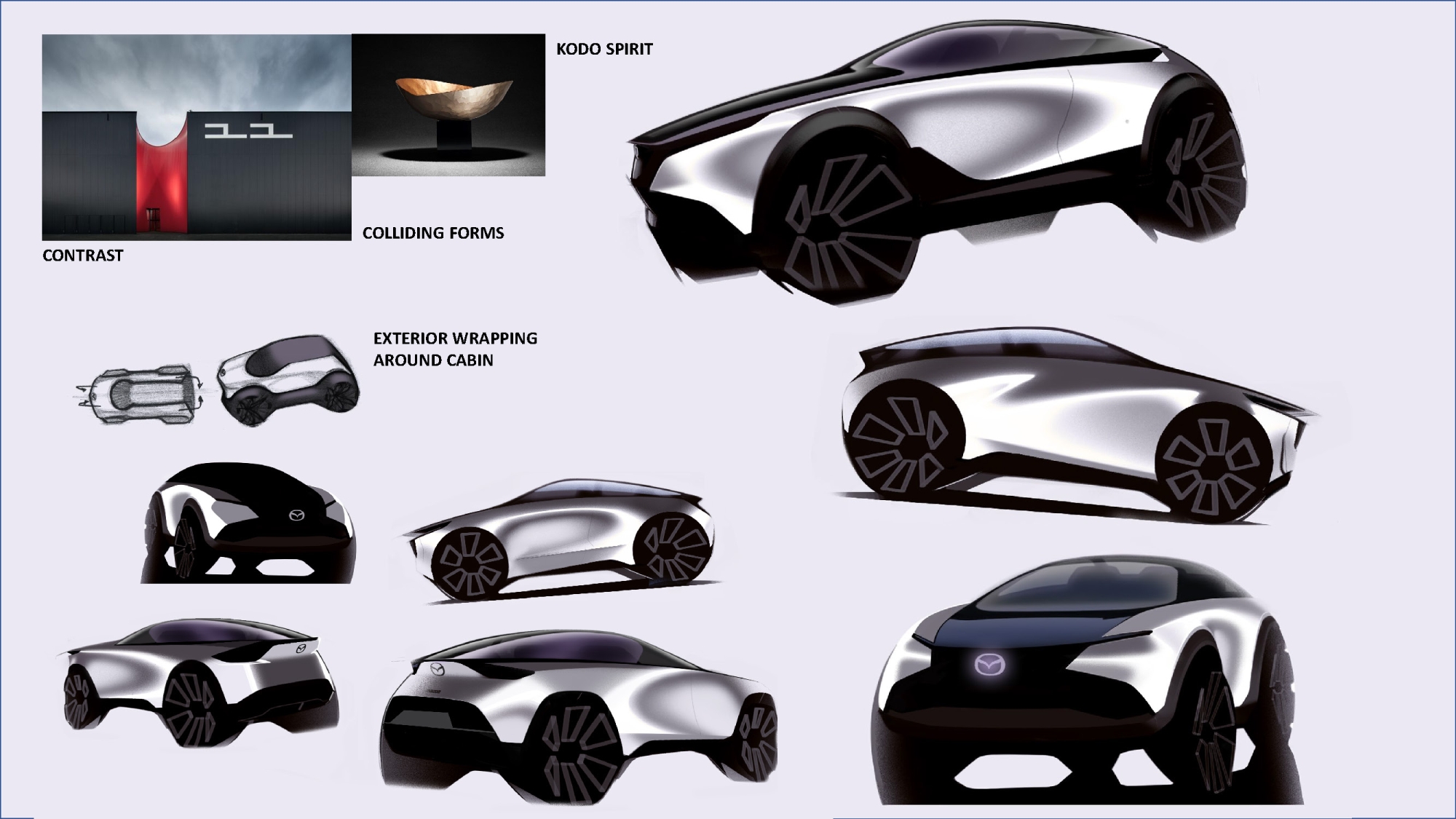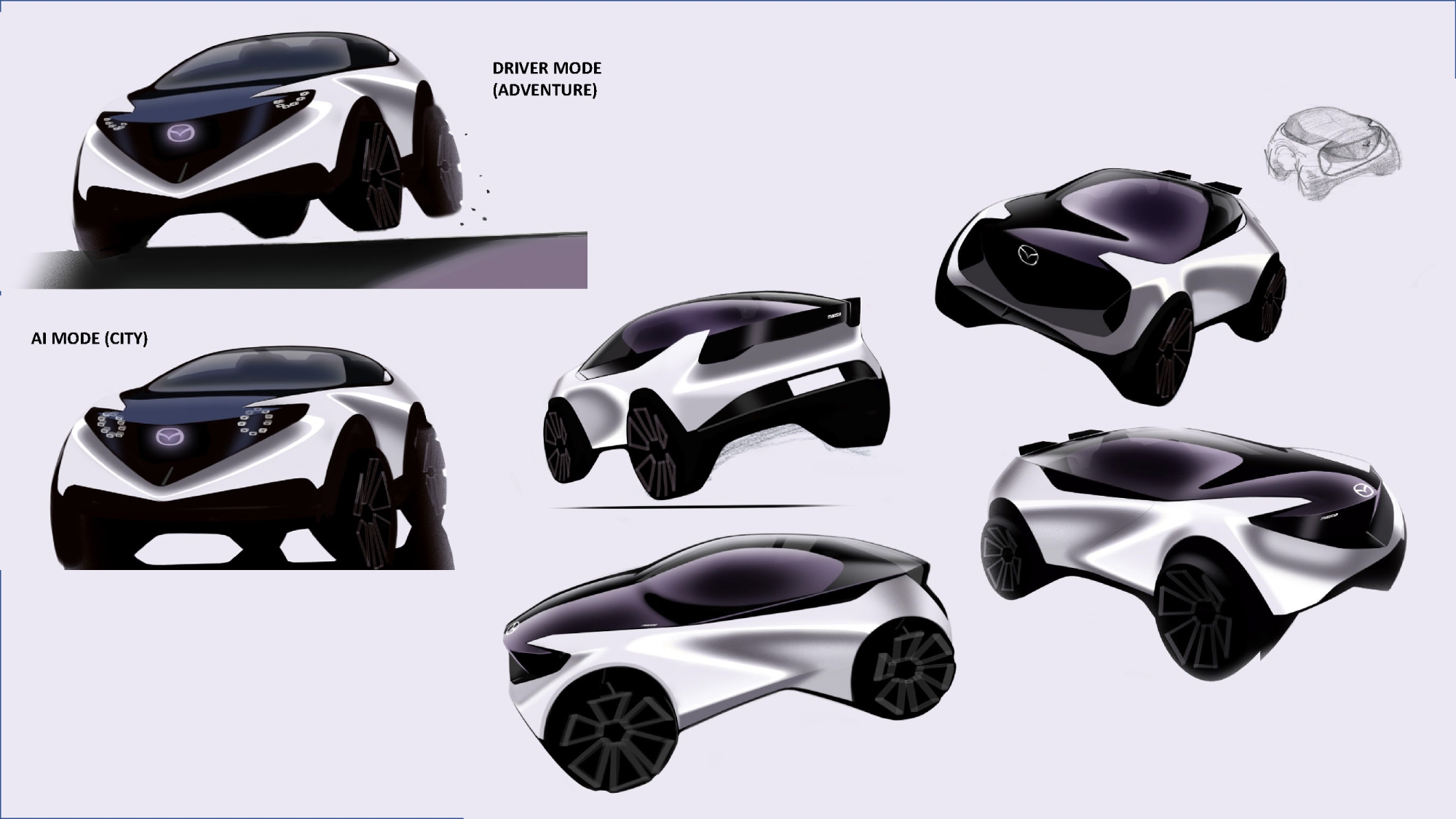 <Comments from Judges>
 Targeting GEN Z, his idea will make boring EV driving in the city excitement, that is good. The double sided GEN Z was also well expressed, especially in the page, "DUAL PERSONALITY" in his concept board! We could see he had searched and invested the form. His sketch level is high. However, the styling was close to the Mazda. It makes us feel that his development of design stopped at the point. We encourage him to create his original design avoiding getting caught up with the existing cars today.
Evaluation at Intermediate Review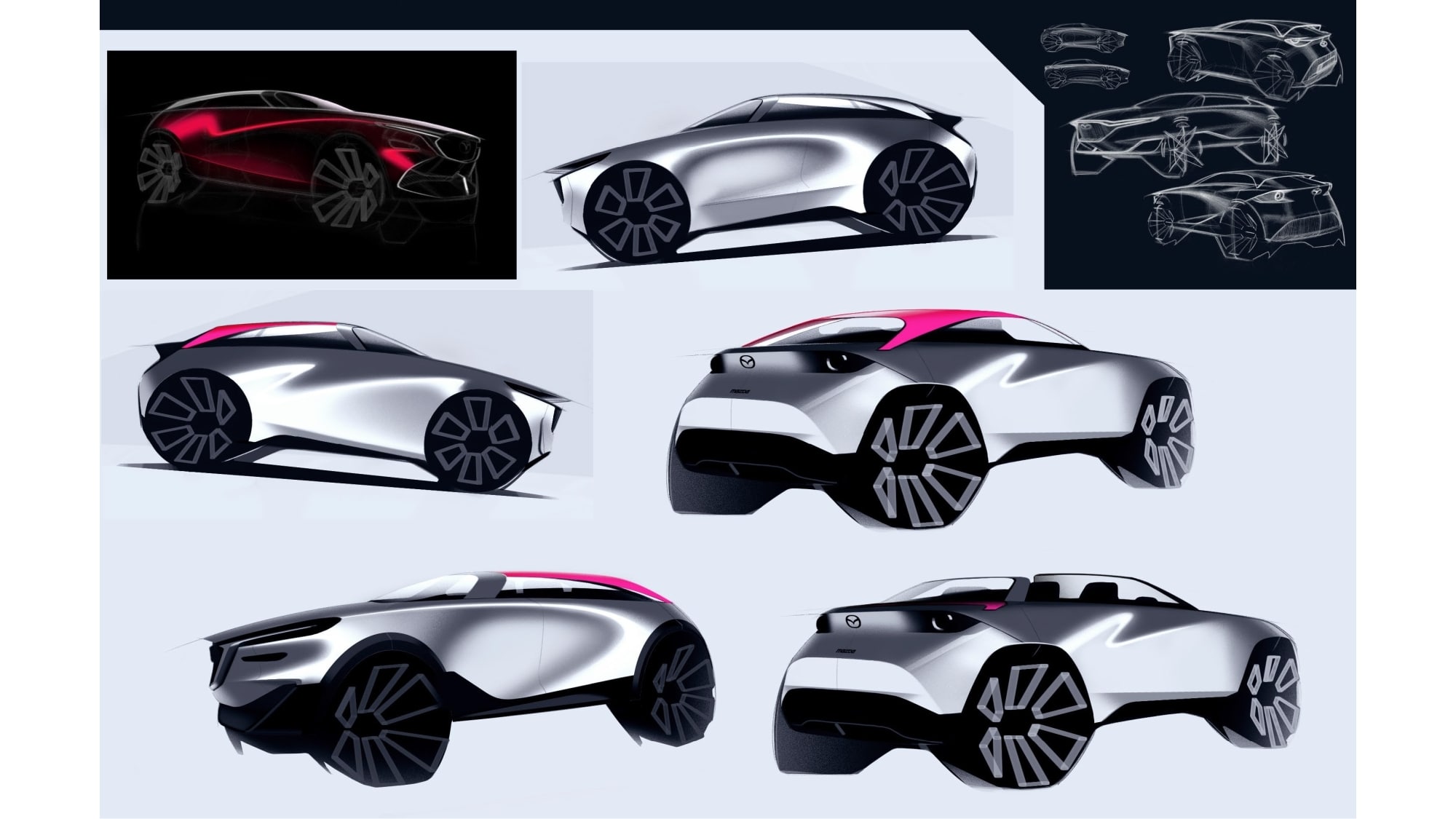 At the Intermediate Review, Mr. Yamashita pointed out why this styling was for the generation Z. It's something like a typical styling favored with car lovers.
Then, he added the presentation board which tells the values of the Generation Z and it turned in a good direction at the final review.
We could learn one lesson from his presentation that not only the quality of final design, but also to think about "what is needed to communicate with your idea" to viewers is significant.
---
The 3rd Prize is
Jihed

Large Luxury SedanΧFamily Car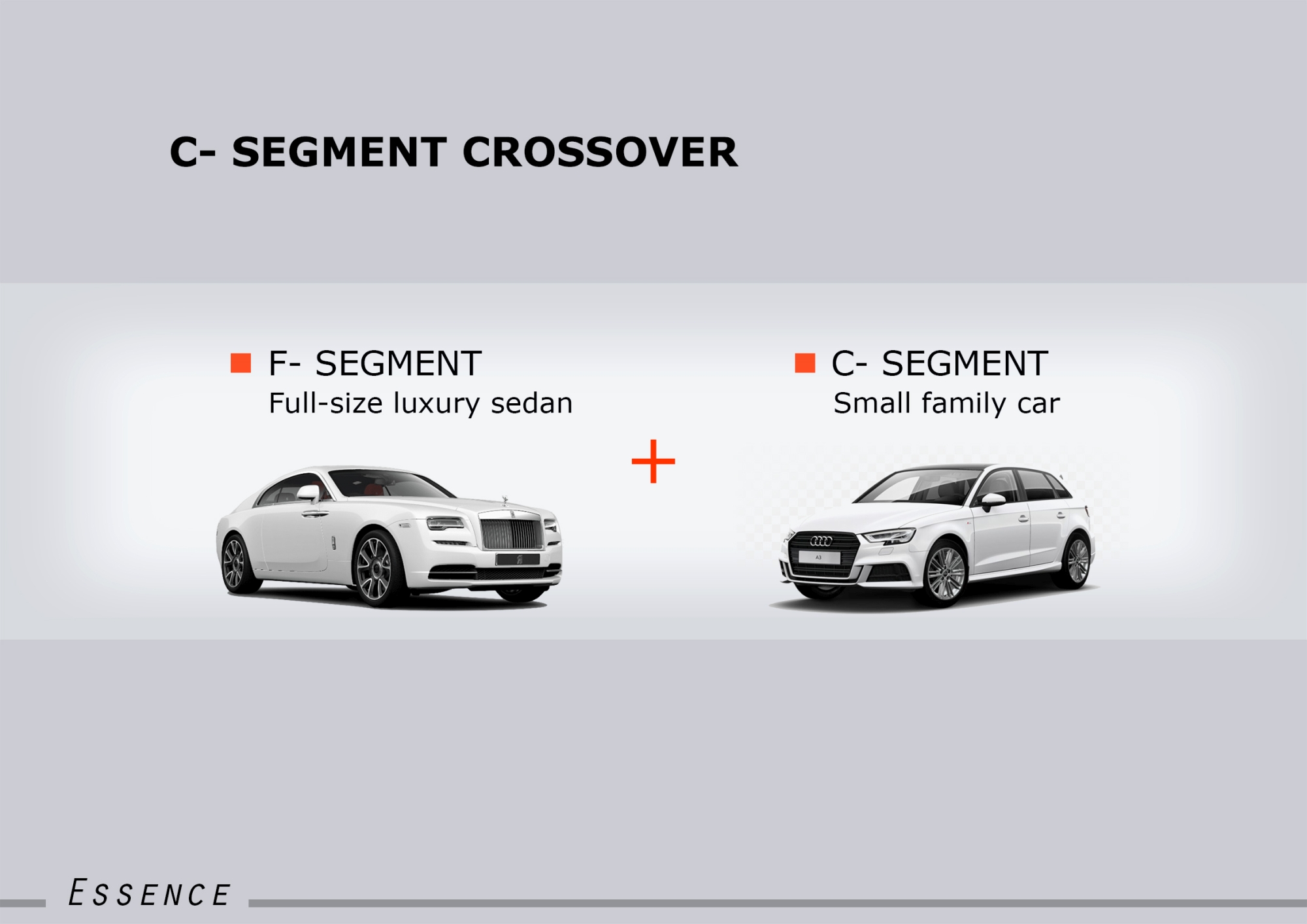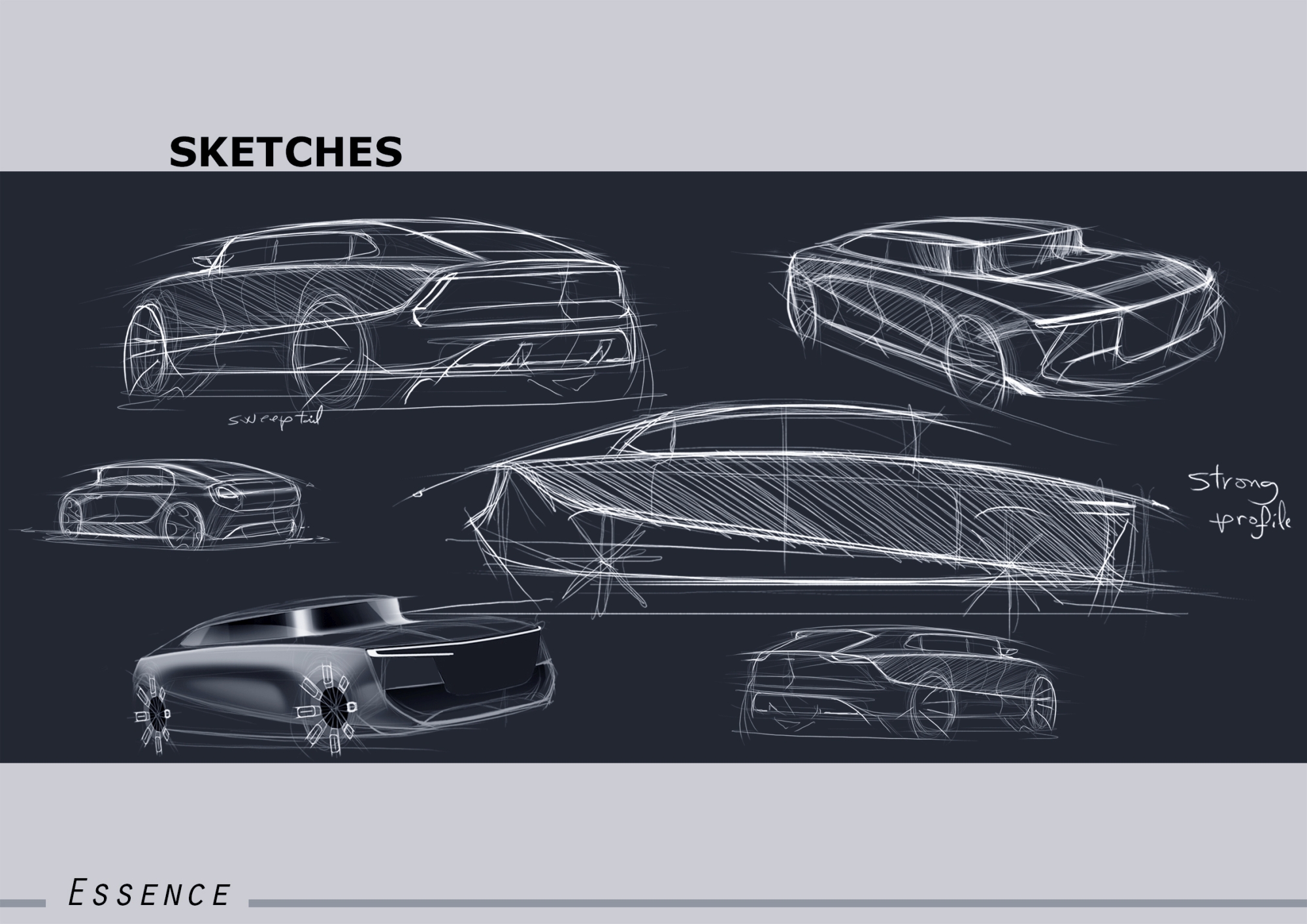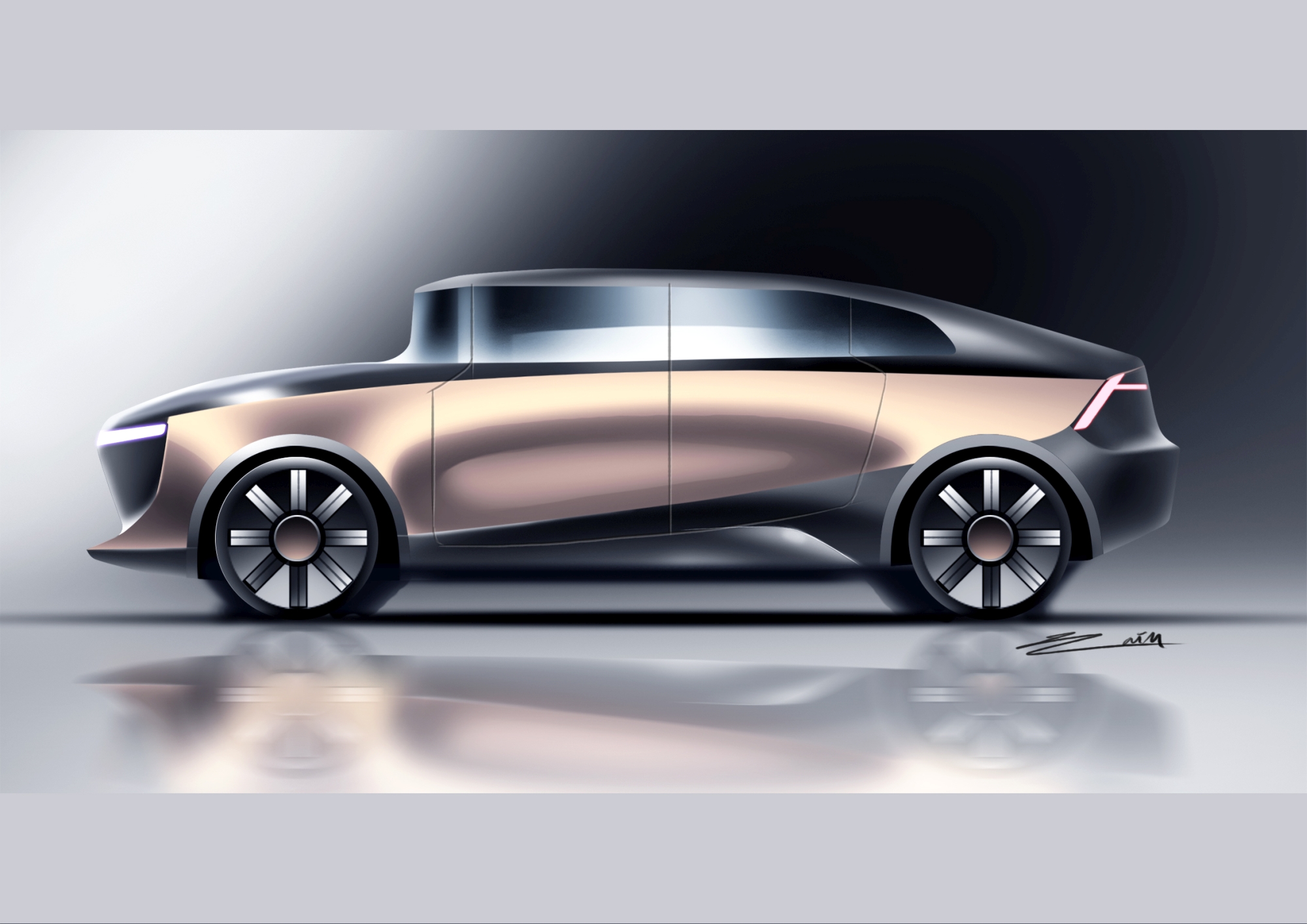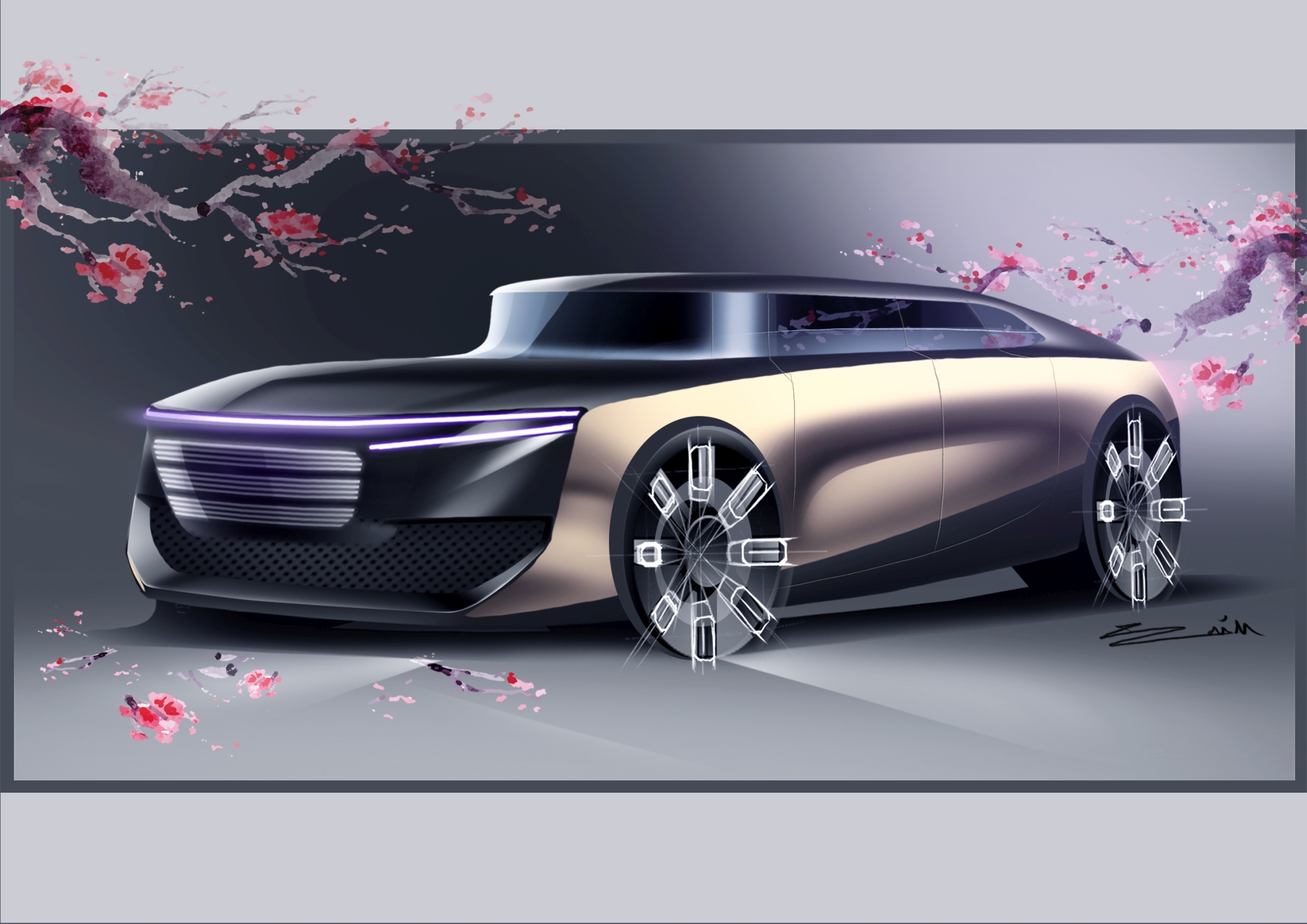 <Comments from Judges>
He proposed an idea of a vehicle which expresses a large and luxury sedan in the C-segment.
In fact, many automakers tried this theme, "Luxury and Family" before, and it is sometimes called a small luxury car. In reality, they often encounter the difficulty to realize this theme even if the cost is imposed.
His sketches are well drawn and have attractiveness. His way of presenting these sketches is good. However, we could not find a particular sketch which makes us feel "This is it!" among them.
There is the front area which is reminiscent of Rolls-Royce in his sketches. If he could grasp what the real beauty of Rolls-Royce is, the content in his proposal would be further better. We see the luxury design (Rolls-Royce) today as sexy, and want him to create the design toward it. As for the styling, please let us give him one advice that he would be better to make the side body flat. Then, a modern appearance comes out.
---
You will see more Winning Works from here!
*Clicking on the image.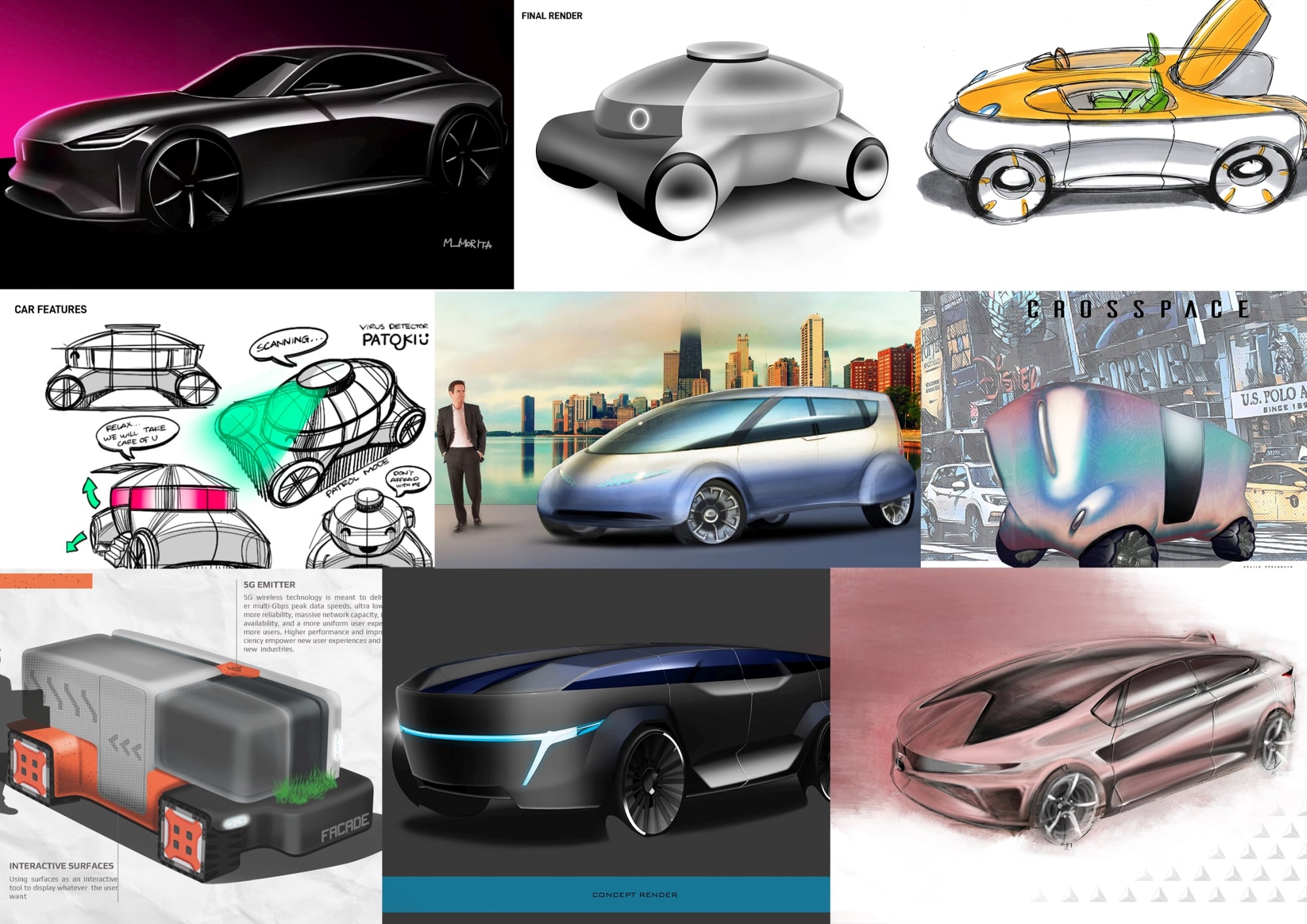 ---
At the end of the competition…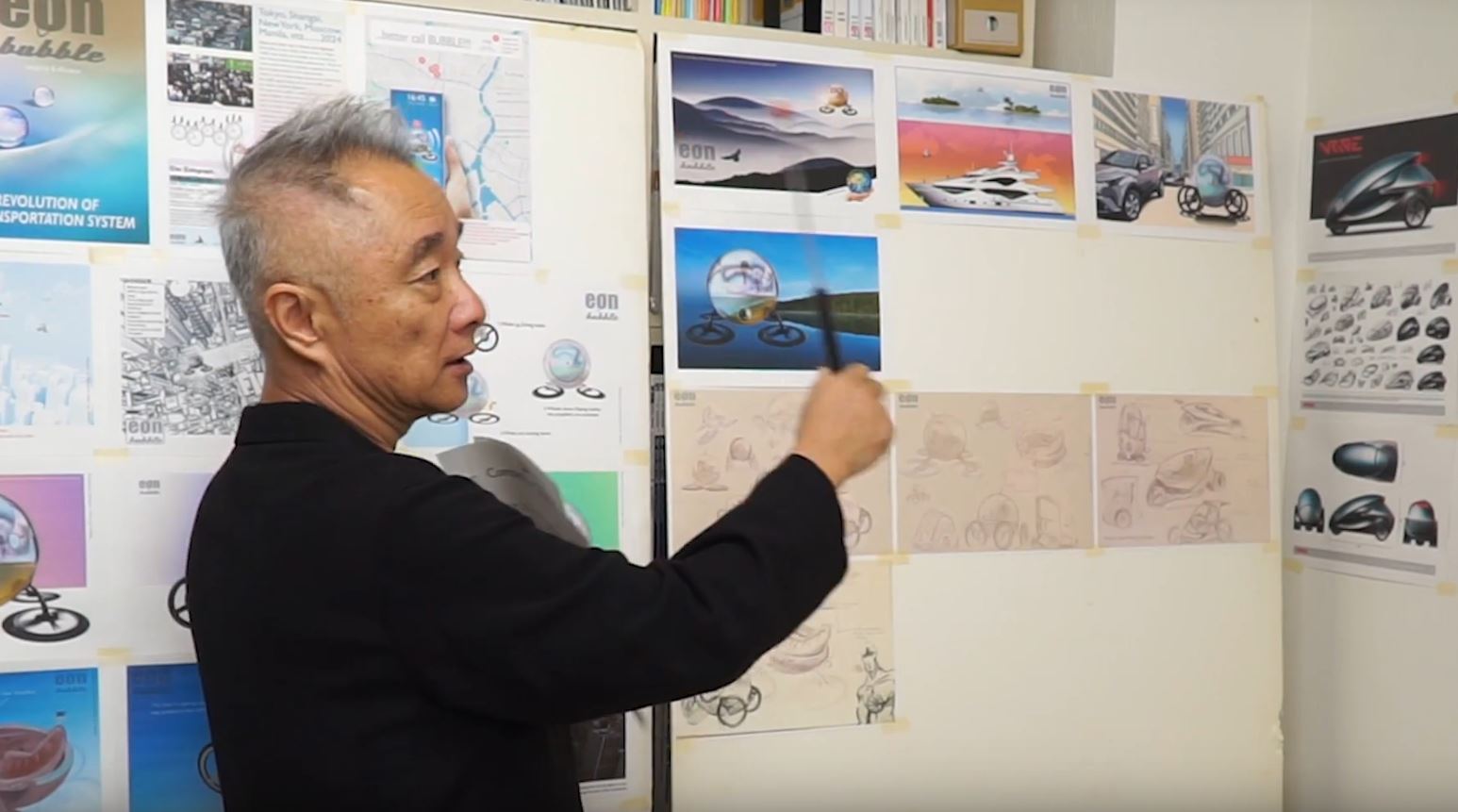 We have been releasing all judging processes including the Intermediate Check on our education platform, and only CDA students are able to access it at any time.
We believe that it helps students to improve and to gain a way how to win the competition by knowing the results of how other students received evaluations from judges.
Would you like to know more about our competition? Are you having any concerns in learning car design? We are delighted to set up the video conference, "Free Individual Information Session", and you will talk with our top designer. Please feel free to apply from here.
Free Indivisual Information Session