#2 Award announcement | Theme / Compact car in Mumbai, India 2018
Hello, everyone!
Car Design Academy's #2 Monthly Design Competition evaluation was held in the end of September, " A Compact Car in Mumbai, India, 2018."   This time 30 Japanese program students and  16 English Program students participated. Every one has squeezed a various interesting idea.
CDA Monthly Design Competition is an arena where all existing and graduate CDA students will compete under one Design Concept to propose his or her ideas. Evaluation Criteria are "Design Originality", "Design Attractiveness", and "Sketch Skills." Evaluaters are 3 CDA instructors. Mr. Yamashita who designed Nissan FairLady Z is responsible for Design Competition program.
If you are interested to see the #1 competition results, please take a look for the link below. A theme for July was "Crossover/SUV for Tokyo, which will debut in 2018" (See more information about Mr. Yamashita, click here).
#2 Theme 「Compact car for Mumbai, which will debut in 2018」
Let me ask you what is your image of Mumbai. If you are given this design theme of "A Compact Car for Mumbai in 2018", what kind of car would you propose?
Keywords which our instructors came up are such as "Energetic Emerging Country Vitality." Mr. Can, our instructor said that designer should not be handcuffed with the Compact Car image to propose small size exterior. Rather he encourged and evaluated high for those proposal which expressed vital image by its shape or color.
So, please take a look for those got awarded in this design competition. And always think if you are in the contest, what kind of car will you propose.
Prize List
FIRST PRIZE / Carlos Puerta Mascaró
<Comment>

He started design idea from TukTuk and developed to the final works. His idea creation process was clearly communicated and the process was very persuasive. As a result, the proposal achieved a high completion level. All three judging criteria, originality, attractiveness, and sketch skills are fully met. The car looks matching to the city of Mumbai. The finish of presentation material was excellent. (Yamashita)

The proposal has a design theme to match to the city of Mumbai. The green parts which connects Front to Rear produced a strong accent. The round shape of headlamp fits to the overall design. The proposal successfully sent the message of "Newness" and "Tomorrow." (Nori)

I think his idea is unique! Design Theme, to connect front and rear lamp by plastic parts, is innovative and fascinating. Drawing view fits to the design. If he could have expressed that Rear Tire steered, the evaluation would have been further high. (Can)
SECOND PRIZE / Alireza Saeedi

<Comment> 

The story presented from idea sketches to the final was very attractive. His idea creation ability is widely stretched. Newness and feasibility is finely mixed, and that is why the final proposal looks realistic.  One critique I have is that his side view proportion and that of front quarter view looks different.  (Yamashita) 

A reasonably high sketch skills. All idea sketches he has shown us have a lot of interesting ideas. If he has designed Cabin Forward (bring cabin more to the front), it would have been better. (Nori)

Sketch skill is very high. The presentation of how ideas are organized is also very skillful. I can feel that he has a talent as a car designer. Among those ideas he has shown, there was at least one more which seemed to be more attractive, or worthwhile to pursue as a final works. I would like to advise him to evaluate his ideas more objective manner. (Can)
THIRD PRIZE / Agri Bisono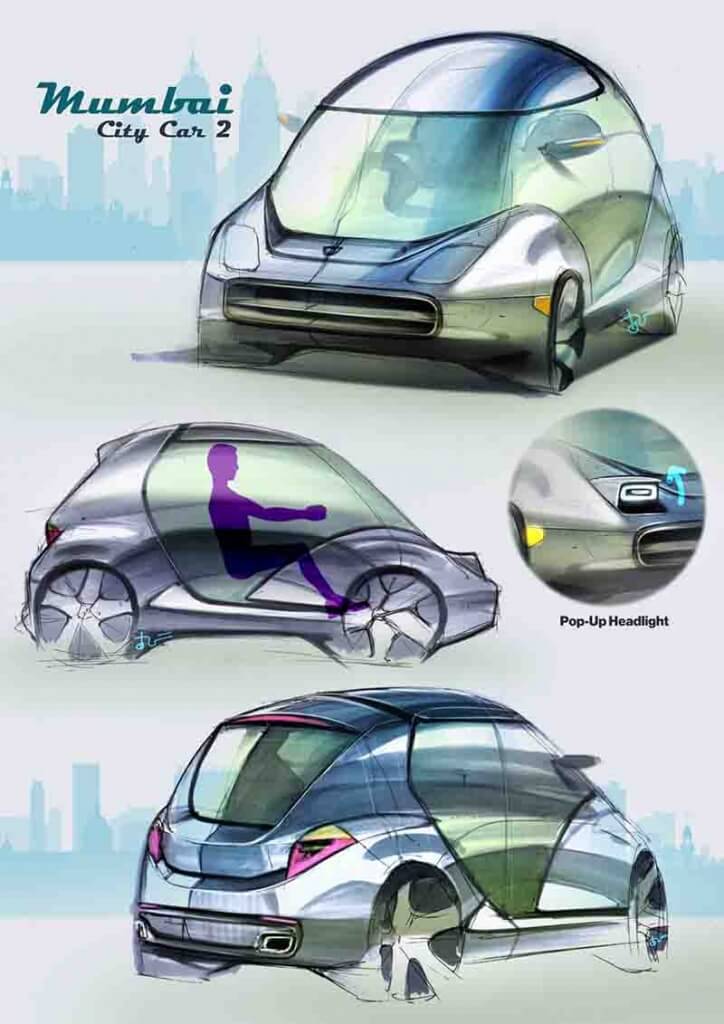 <Comment> 

New design for small car categories. Unlike existing cars, like Japanese cars for example, the design gives a futuristic impression. This design completion level achieved very high standard. (Yamashita)

I like this kind of new simple design. I can imagine that it will be fun and comfortable to drive the city of Mumbai in the future by this design. Sketch skill with accurate Perspective to express what he wants to do is excellent.  (Nori)

I can evaluate high for this design that he has tried to search new design from this unique form of the side view. The pop-up type of headlamp is already seen in the existing cars, but I am very impressed that adopting in this design gives a very fresh looks. Well done!  (Can)
FOURTH PRIZE / Predrag Stajic Strandhag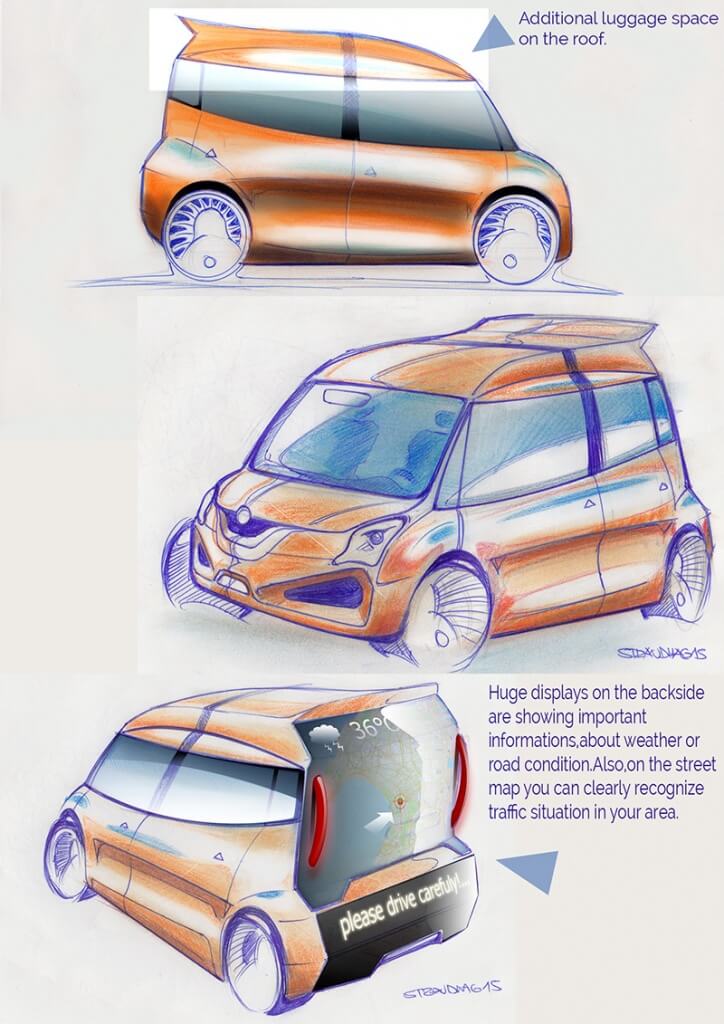 <Comment>

It was successful to provide 4-6 passengers space which will meet the need of existing Indian needs. Small body with solid shape, it resulted to achieve a feasible realistic design. In the future I would like him to pursue more newness to the front face design, which is still too close to the existing models. (Yamashita)

Very unique Roof shape and interesting proposal for Rear. If he could have developed more originality in the front, it could have been a different contest result. (Nori)

This design has achieved uniqueness of the proportion between Body and Window. But he did not take an adventurous design in details parts. That is why it was successful to make viewer feel natural and comfortable. From that view point, this sketch is a good presentation works. (Can)
FIFTH PRIZE / Arpad Takacs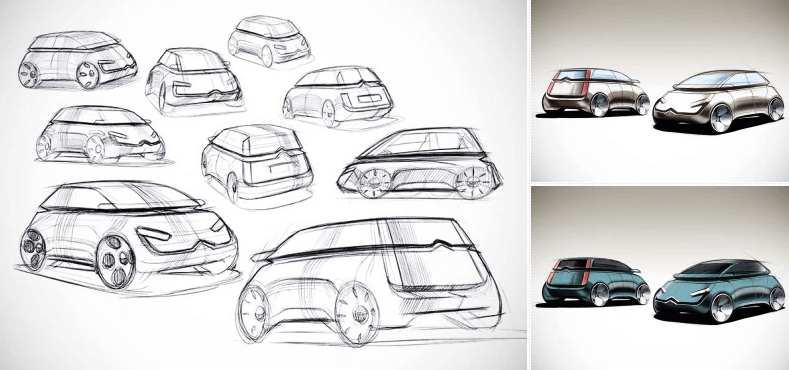 <Comment>

Design is contemporary, but simply organized. It has achieved futuristic but feasible design, which I liked about it. Separating design shape of Cabin and Body has given a very clear proportion.  (Yamashita)

Separate Body and Cabin design brought this proposal tripping lightness. Replacing Cabin will be able to create more interesting proposals, which makes this proposal evaluation high.  (Nori)

Fancy impression was produced by using Citroen logo intentionally. I think he has a strength to organize design well. I am looking forward to seeing this designer will progress further from here. Other area he can improve, or lacking right now, is the area of Painting. More practice, and then he can acquire more attractive painting skills.  (Can)
#3 Theme 「 Long Distance Bus in 2020 」
– Design Theme –
This time location is free. Bus will be used for long distance connecting 2 cities, which makes passengers/ viewer to feel thrilling/excited, when they get on or look at.  In addition to the Theme of "makes passengers/ viewers to feel thrilling/excited, when they get on or look at", works will be judged by "Originality", "Attractiveness", and "Sketch Skills" as usual.
We are so excited to inform you that Hino Motors, one of the largest Truck/Bus company in Japan has decided to evaluate  #3 Monthly Design Competition works at Hino Motor's office. Mr. Matsuyama, Design Director of Hino Motors, will judge students' proposals in addition to regular CDA designers. He is going to tell us from his professional view points how commercial vehicle design should be. It is rare occasion that students' proposal will be evaluated by the car company design directors. Also all his staffs will join this evaluation meeting.