Gaikindo Indonesia International Auto Show (GIIAS) 2015
Hello, I am Bisono, CDA student from Indonesia. Today, I am going to report you about the Gaikindo Indonesia International Auto Show (GIIAS) 2015! GIIAS is an international-scale automotive exhibition in Indonesia, and it is the largest auto show in Southeast Asia. The auto show was held during 20 – 30 August 2015, and I was able to have a chance to go there. There are 3 vehicles (two from Daihatsu, and one from Honda) that unveiled as world premieres at this auto show. It is no exaggeration to say that these 3 were the most highlighted the show, and there were many more exciting cars that I saw in each booth. This was a very exciting experience for me!
First of all, let me start introducing you 3 vehicles; Daihatsu FX Concept, FT Concept, and Honda BR-V Prototype. They made global debut at GIIAS 2015!
Daihatsu introduced 2 new SUV concepts. Those are FX Concept and FT Concept. The Daihatsu FX is a new compact crossover concept. It measures 3800mm in length, 1690mm in width, and 1580mm in height with a 2455mm of wheelbase. The engine is 1.2 liter engine and has a rear-wheel drive layout. This compact SUV adopted a sharp styling in the front face with LED headlights, a sleek upper grille, and a larger trapezoidal lower grille with honeycomb mesh.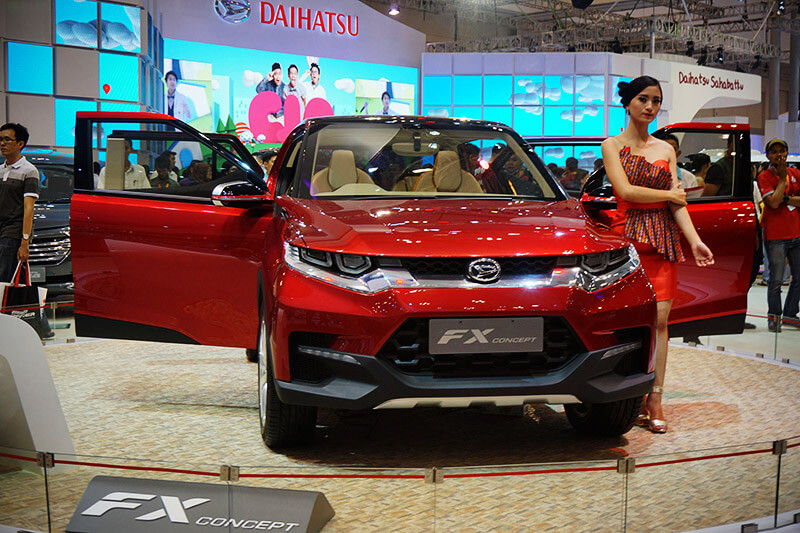 The rear of the FX Concept features LED tail-lamps, and also gets a thin band of chrome running the width of the rear.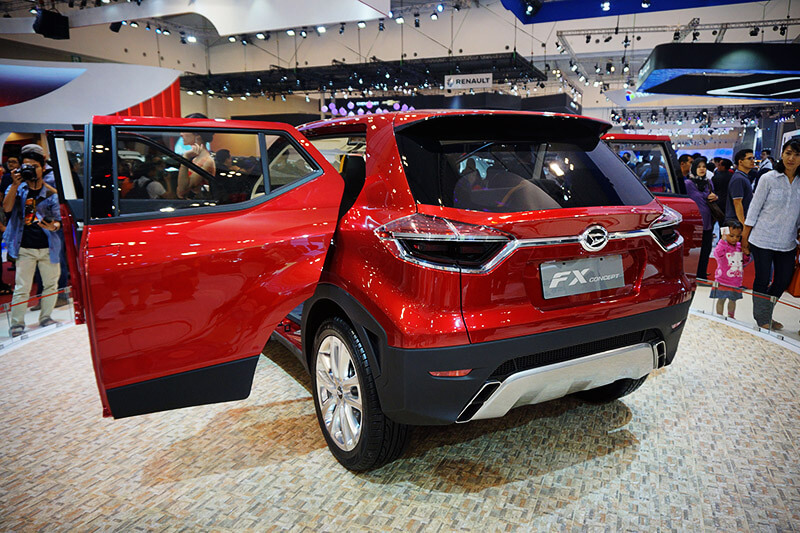 The FX concept uses a B-pillar-less design.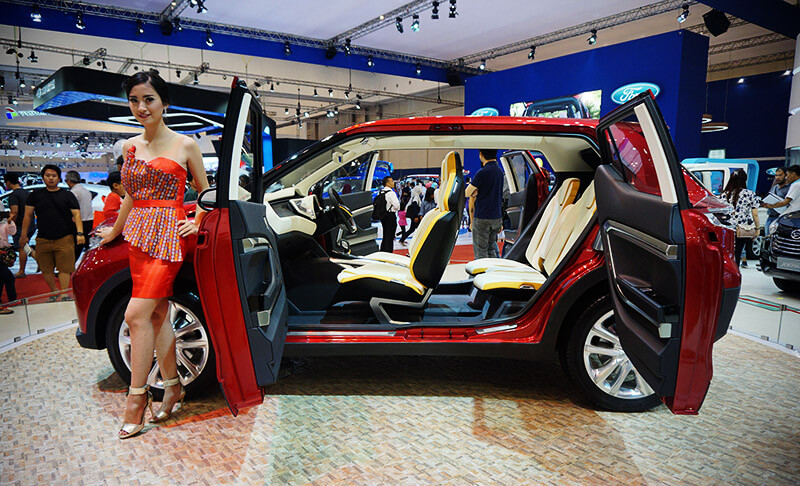 The second reveal, the FT Concept is a seven-seater SUV. It is a medium size of SUV unlike the smaller FX Concept. The engine is 1.5 liter engine. It measures 4350 mm in length, 1750 mm in width and 1690 mm in height with a wheelbase of 2685 mm. The FT Concept gets a large vertical slat grille and LED headlamps placed on either side.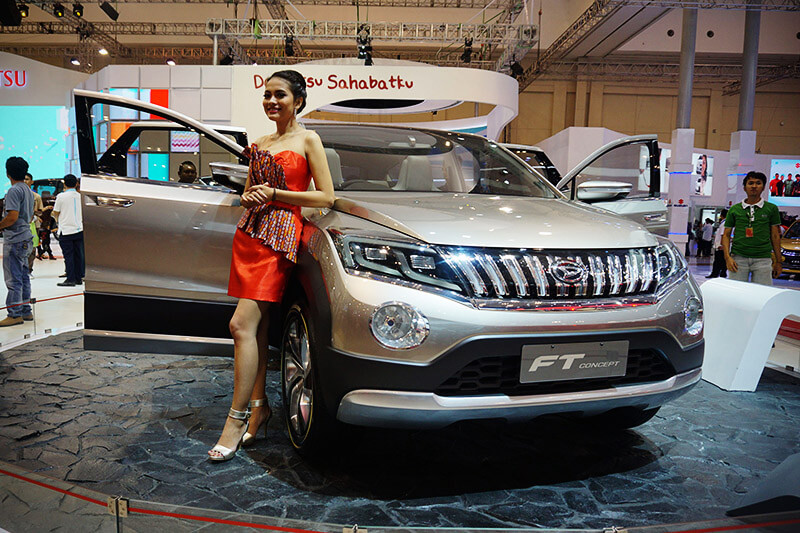 Honda BR-V Prototype also made a world debut at the GIIAS 2015. Honda BR-V Prototype is a new generation crossover utility vehicle that consists a SUV appearance and handling, utility and spacious cabin of an MPV.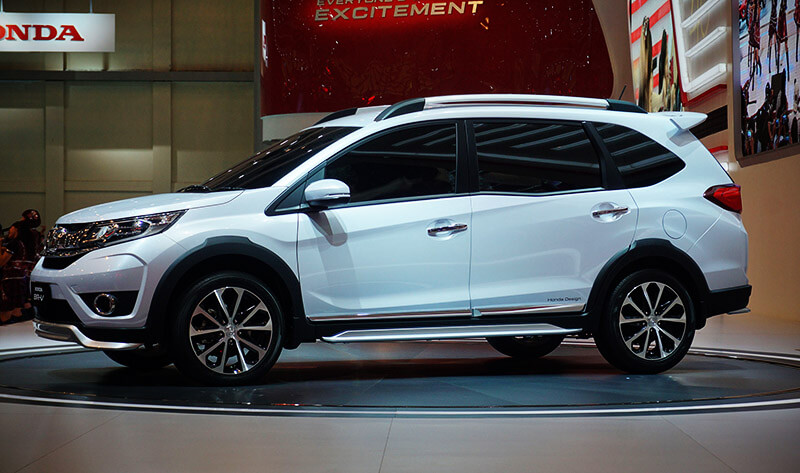 The engine is a 1.5 liter i-VTEC engine, and it can enhance both driving performance and fuel economy. The Honda BR-V will be launched first in Indonesia in early 2016, and then it gradually going to be introduced to other markets in the world.
Then, let's take a look at each booth! I particularly picked up top selling vehicles in Indonesia.
Daihatsu
Daihatsu released this, Great New Xenia just weeks before GIIAS 2015.
Toyota and Daihatsu jointly developed Xenia exclusively for the Indonesian market. It has been a big hit in Indonesia since its launching in 2004.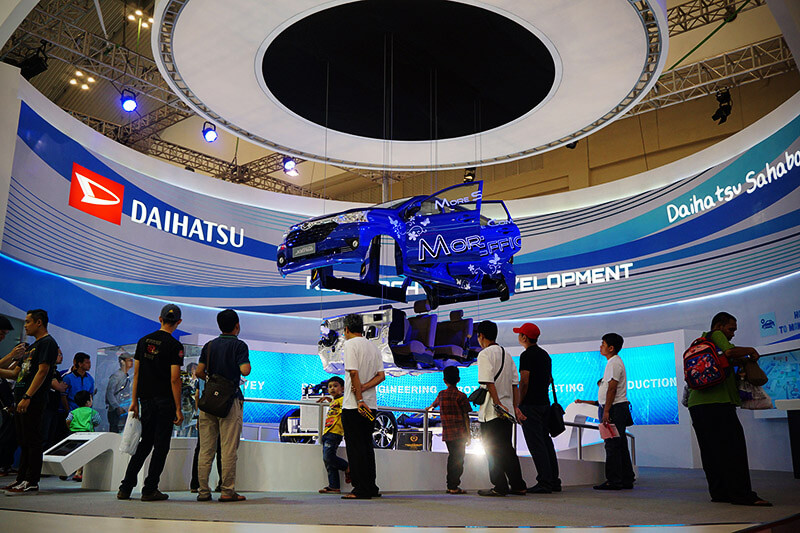 I really had fun to look at this, Xenia which is divided into three parts, Exterior, Interior, and Chassis. Audiences were able to see each part and learn how they are composed together. 
Other exhibitions from Daihatsu are the Daihatsu Wake, Cocoa, and Move Custom. These are Kei cars sold in Japan.
Toyota Astra Motor
If you look closely, you can see there are little "TAM" logos around the car. TAM stands for Toyota Astra Motor who is the Indonesian arm of Toyota Motor Corporation. TAM came to the GIIAS 2015 with Yaris Convertible, Toyota Yaris Heykers Concept, and Agya Kojo on display.
Toyota Yaris Convertible
Toyota Yaris Heykers Concept
Toyota Agya Kojo.
Toyota
Toyota Grand New Avanza Veloz
The Toyota Avanza is one of the best-selling models in Indonesia.The top-end Grand New Avanza Veloz came out with new bumper design.
Toyota Mirai, the first hydrogen fuel-cell vehicle offered sale for advertising purpose.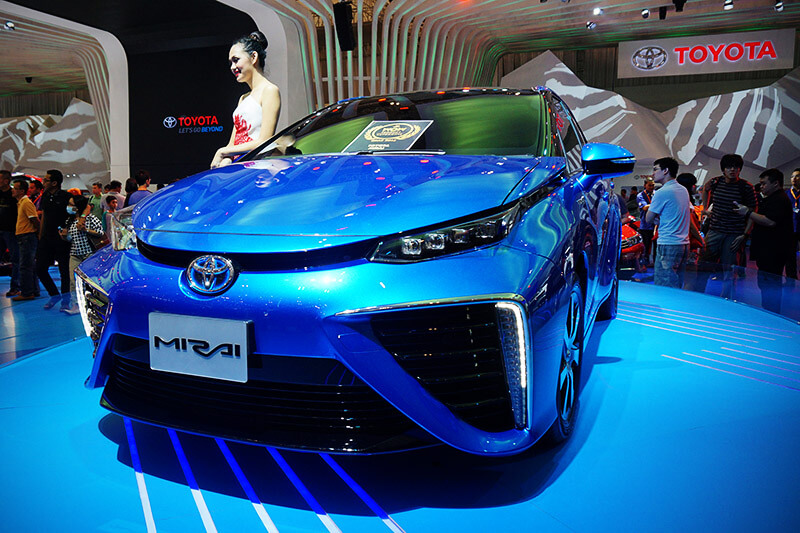 i-Road, the three-wheeled compact vehicle which combines comforts of the motorcycle and stability of the car.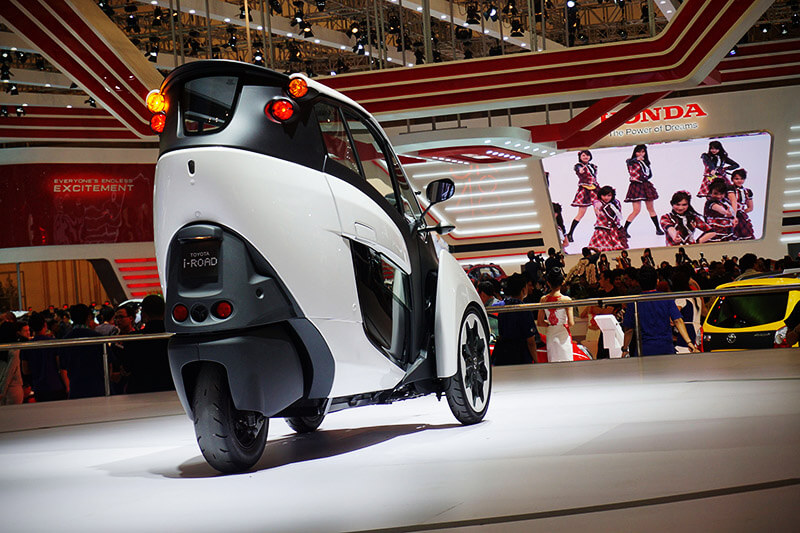 Mazda
There were no new models from Mazda, but they brought Mazda 2 Limited Edition.
The Mazda 2 Limited Edition, available only as a hatchback and limited to 200 units for Indonesia.
Suzuki launched upgraded Suzuki Ertiga, and also presented the Ciaz sedan and iK.2 hatchback for the first time in Indonesia at the GIIAS 2015.
Suzuki New Ertiga, a facelifted version of the Suzuki Ertiga Crossover Concept. 
 Suzuki iK.2
 Suzuki Ciaz which will release in Indonesia the end of 2015 .
Suzuki Ertiga has minor change, Karimun Wagon GS, & Celerio.
Nissan
Nissan mainly promoted their electric car which combines sport high-performance and environmentally friendly. They also brought their best-selling vehicles in Indonesia.
Nissan Esflow
The Nissan Esflow Concept was the main event at Nissan's GIIAS 2015. It is an electric sports concept car.
 Nissan Navara and Teana
Mitsubishi
Mitsubishi Outlander PHEV Concept-S , Plug-in Hybrid electronic vehicle
Isuzu
Isuzu MUX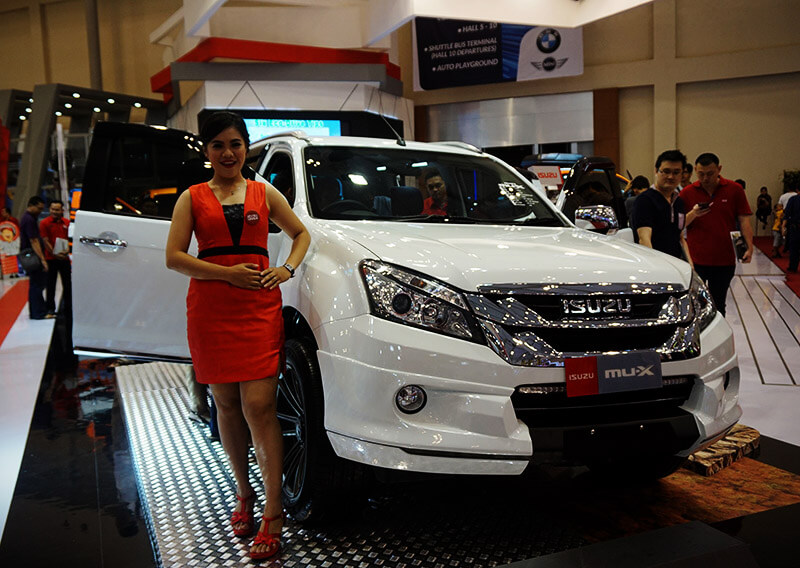 Lexus
Lexus LF-LC, LF-LS and New Lexus RX
The other automakers showed their latest units.
Renault CAPTUR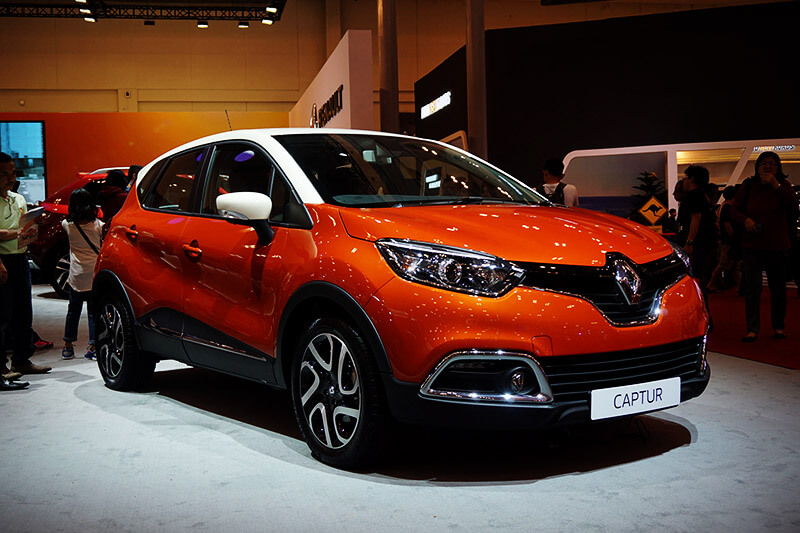 Mercedes AMG GT S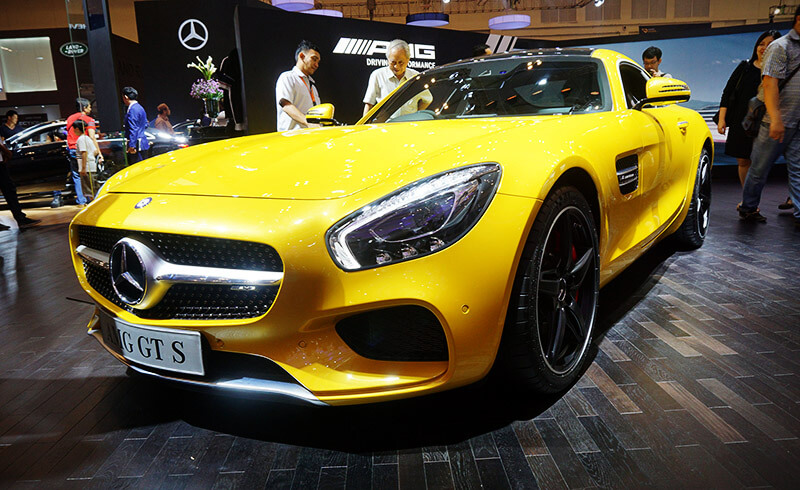 Chevrolet Stingray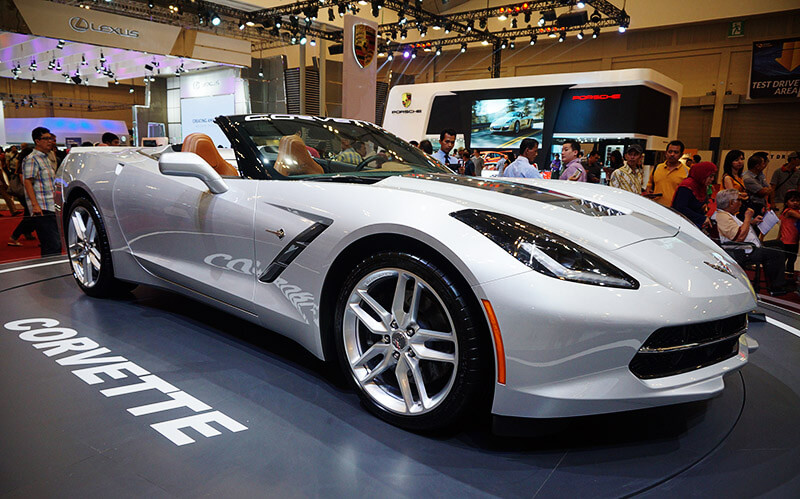 BMW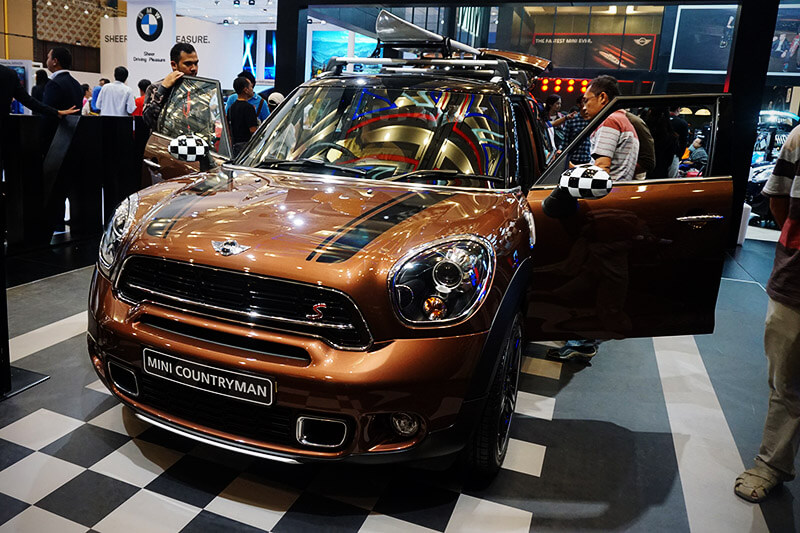 Tata Motor
Tata Iris CNG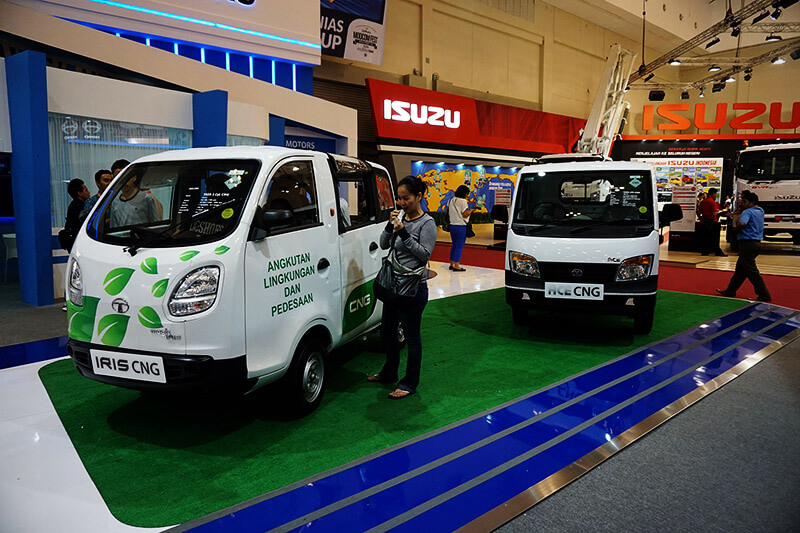 Hino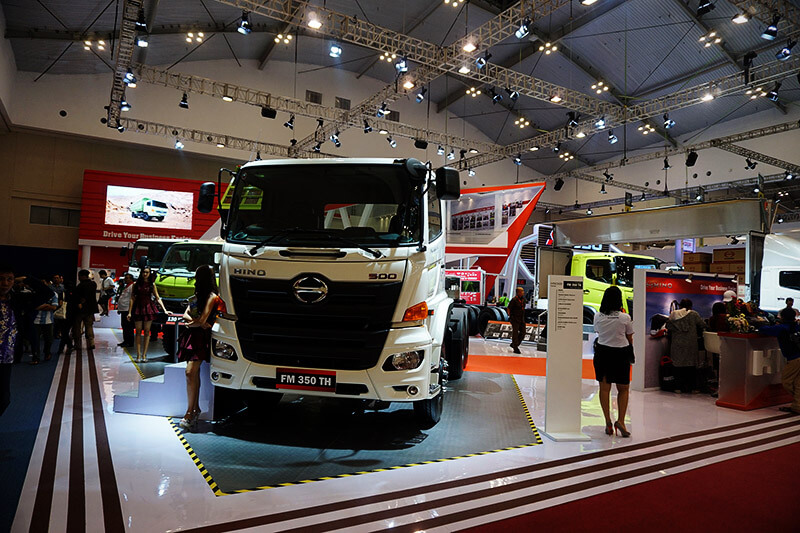 Chinese company, Weststar Maxus
Wester Maxus V80, a multipurpose commercial van. The owner could customize the interior.
In addition, Denso showed a framework of car. They also invited people to try their product such as different kind of car bells people were able to try to hear.
Thus, there were many new concept cars in GIAAS 2015, and some of them made world debut in Indonesia. There were a lot more productsthat I saw in GIIAS 2015. I hope you can feel the atmosphere of this auto show from my report!
Thank you Bisono san! It was a very exciting report!
"According to the reports, the GIIAS 2015 accounted for a total sales transaction from 25 brands that recorded at 17,077 units. The value of the transaction in the Indonesian Rupiah reads- Rp 54.5 Trillion (aboutUS $475 million)"
(http://www.carbay.co.id/en/car-news/giias-2015-terjual-sebanyak-17-077-unit-mobil-17658) .
The grand auto-event ended for a span of 11 days was visited by a total of 451,654 people.
As you can see from this report, GIIAS is a significant place for releasing new products in Indonesia, but actually it also carries a role of dealer show. It is one of the very unique and interesting points to mention about GIIAS from the rest of the world. Moreover, global car companies, particularly Japanese companies are competing to seek top position in Indonesia, and invest heavily to take advantage of strong growth in this biggest economy.
Today, the automotive industry in Indonesia has become one of the central pillars of Southeast Asia's manufacturing sector. We will keep our eyes off the GIIAS in the next year too.