Mr. Pratap Bose Head of Tata Motor Design Department
Hi, this is Yoshi Hashimoto, Director of International Division of Car Design Academy. I would like to share an exciting interview with Mr. Bose, who is a Global Head of Design in Tata Motors, India.
The image of India is a promised, but sleeping giant country. It has been considered as an emerging country who will catch up China in the near future. And Tata Motors is the second largest automobile production company in India. What I found from this interview with Mr. Bose is that Tata Motors is not an emerging market company unlike most of Chinese car companies. It is truly a global company, not only because they acquired Jaguar Land-Rover a several years ago, but a philosophy of building global culture is so ambitious. The way Tata is building international design team and recruiting staff from all over the world are nothing different from those of U.S. or European car makers. And I must say that their mentality has already surpassed some Japanese, Korean, and Chinese car makers. 
In addition, towards the end of interview, he has kindly advised us what he is looking at when he hires car designers. He also pointed out that many candidates have made similar approach, which have to be corrected. You cannot miss that!!!
Mr. Pratap Bose on Youtube
Mr. Bose graduated from the National Institute of Design in 1998, then he joined Piaggio & C.SpA, Pontedera, Italian Motorcycle Co. as a designer between 1999 and 2001. He was given a scholarship from the INLAKE FOUNDATION to join Royal College of Art, UK between 2001 and 2003. After graduating RCA, he was hired by  Daimler Chrysler, Japan till 2007. The real challenge as a designer and manager for Mr. Bose was given by Tata Motor in 2007. He has been promoted to the current position of Head of Design since 2011.  A truly interesting Indian Dream.
 Q: Could you explain your current responsibility?
I am currently the global head of Design for Tata brand of Cars, Trucks, and Buses. Tata Motor has three design centers around the world, one in Pune in India, Turin in Italy, and TMETC (Tata Motor European Technical Center) in Coventry, UK.   Tata's design team headcount is around 200 staff in combined three locations, 120 in India, 50 in TMETC, and 35 staff in Italy. Number of staff increased from 40 to 200 in the last 4 years. UK team started from 4 to 50 in the last 7 years or so.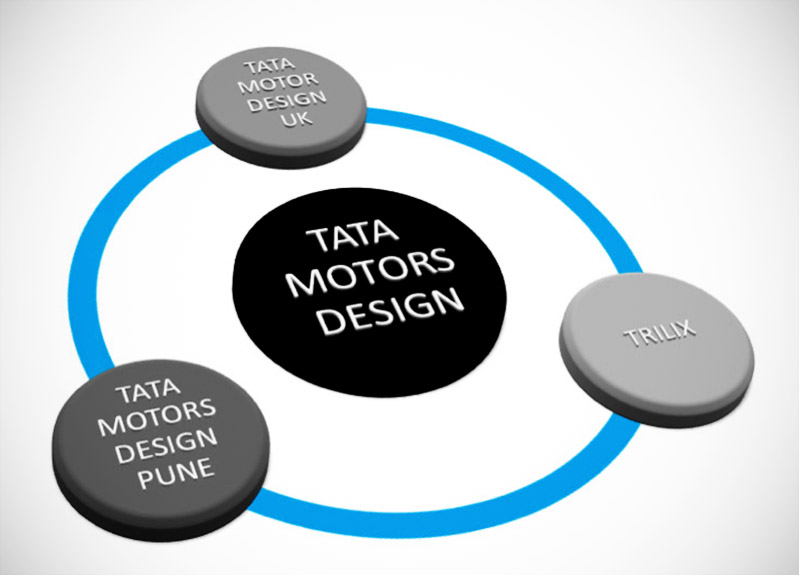 Tata's passenger car and commercial vehicle development are all under my responsibility. Tata is very committed to developing new passenger cars. I am very ambitious to receive a  high profile from the global market, not only from India. We have already released 3 new models in the last 12 months, and another 3 models in the next 6-8 months. They are all new models, not minor changes. This is quite a unique opportunity and I am grateful to be given this opportunity.   The models released this year are the Bolt, Zest, and GenX Nano. Zest is a compact sedan (3995mm length), Bolt is a hatch back, and GenX Nano is a small car to replace the first generation Nano.
Bolt is a hatch back type. Equipped 1200cc gasoline engine and 1250cc diesel engine, fuel efficiency for gasoline engine is 17.6km/litter and 23.0 km/litter for diesel. Price for gasoline engine are ranging from INR466,115 (USD7,300) to INR635,249(USD9,900). Price for Diesel engine models are INR575,610 (USD9,000) to INR733,628 (USD11,400)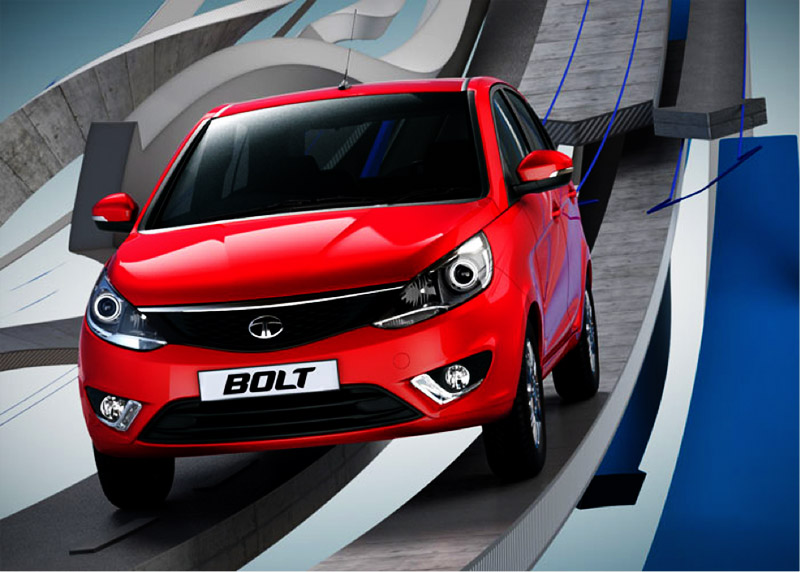 (from TATA MOTORS)
Zest is a sedan type vehicle. They have Gasoline Engine of 1200cc, and Diesel Engine (1250cc). Fuel economy of gasoline engine is 17.6km/litter and that of diesel engine is 23.0 km/litter. According to Tata's price list for Mumbai, Gasoline Engine vehicle prices are ranging between INR507,929 and INR657,549 which is approximately USD7,900 for the least expensive model and USD10,300 for the highest grade model. Diesel Engine models are available from INR614,437 to INR844,259, or USD9,600 to USD13,100 respectively.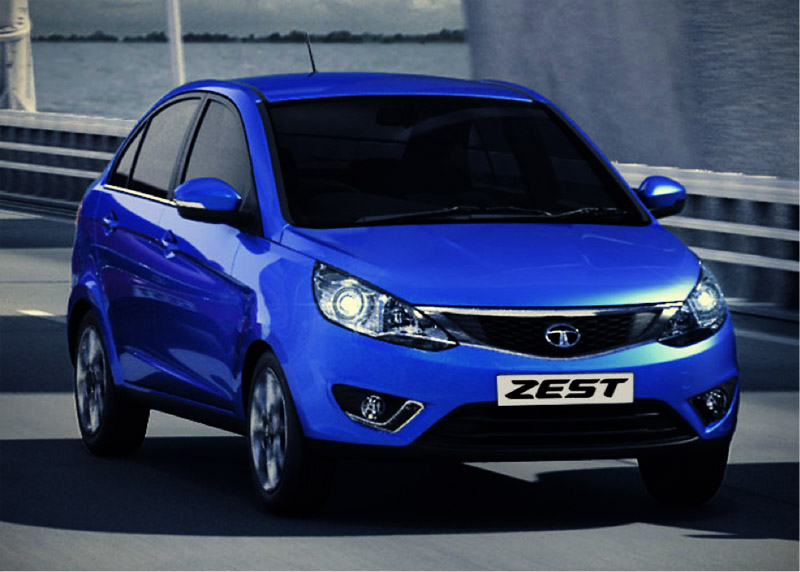 (from TATA MOTORS)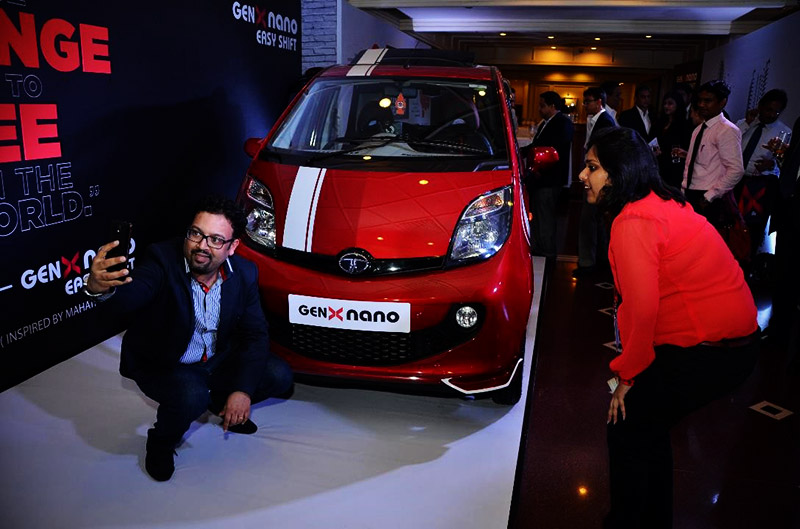 Mr. Bose is taking photo at Exhibition of GenX Nano. GenX Nano was just released in May this year. It is a vehicle to jack-up the declining sales of the previous model. GenX has brought a lots of new specs and remained its economical price. It is a 624cc, with Automated Manual Transmission, Overall Length 3099mm, Overall Width 1495mm, and Overall Height 1652mm. Price ranges IRP219,872 (USD3,400) to IRP313,000 (USD4,900.)
Q: Among these three cars, which one do you expect to be the best-selling car?
Zest has done very well. It has brought a lot of new customers to our brand. In the past, we could not capture many lady customers. Young ladies are becoming quite economically independent in India. Quite surprisingly, a lot of ladies have visited our sales office looking for the Zest. Not only are more customers coming, but more new types of customers are visiting. GenX Nano has received extremely good reviews. It is a small city car. We see more than 300% increase over the previous model, and is more luxurious and user-friendly.
Q: Do you think Tata's design has been leading the design culture in India?
Absolutely. I think not only in India. We received a good response globally, for example, when we launched three concept cars during the Geneva Motor Show, the Pixel (2011), Mega Pixel (2012), and Nexon (2014) and we received a surprisingly good response. A lot of inquiries have been sent to us. Like "When does Tata sell these in U.S.?" My benchmark is really whether Tata's design will be appreciated by global level. I am very focused towards that.
Tata's Pixel: Mr. Bose's and his team's first designed concept car at Tata Motors, was praised highly in 2011 Geneva Motor Show.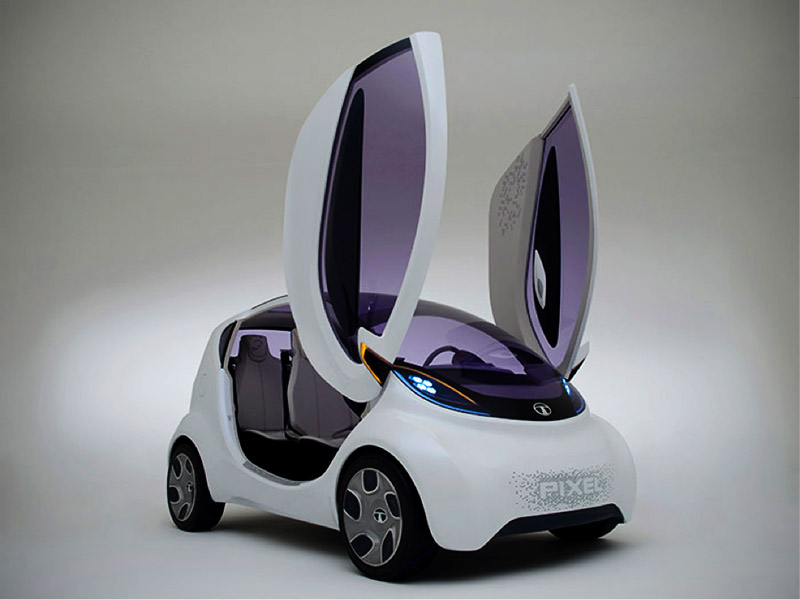 Tata's Mega Pixel, exhibited in 2012 Geneva Motor Show.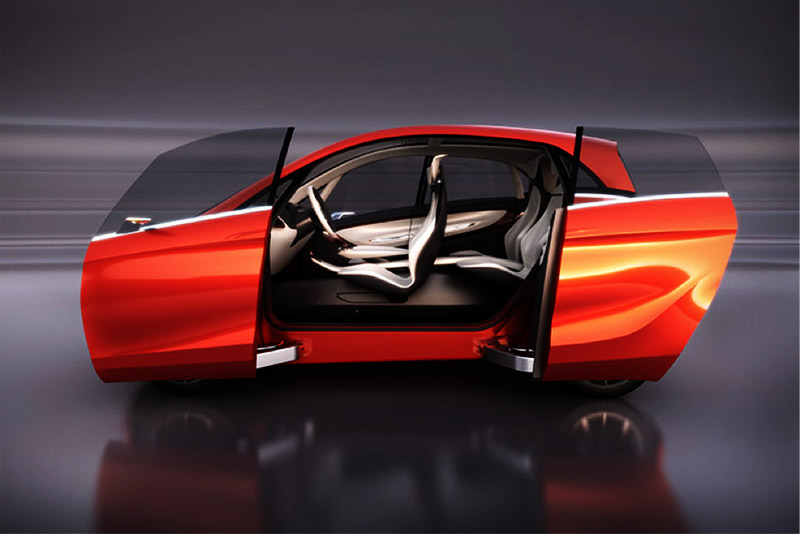 (from TATA MOTORS)
For a company of our size to have 3 design studio is incredible. Mr. Tata, our previous Chairman himself was a trained architect who studied at Cornell University in U.S. and he has always been extremely sensitive to design. He is the one who actually pushed to establish our overseas studios.
Today, we have a new Chairman Mr. Mistry, for the last two years. He is also extremely sensitive about design and he is very up to date. Today, I do not have to re-phrase why design is important in our company that is already an expectation in the company. This shift has happened in the last 5 years.
Again for me being the best in India is not enough.
Q. Could you explain your carrier history and educational background, and how did you get interested in car design?
Growing up in India in the 70s and 80s, of course, the awareness of car design was very low. I had a lot of interest in art, painting, or architecture. Architecture was a kind of profession I knew about, something I felt I could focus because it has an artistic and technical side. I did not know anything about car design. Growing up in India was very different from growing up in Europe or Japan, there were a very few cars. Even in Bombay, where I grew up,  I was able to see imported cars only once in a while.
One day, I saw a metallic blue Mercedes 280SEL was standing in front of iconic Taj Mahal Hotel, Bombay, which was near my residence. For me that was a very powerful vision. It was a quite sunny day in Bombay. I looked at the building and car. I knew someone designed that building. Then I thought that someone must have designed that car. At that point, I did not know anything about car design. That was how I got interested in car design. That was 1989-90.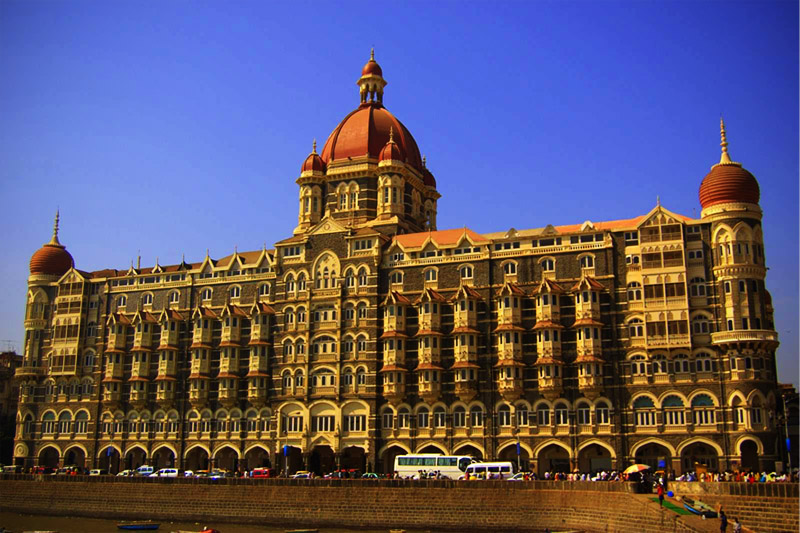 Amazingly gorgeous architect of Taj Mahal Hotel, Mumbai, which Mr. Bose was astonished when he looked this building with Mercedes SLK.  (from Bespoke Traveller)
I joined the National Institute of Design in Ahmedabad. Very competitive, only 30 positions out of 1000s applicants were admitted. In those days, the world was completely different from now, no internet, no Photoshop. India was a closed market. What was available were watercolors and felt pens!! I think technology is there to support human beings, not the other way around. It is very important for us to remember. All we need is is a pen and pencil.
None of the NID teachers had a lot of in-depth experience being a car designer. So, I had to study by myself. As I said earlier, no PC, no Internet, how I learnt was reading car magazines. Those were delivered to NID by sea mail. So, we were only able to read Car Styling Magazines that were from 3-4 month ago!!
After graduating NID, I applied to Piaggio & C. SpA., in Italy. I heard that they were trying to develop scooters for India in 1999. So, I applied. I sent my portfolio, and they sent air tickets for working in Italy. I arrived there on a Sunday afternoon, where all shops and restaurant were closed.  I couldn't speak a word of Italian either!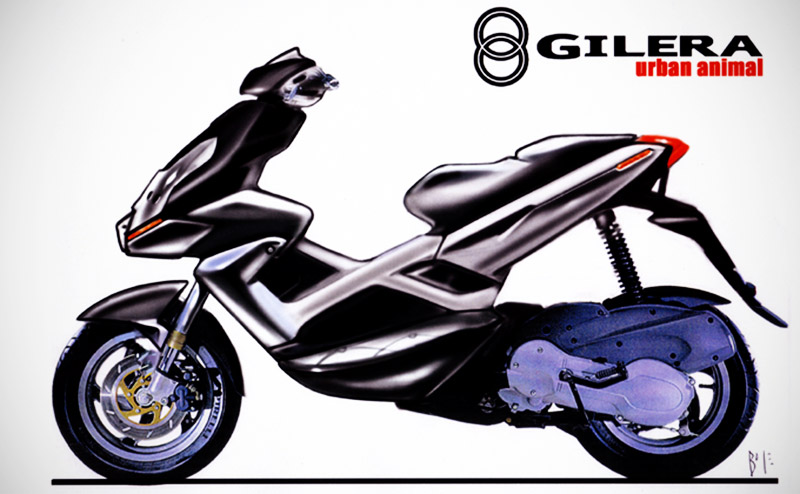 Mr. Bose's design sketch when he was working at Piaggio & C. SpA.
After 6 months, they asked me to stay there longer. I stayed there for another 2 years. So, I did some works on Gilera, an Italian Brand, and worked on Vespas. It was a great 3 years. Then, Yoshi san, of course you know, I wanted to do car design. In 2001, I moved to London. I went to the Royal College of Arts, RCA. It was lucky to get a scholarship from the INLAKS Foundation. I moved to London, and I learnt a lot of car design in RCA. I had very good teachers, good group of students, and you know a lot of people came from Coventry University who've already had a bachelor degree in automotive design. My bachelor degree is product design, not automotive, my focus was on industrial design.
"I personally believe that it is very important for a lot of young people to choose your boss and not necessary to choose the company. A young designer coming out of college, should always looked at who is the boss in the design department at any company. That was very important to work who can inspire you, whom you can learn from. "
And, after that, when I was graduating, I was thinking of what to do and where to apply. Then opportunities came from Japan. At that point, I was very excited to see what Olivier Boulay was doing at Mitsubishi Motors. They had launched a lot of very exciting concept cars and cars scubas Grandis, a production car in Mitsubishi Motors. I found many concepts of what Mitsubishi Motors was doing very stimulating. I thought I'd like to work with this man, Olivier Boulay. He was the head of, MMC.  I applied to a sister company called NIMURA Design in Nagoya, which did automotive projects exclusively for MMC.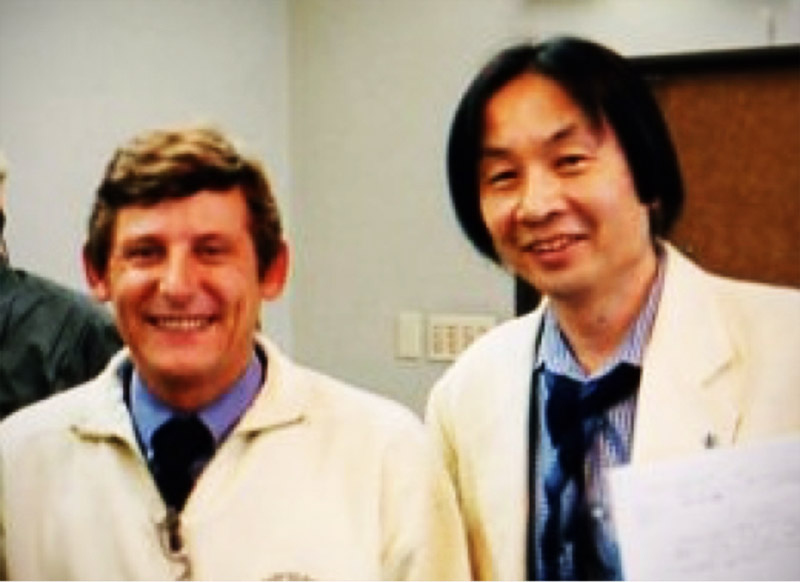 Mr. Boolay and Nori Kurihara, Supervisor of Car Design Academy (2002 at Odawara, Japan)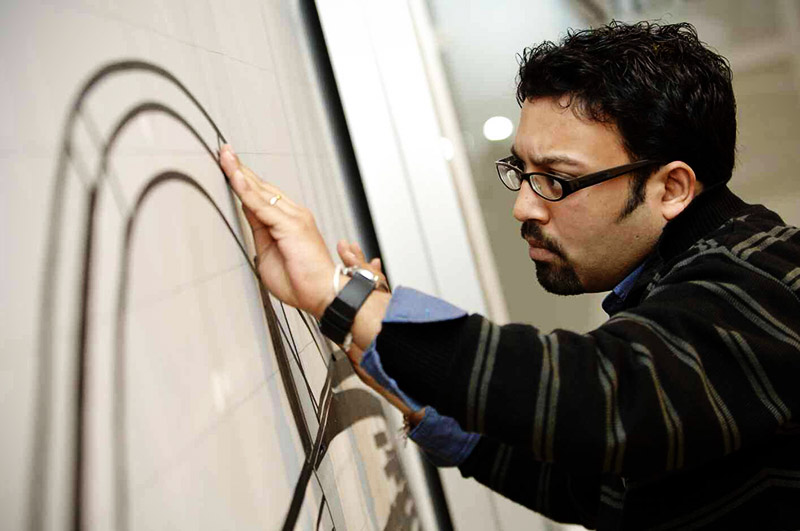 Mr. Bose at Mercedes-Benz' Advanced Studio in Yokohama.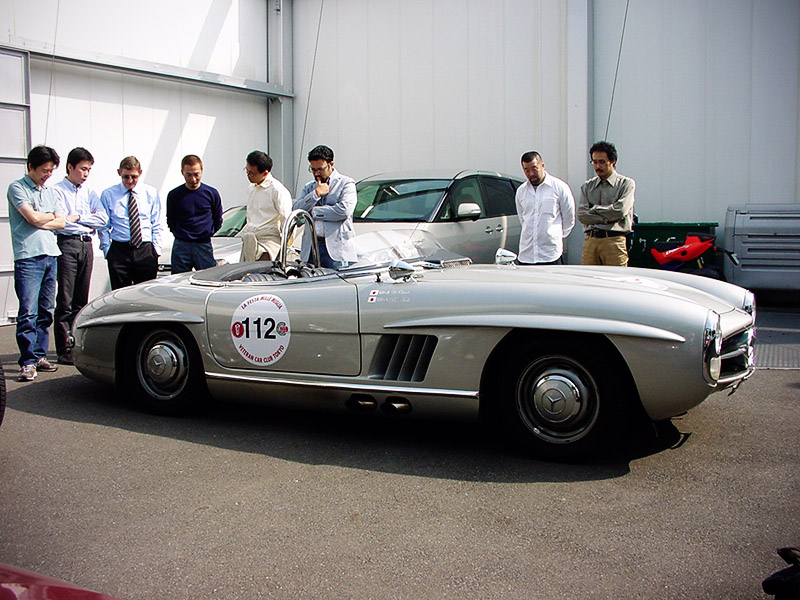 Mr. Bouley, Mr. Bose, and a design team at Mercedes-Benz' Advanced Studio in Yokohama.
Olivier Boulay (born in France, in 1957) is an automobile designer. Boulay was appointed the head of Mitsubishi Motor's design office in May 2001. When DaimlerChrysler terminated its alliance with Mitsubishi in 2004, Boulay, returned to its Advanced Design Studio in Japan and his previous position. Starting from 2009, he is the Vice President of Daimler's Advanced Design Centre in Beijing, China. (from Wikipedia )  
Then in 2005, Mitsubishi dissolved the partnership with Chrysler. Olivier left the company, and when he was leaving, he offered me the position in Mercedes-Benz' Advanced Studio in Yokohama. I took that opportunity, and joined Mercedes-Benz. I had three years of extremely memorable experiences working with Mr. Boulay.We did a lot of advanced works like show cars for internal use in the company. We also had some just vision cars for production models. Generation S class, SLK, or GLC. It was a wonderful time.
Then, I wanted to move on. I wanted to work for a Indian company somehow. I had a chance to see the Managing Director of Tata Motors, Mr. Ravi Kant. We happen to meet at an industry conference. When I saw him, I told him that I would like to change Tata Motors Design. And asked him "Can I have an half an hour with Mr. Tata?" I just asked him like that. He looked surprised, almost saying, "Who are you? Are you crazy?" Anyway, he asked me my contact. I went back to Japan after the conference in Delhi and continued working. One day, I got an email from Mr. Kant's office saying to please come to Bombay on so and so date. I still remember the date, May 5th, 2006. Please come to Bombay to meet Mr. Tata for half an hour.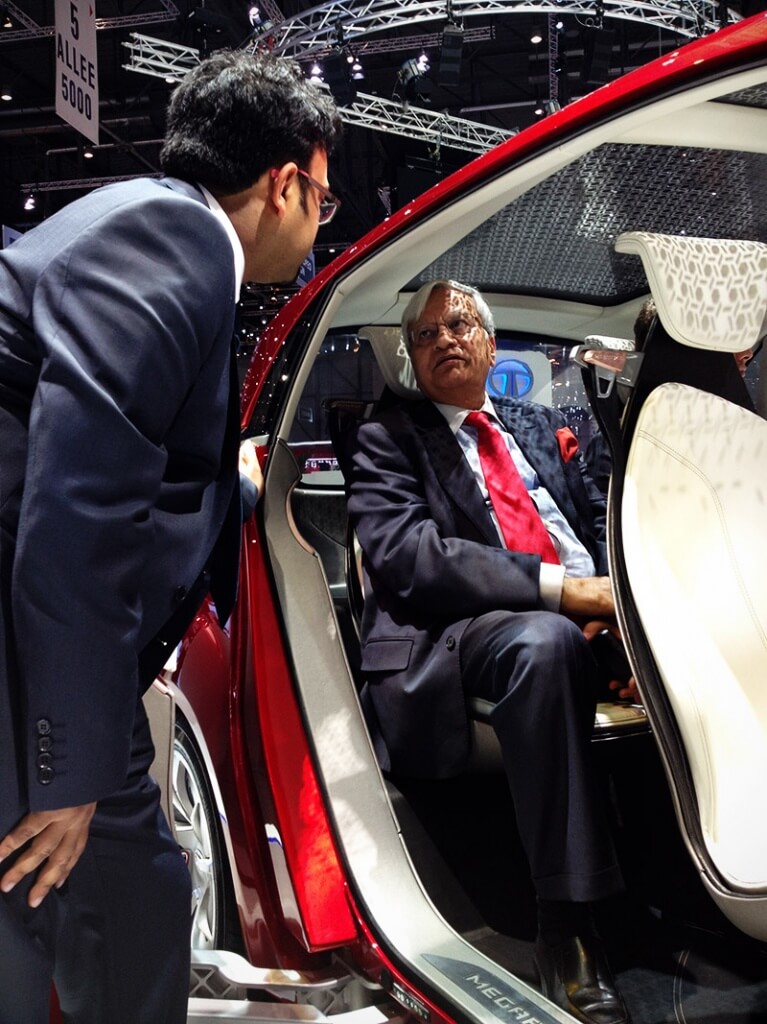 Mr. Ravi Kant, a Managing Director of Tata Motors, who had arranged a meeting for Mr. Bose to see Mr. Tata.
I could not believe it! I thought it was a spam, or a fox mail, but it was true. I brought my portfolio together, and I made a vision statement for what Tata Design should be, should do, and should stand for. I went to Bombay, and met Mr. Tata. He listened to me very patiently. He was a very legendary gentleman.
Q: Amazing Indian Dream!
"I want to give a message to students. You always should take a chance in life. If you don't take a chance, you don't know what will happen. The worst thing that can happen is, like someone saying No. " 
In my case, the worst thing which could happen was to have Mr. Kant say, "Forget it." But fortunately he said, "Yes!" There is always 50:50 chance that someone say yes to your proposal. So, in life, always take a chance. And as long as there is a right reason for thinking of something or doing something, most of the time, people say "Yes." 
After I told Mr. Tata what is needed in Tata's design, he said, "I disagree with most of the thing you said about Tata Motors and Tata Motors Design, but I appreciate that you really spoke your point of view, and I believe you can be a very helpful addition to the company." That was the greatness of Mr. Tata.
  With that, I went back to Japan, and I spoke to Boulay san, I spoke to professor Pfiffer who was visiting Japan from Germany. I said I really want to challenge, and they encouraged me "Absolutely go ahead and do it. " By May 2007, I had already moved to the UK. I started working here as the designer in UK. In 2011, I was appointed to become the head of design for whole company. Just about 4 years. You can see already the result of that, 3 or 4 concept cars. We also have now 3 cars in production as I said earlier. Next year we will launch 3 new cars. Everything you see now on is the result of works we have done.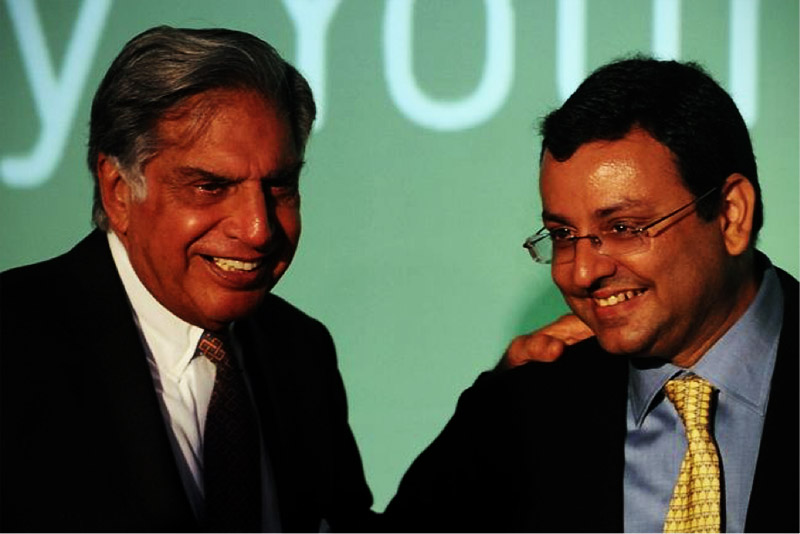 Mr. Ratan Naval Tata (born 28 December 1937) is an Indian businessman, investor, philanthropist, and the chairman Emeritus of Tata Sons. He was the chairman of Tata Group, a Mumbai-based conglomerate from 1991–2012. He stepped down as the chairman of Tata Group in 2012 but continues as the chairman of the Group's charitable trusts. (from Wikipedia) 
Mr. Cyrus Pallonji Mistry is a businessman who became chairman of Tata Group, an Indian business conglomerate, on 28 December 2012. He is the sixth chairman of the group and the second not to be named Tata. The Economist has described him as "the most important industrialist" in both India and Britain. (from Wikipedia BMS)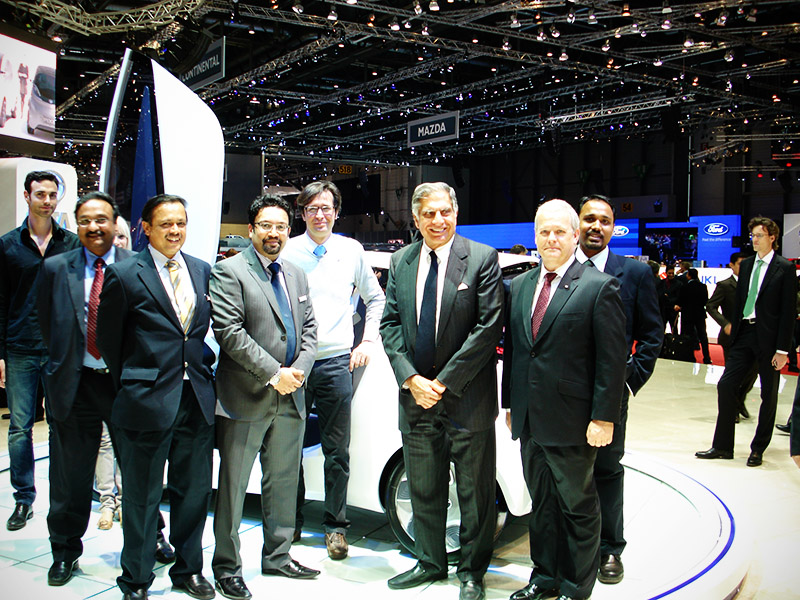 2011 Geneva Motor Show, Mr. Tata, Mr. Mistry, Mr. Kant, Mr. Bose, and all big shots in Tata Motors.
Q: It seems that you are always thinking global, not limited to domestic India.
I always think global and dream global is very important. To be perfectly honest, there is a little domestic India. You look at the highest selling sedan in the US and you see Japanese cars. Highest quality products in India are from Suzuki, Hyundai and when you look at the fastest growing brand in Europe, it's KIA. There is no place to hide from the global influence. The whole world is changing. More people prepare themselves to understand the reality. I see designers from Japan for example, and I don't see them enough in other global companies. Today, a lot of Korean designers, even Chinese designers are in global companies. I think very few Japanese designers are working in global companies, while everyone else has started to think outside of the box.
Q: Certainly, most Japanese are feeling comfortable for working in Japanese companies that may limit the Japanese company's growth in the future.
I think sometimes Japanese companies have to expand a little more in terms of mentality. I think even designers must take the chance to work for another global company or another foreign brand which can have a positive impact for their career. I think there are a lot of skill and great challenges in Japan. No doubt about that. I think some Japanese designers and modelers are as good as any designer and modeler in the world. Just need to open up more.
Q: How about in case of Tata? For those 200 staff working for you, how many are from India? And how many are from other countries?
"Last time I have counted, we had 11 nationalities in the design team. We have designers and modelers from America, France, Italy, England, Germany, we had one designer from Iran as well, and of course from India, and we have designer from Australia, and designers from Korea."
  So, we have a lot of nationalities represented in all of our studios. In fact, even in Pune, India, I have two English designers, one Australian designer, and have a Korean designer also. Again, with our size, and sort of market that we exist in, we manage to get very good designers from global sources. We also hire fresh graduates too, from Korea, France, and the UK, of course. It is good because everyone brings their point of views which is very interesting. Also, we sometimes design our main product portfolio for kind of small cars, 4 meters to 4.5 meters size. When we bring the designer from America for a design like that, their whole sense of scale is totally different. That brings the kind of discussion interesting in what we will be doing. My Korean designer, for example, is very comfortable in designing smaller products, but we provided him a chance to design a pick-up.  I really like mixing the sort of project that people do, and it's interesting for them, and gives us a very interesting point of view.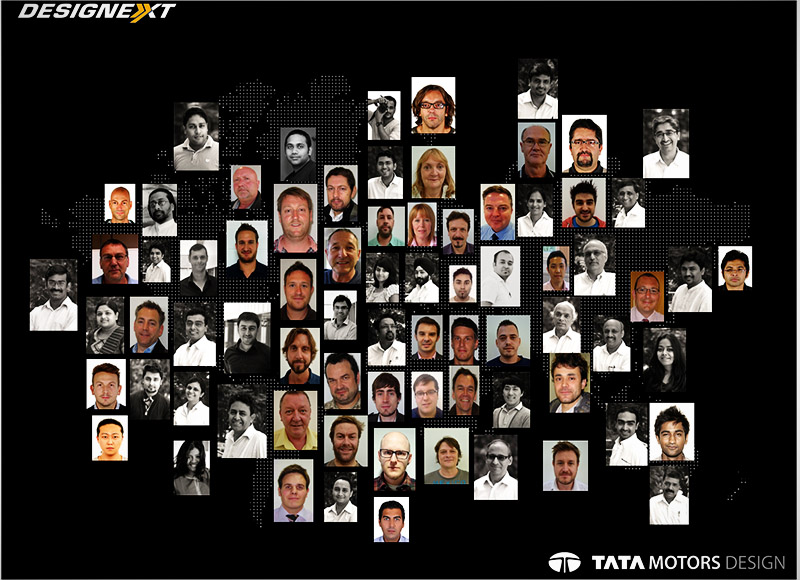 Tata Motors' Design team, as you can see a diversified nationalities and gender.
Q: In that case, may I ask if one or two of our graduate students of Car Design Academy either Japanese or Indian, Indonesian, who is interested in Tata Motors? Do you open your door to our graduate students? Of course, we will validate for these students are good.
And any advice to our CDA students?
For me, nationality and etc. is not important. Designers can come from anywhere. I have no problem with that.
Regarding the level of skill, I still believe that drawing and visualization skills for a designer is very fundamental and is very important because you have to communicate your idea to a lot of people, But in case of students, you have to communicate the idea only to yourself most of the time. Where in the professional world, you can make the sketch, but you need to communicate with a CAS modeler, you need to talk with a clay modeler, you need to communicate with management, with engineering, with marketing, a lots of people you have to communicate your idea with if you want your idea go anywhere. I still feel the power of good drawing is very important because pictures can replace many words; that is what us designers say. So for me, that is very important, the skill level of the student.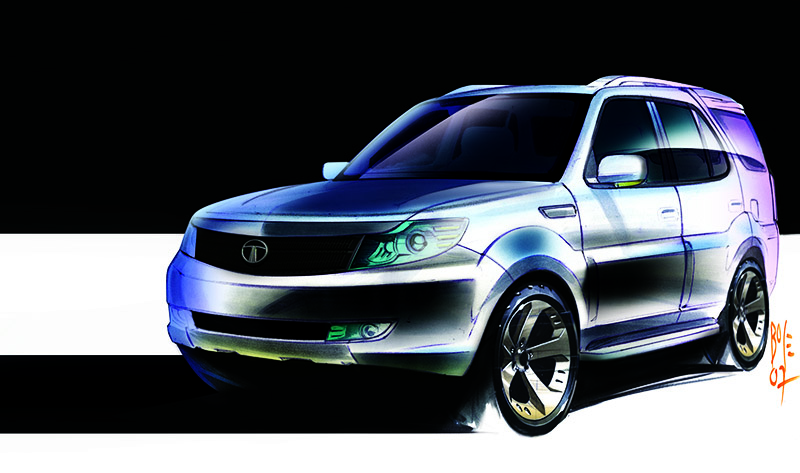 Final sketch for Safari Storme by Mr. Bose.
Secondly, like I said, the way they think about something, the way they approach design is important, because design is not only about flashy rendering. Idea and concept are also behind what you are doing. Sometimes new ways of thinking about things and the world are important too. 
"It's very important to do 3 stages which I call PSD, Proportion, Surface, and Detail. Those are some fundamentals which are important to remember."
Sometimes people send me very thick portfolios. But, sometimes you only need one page which has a complete drawing and a level of understanding. Because car design always starts from proportion, and then you go to surface, and then go to detail. Many students don't realize this. They go very quickly to the detail. They immediately go to the surface without standing back and see the overall proportion. Car design is like seeing the car from a distance almost 100 or 200 meters away. First, you can only see the proportion and volume, then you walk closer to the car and see the surfaces, then even when you get even closer, you can see the detail. The more and more I see the portfolios sent to me, they go into detail quickly. They put a lot of emphasis on the surface,  design light and shade. They forget to step back the overall car, somewhere they forget. I would say car design is different from designing a cell phone.
Below two sketches were drawn by Mr. Bose in 2013 of the NEXON, a show car debut in 2014 Delhi and Geneva Motor Show.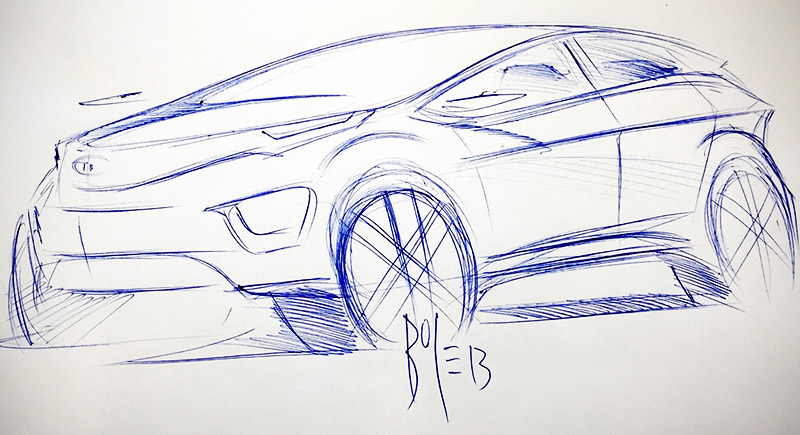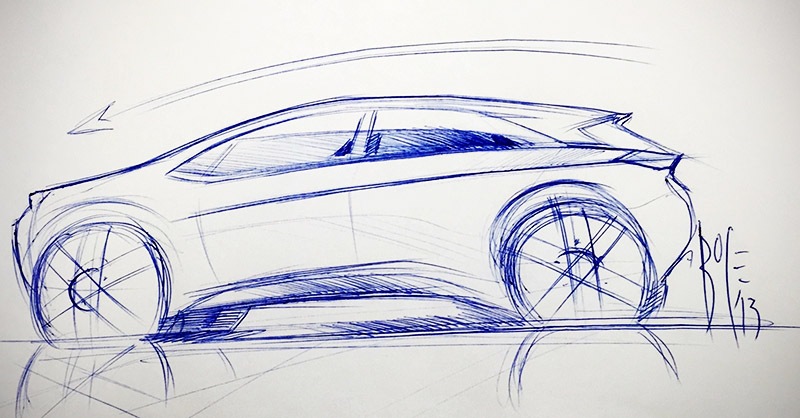 Interviewer's Comment
I truly enjoyed the conversation with Mr. Bose. He is very open and frank. During the interview, I admired him that he is realizing an Indian Dream. But that is not because he was lucky, but because of having a very balanced risk taking philosophy and a passion he has naturally owned. He advised students, "You always should take a chance in life. If you don't take a chance, you don't know what can happen." Certainly you do not ask the Managing Director who you first met outside of your company whether you can see the chairman of the company. But, he has had the passion to challenge and people were moved to take actions. If you do not have confidence for what you think and what you are going to say, most of the people do not have guts to do so.
One more important thing I found from this interview is Tata Motors is a Global Company, the philosophy of the design department head is so much focused global arena competition. And in order to open up the closed mentality, he has already hired non-Indian staff from 11 countries in 4 years. I wonder if this kind of mentality still exists in Japanese or other Asian car companies. When you think of the size of car production in India still remained at 3.5 million with 1.3 billion people, while that of China is over 23 million with roughly the same size of population, it is not that difficult to imagine Tata Motors will survive and grow in this severe global competition in the next 10 years.
Car Design Total Course  *More info