A NEW INSTAGRAM CONTEST 2017! Vol.1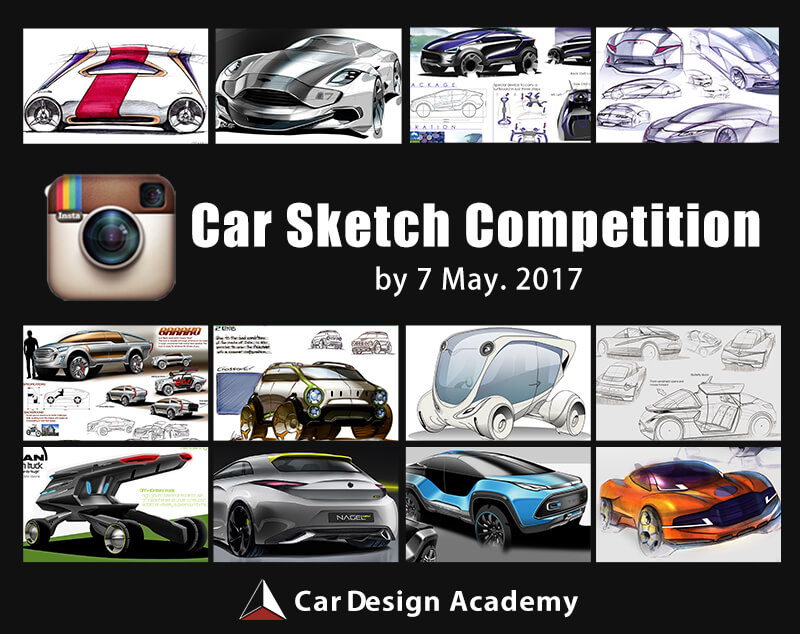 Car Design Academy has launched the #cardesignacademy_competition, Instagram-based car sketch competition, making it the great place to learn, a great opportunity to meet the people who share their passion about car design! The contest also aims to seek out burgeoning car design talent and young designers of the future. Please check the following contest details and join for your chance to win our amazing special lesson program, Car Designer Starters Pack (worth $300)!
Contest Period
Entries will be accepted through the Instagram starting today! All entries must be received by May 7th, 2017.
Who Can Enter?
Participation in the contest is open to anyone of any nationality!
How to Enter
The entry must fulfill all requirements as below, to be eligible to win a prize.
1. Follow us on Instagram at @cardesignacademy
2. Set your Instagram account to 'Public'
3. Enjoy sketching! *Sketch must reflect the theme set by Car Design Academy, and sketches submitted must be original.
4. Ensuring to tag @cardesignacademy in the post and use the hashtags #cardesignacademy_competition.
5. Share your sketches to your Instagram feed.
Design Theme : "Travel"
CDA would like you to design a car for travel with any situations of your choosing. 
Judging Criteria
1. Attractive design 2. Originality 3. Number of Like and Comment *The contest allows to judge not only simply sketching skills but also your ideas and efforts will be comprehensively evaluated.
 *Please note that no response shall be given to any inquiries or complaints regarding the judges' decisions.
The Prizes
Car Design Academy will choose the 5 best sketches, and those 5 winners of the contest will receive Car Designer Starters Pack (worth $300). This program presents you with a great opportunity to study car design.
We will announce the winners on May 19th, 2017.
Note:
・You must have an Instagram account to participate in the contest.
・In order for your entry to be valid, your Instagram account must be public and viewable by Car Design Academy.
・Winners will be contacted via Instagram. If winner cannot be contacted, fails to claim the prize.
・Car Design Academy reserves the right to use all submitted sketches for future posts or promotions.
Good luck everyone!
If you have any questions, please contact us at cda_global@cardesign.jp